---
The ELTOW Cozy Folding Camping Cot is a very strong steel construction with a huge 400 pounds weight capacity and a mat included.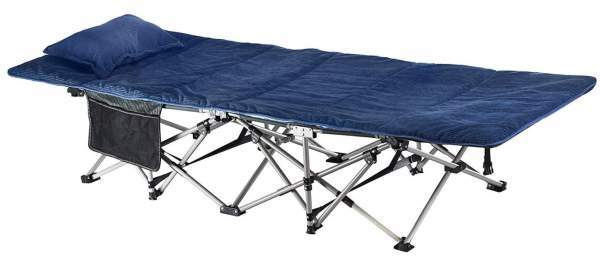 ---
Key features & benefits
Steel frame.
Huge capacity.
Folding design.
Pillow included.
Mat included.
Carry bag.
---
Where to buy
This cot is available on Amazon. They work globally so please follow the link and check shipping conditions for your place.
---
What is in the name
The word 'cozy' in the name should indicate the fact that the cot comes with a pleasant though thin mat. So this is why I have included it in my list of cots with mattresses. The picture below shows how it looks without the mat: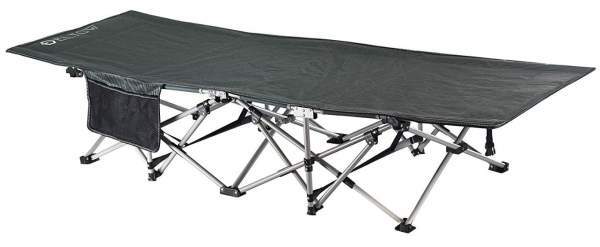 So as you realize, the bed is flat and without a head incline. There are no end bars here, and there are no bars anywhere underneath the deck, except for the usual side bars of course. This means that you have no pressure spots anywhere under the bed deck.
There is also a pillow with the same plush material as the mat. On the side, you have a very convenient storage system for small items to keep them at hand and off the ground.
The term folding implies that there is no particular assembly here. All the elements are permanently preattached to each other and you fold the cot like an umbrella. The picture below shows the starting stage when you fold it; it collapses from all four directions towards the center.

Note that the mat and the pillow cannot be stored in its carry bag. In fact the carry bag is not particularly big and I have seen some people complaining that it is hard to put the cot inside.
---
Who is it for
Capacity-wise, they write it is 'strongest and most comfortable cot on Amazon'. Now, this is a comfortable cot, but this is an exaggerated statement. Its 400 lb (181 kg) capacity is indeed good enough to be included in my list of cots for heavy people, but there are far stronger cots in that list.
Size-wise, this is a bit related to the mentioned comfort. So the included mat makes a lot of difference regarding the comfort, but the dimensions of this cot are really modest. Its bed measures 74 x 26 inches (188 x 66 cm) and as you realize it is not particularly long. So if you are a tall person, check my list with extra-long cots for tall people.
Weight-wise, now again, they describe it as 'lightweight', but it weighs 14 lb (6.35 kg). So this is not really a light cot but the weight is typical, and this depends on what you choose to compare with.
You will see how it compares with some other cots here in the site, there is a comparison table below.
The packed size is not bad, but it is a bit long when packed. The dimensions 41 x 12 x 6 inches (104 x 30 x 15 cm) are such that you need a car for transportation.
Using the cot in a tent
This cot will fit in almost any camping tent. It is a bit tall, 14.5 inches (37 cm), so the tent must be reasonably high. But think about the space underneath the cot as of a nice storage area which is normally lost if you sleep on a pad on the ground.
There are 10 large feet with plastic caps, so this should be fine with the tent floor. But if you are very heavy, you might want to add something underneath the legs.
Having the mat included, you can use this cot in most conditions without any extra insulation underneath you. The pillow is good if you sleep on the back, but definitely not large enough for side sleepers.
---
Materials
The frame is steel and the pipes are strong. Numerous support bars which you see in the pictures are behind the great capacity of this cot.
The fabric is also particularly strong, no less than 1680D oxford fabric. The feet are some sort of plastic.
---
The price & my rating
In view of its features and bonuses, in particular the mat, this cot comes with a really great price shown below. Note that you can have it shipped for free, this is an Amazon Prime item.
This cot has received a number of reports by Amazon customers, as of the moment of writing this text the average rating is very high. Please see how I rate it, I use the same set of criteria for all the cots here in the site:
My rating of the ELTOW Cozy Folding Camping Cot:
Weight -

8/10

Size -

8.3/10

Capacity -

9/10

Packed size -

7.4/10

Ease of use & features -

9.6/10
Summary
My overall rating for this cot is Excellent:
Pros
Great capacity.
Very good price.
Easy to use.
Carry bag.
Storage elements.
Mat & pillow.
---
Specifications
Weight: 14 lb (6.35 kg).
Total weight with the mat and pillow: around 19 lb (8.6 kg).
Capacity: 400 lb (181 kg).
Dimensions (L x W x H): 74 x 26 x 14.5 in (188 x 66 x 37 cm).
Packed size: 41 x 12 x 6 in (104 x 30 x 15 cm).
Steel frame.
---
ELTOW Cozy Folding Camping Cot vs Competitors
I have decided to show you this cot side by side with two other cots that come with mats or padding.
So the GigaTent Folding Cot With Mattress is with a thin mat similar to what you have with this Eltow Cot. On the other hand, the Goplus Foldable Camping Bed is with a padded bed deck which is nearly the same thickness as the mat on the Eltow Cot.  But those two are folding cots of a different type.
The Eltow Cot is lighter and its packed size is smaller because of the different design. It is also with much better capacity, but its bed dimensions are much smaller. This might help you in making an informed choice, have a look:
41 x 12 x 6
(104 x 30 x 15)

Goplus Foldable
Camping Bed
42 x 30 x 4.5
(107 x 76 x 11)

40 x 29 x 5
(102 x 74 x 13)

---
Final thoughts
So in the summary of this ELTOW Cozy Folding Camping Cot review, I would say that it is not surprising that currently this is one of the best-selling cots on the market. This is a well-built cot with an impressive capacity, and the included mat adds value. Fully recommended.

If you need more options to see, please check under the category Folding Cots, or just in Cots, you will have them in hundreds. Note that the have yet another cot on the market under the name Eltow Portable Folding Camping Cot.
Note that this is not a sponsored text, and I am not paid by the manufacturer. Please let me know if you have questions or comments, there is a comment box below.

---