---
Cots with adjustable legs are very useful in a camp where the ground is rarely completely flat. So with such a feature you can always level your bed properly and sleep comfortably.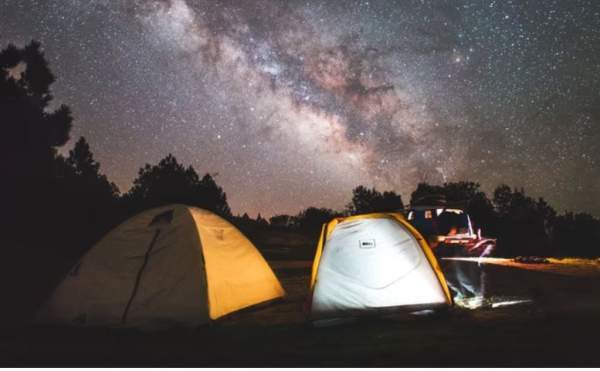 Adjustability here includes also the feet design, so you will see that these cots have pivoting and wide feet. This makes them adaptable to any surface and they will not easily sink in the ground.
But this is not all, you have great reclining features here, so this is means adjustable headrest, and you can use them also as lounge chairs.
You will notice that these are all very easy to use cots, this means folding and without any particular assembly. Most of them are with a generous padding so some of them you can use in all seasons without extra pad for insulation.
---
My list of best cots with adjustable legs
So here are the cots given in alphabetical order, therefore the numbers are not for ranking:
---
1. AMENITIES DEPOT Memory Foam 6-Leg Foldable Camping Cot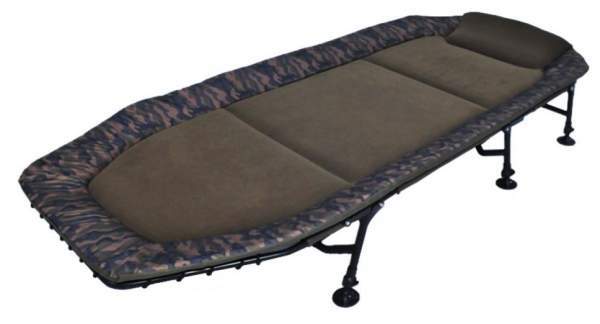 This Amenities Depot cot has 6 legs and they are extendable in the range of 13 – 15.7 inches (23 – 40 cm).
But it is also one of the largest on the market, this is why it is also in my list of extra-long cots and also of extra-wide cots. Its bed measures 85.6 x 39 inches (217 x 99 cm).
It is padded and you have a high-quality memory foam so you do not need a mattress. The weight is 22.7 lb (10.3 kg), and this is quite typical for cots of this type.

---
2. Bushtec Adventure Camping Cot Sierra 440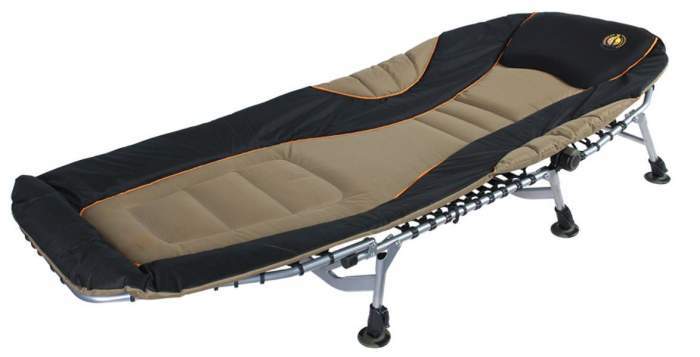 This Sierra 440 is with legs that can be extended up to 22 inches (56 cm) at the head side and up to 16 inches (41 cm) at the foot side.
This is a very wide and long cot, the dimensions are 82 x 34 inches (208 x 86 cm). So I have included it in my list of extra-wide cots.
The number 440 in the name is about its great capacity in pounds, this is about 200 kg. It is fully padded as you realize from the picture.

---
3. Cabela's Lounge Cot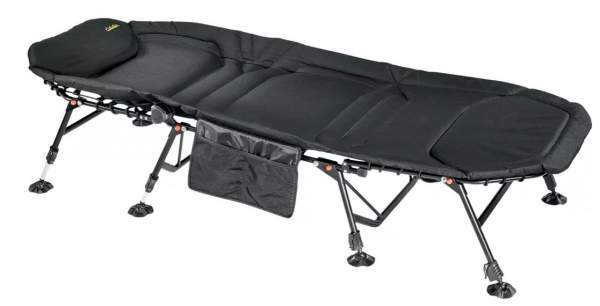 This cot is very stable with its 8 legs and they are all adjustable. So you can make it fully leveled and flat on any terrain. It is also a reclining design with a generous padding.
The feet are pivoting and they also adjust to any surface. The weight is 32.4 lb (14.7 kg) and the capacity is 350 lb (159 kg). The bed measures 80 x 26 x 20/13 inches (203 x 66 x 51/33 cm). The two numbers for height mean that you have a range for adjustment and the height.

---
4. Chinook Heavy Duty Padded Cot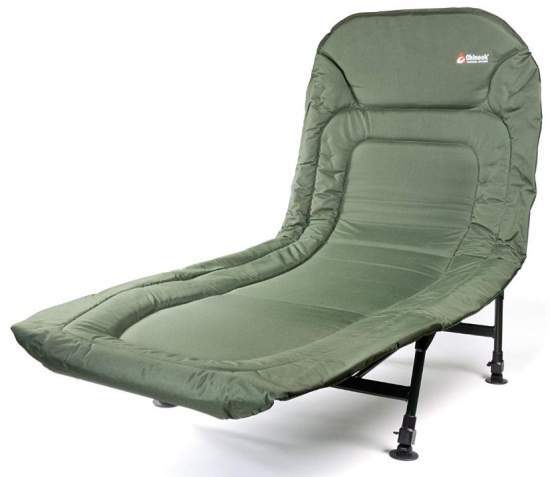 This Chinook Cot has an adjustable head incline, so you can keep this part at several different positions. All its legs are also separately adjustable and with pivoting feet, so this is a shape that will adapt easily to any surface.
The cot is also one of the extra-wide cots with its dimensions 80 x 33 inches (203 x 84 cm). From the picture you realize this is a padded cot, and its folded size is 34 x 30.5 x 10 inches (86 x 77 x 25 cm). The frame is aluminum and this is a welded construction.

---
5. Disc-O-Bed Single Large Cot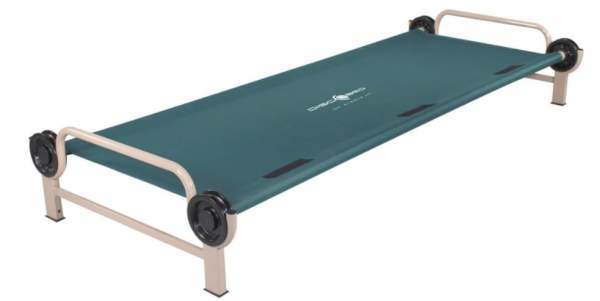 The adjustability of legs here is a bit specific in the sense that the legs have extensions. So the bed has two possible heights of 8.5 inches (22 cm) and 15.5 inches (39 cm), without & with extensions.
You have an impressive capacity here of 500 lb (227 kg) and its craftsmanship is at the highest level. The cot is collapsible and it packs into its included carry bag that measures 33 x 14 x 6 inches (84 x 36 x 15 cm). It weighs 29 lb (13.2 kg).

---
6. Flamrose Oversized Camping Cot with Padded Cushion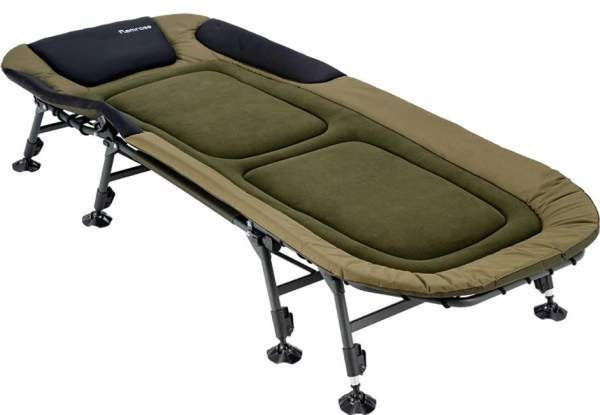 This cot has 8 adjustable telescopic legs and all of them can be adjusted independently. You have 10 cm adjustability range.
It is incredibly comfortable with its reclining backrest and generous padding. The fabric is a polar fleece, and the frame is a steel. The weight is 28.5 lb (12.94 kg) and the capacity is 330 lb (150 kg).

---
7. REI Co-op Trailgate Vehicle Sleeping Platform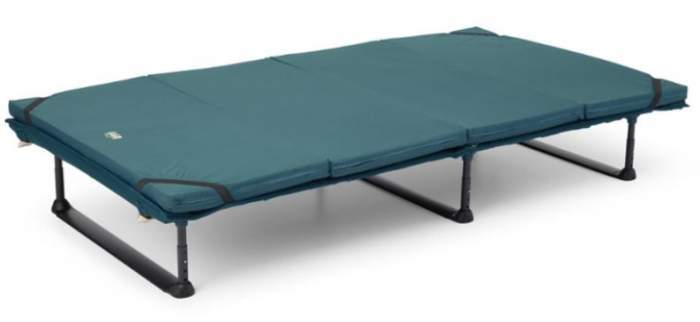 Here you have a versatile outdoor sleeping system built for car camping. It includes a cot with adjustable legs, slats in the sleeves, and a pad. The set is available in two sizes as well.
The legs are extendable in such a way that the cot can be used for car camping, but this is also for a tent of course.
A carry bag is included. The weight of the two different options is 31 lb (14 kg) and 45 lb (20.4 kg).

---
8. REI Kingdom Cot 3

This REI Kingdom Cot 3 is a folding cot, and here only the two front legs are extendable. This allows for using it as a longer. You also have an integrated pillow in the head section.
The cot is very long and nicely padded, the length is 82 inches (208 cm) from one end to another. The weight is 20 lb (9.1 kg), and the capacity is 300 lb (136 kg).

---
9. Slumberjack Bear Creek 80 x 30 Deluxe Adult Camp Cot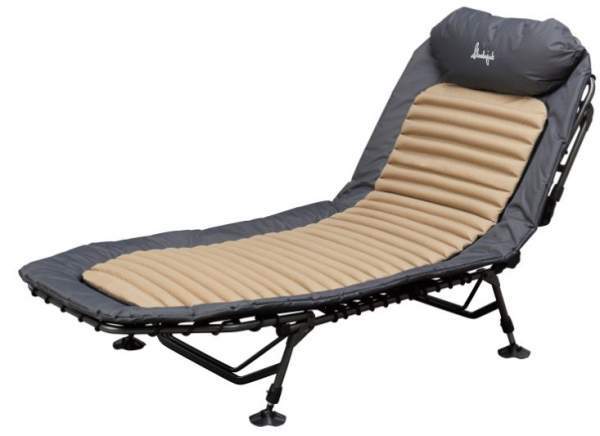 The Slumberjack Bear Creek 80 x 30 Deluxe Adult Camp Cot is huge, the numbers in the name are its dimensions in inches.
It is here in the list because of its 6 adjustable legs that have pivoting and wide feet. The picture shows it is reclining and I have added it also to my list of best reclining camping cots.
The cot is nicely padded and in addition to this you also have a separate pad plus a pillow included. The weight is 30.36 lb (13.8 kg), and its capacity is 300 lb (136 kg).

---
10. Timber Ridge Camping Cot XL

This Timber Ridge XL Cot is with the headrest that is adjustable and reclining, and the same holds for its legs. There are knobs on the sides which you use to adjust the backrest incline.
The letters XL in its name indicate that the bed is large, its size is 81 x 29 inches (206 x 74 cm). As you see, this is a padded camping cot and this is also one of the folding cots. The padding at the head side may be good enough to use it without a pillow if you sleep on the back.
You have a bottle holder on the side, plus storage pouches to keep your small items off the ground. This is a steel and strong structure.

---
Final thoughts
So this was my list of camping cots with adjustable legs. As you have seen these cots come with plenty of other useful features. The list will be updated whenever I find a cot that is worth adding here. This is why you might want to bookmark this text and visit it occasionally.
There is a comment box below so do not hesitate to contact me in the case of questions or comments. Thank you for reading.