---
This Snow Peak High Tension Cot review is about a ridiculously expensive cot. But there may be good reasons for this, keep reading.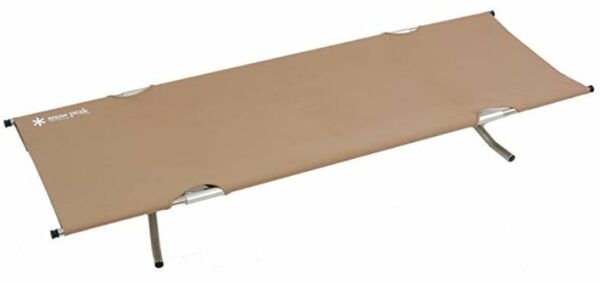 Key features & benefits
Folding design.
Instant setup.
Unique construction.
Carry bag included.
---
So what this Snow Peak High Tension Cot is about
Snow Peak brand is not best known for its affordable prices, but it is best known for the quality of its products. So what you have here includes both aspects mentioned above. This is an incredibly expensive cot and this is what attracted my attention to it. I thought there would be a reason. Indeed, there are several reasons that might justify its price.
Instant setup & folding design
Although this cot may look like yet another collapsible cot, this is not so. In fact, this is not a collapsible design, this is a folding cot of a specific type. Better to say, it is completely unique on the market. More precisely, this is an instant setup cot and you can make it ready in seconds. The pictures below show how you deploy it: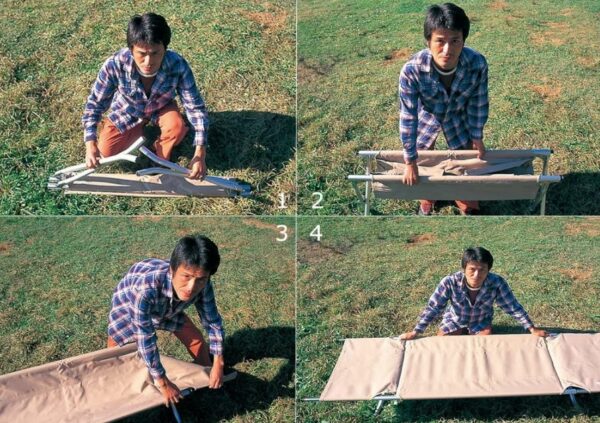 So you start by unfolding its legs, then put it on its legs, then simply pull in the opposite directions and the cot is ready. In other words, all the elements of this cot and the fabric are permanently preattached to each other. This is why I have added it to my list of best folding cots for camping.

---
Materials & construction
The bed material is a durable polyester 600D and the same fabric is used for its stuff sack. There is a PVC coating applied to the fabric. The frame is a combination of aluminum and stainless steel.
The legs are X-shaped as typical for any military-style cot. So the more weight the more tension in the bed's fabric. This is depicted in the picture, the explanation is in Japanese but I am sure you will realize what this all means:

---
Who is it for
Size-wise, this cot is quite long but the width is just average, the bed measures 78 x 34.8 inches (200 x 65 cm). There are no end poles so the whole length is a true useful length. But there are side bars of course, they are thick and take a few centimeters from each side.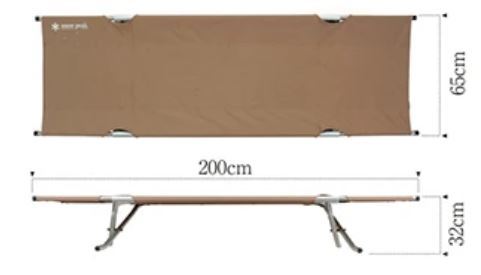 Weight-wise, with 13.2 lb (6 kg) this is not a light cot. But I guess they did not design it to be lightweight. They built it to be reliable and strong, and they managed it fully.
Capacity-wise, I could not find this information anywhere.
Regarding the packed size, this is not the best side of this cot. When in its carry bag, the cot measures (L x D) 41 x 11 inches (125 x 28 cm), see the picture below. So you need a car for transportation.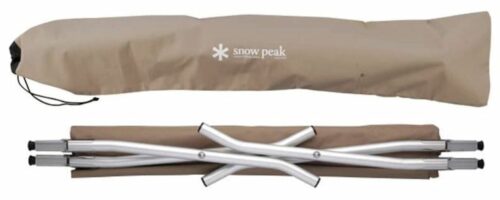 How about using the cot in a tent
If this is about a floored tent, then you should take care about the floor. See more below. In a floorless tent you do not have to worry about anything.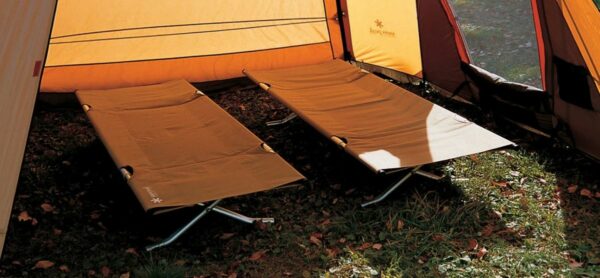 The cot is moderately tall so it will fit in most tents for 2 or more people.  The clearance under the cot is 12 inches (200 x 65 x 32 cm) and this means you have plenty of space to store the gear underneath the cot.
---
Accessory: Snow Peak Cot Leg Cover
In the pictures above you have seen they have curved the legs to help preserve the floor, but they did not make the feet completely flat. So they are not fully floor-friendly no matter where you would use this cot. This is a bit disappointing in view of its price. But they have constructed these leg cover elements that will do the job.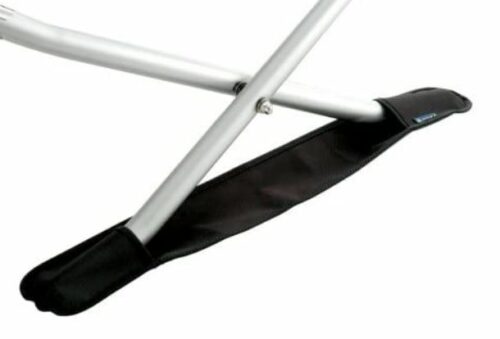 ---
Specifications
Weight: 13.2 lb (6 kg).
Dimensions (L x W x H): 78 x 34.8 x 12 in (200 x 65 x 32 cm).
Packed size (L x D): 41 x 11 in (125 x 28 cm).
This cot is made in Japan.
---
Rating, pros & cons
This cot is highly rated by users and you will see this in various sites around. I have my standard set of criteria that I apply to all the cots here in the site. So based on this, the rating is relatively low and it is affected by its packed size.
Snow Peak High Tension Cot review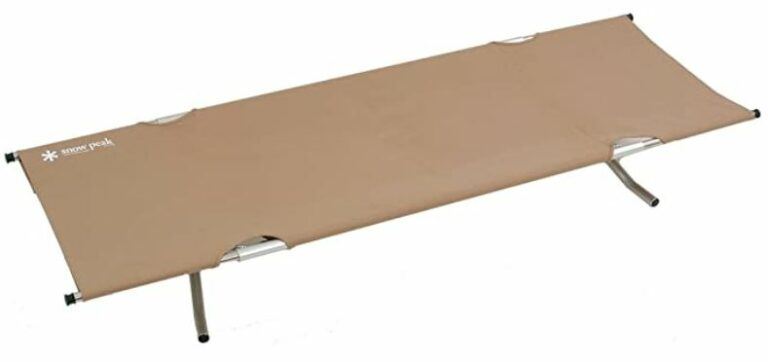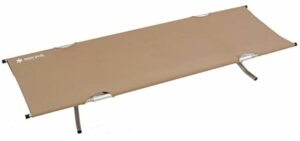 Product Name: Snow Peak High Tension Cot
Product Description: This Snow Peak High Tension Cot review is about a ridiculously expensive cot. But there may be good reasons for this.
Brand: Snow Peak
SKU: B000O1PBAE
MPN: BD-030
Weight -

8.2/10

Size -

8.3/10

Packed size -

7/10

Ease of use & features -

9.5/10
Summary
This is an expensive but high-quality cot, easy to use and unique design. But the packed size is not so great. My overall rating is Very Good.
Pros
Top-quality.
Exceptionally easy to use.
Long.
Cons
Extremely expensive.
Long when packed.
---
So why would you buy this Snow Peak High Tension Cot
As you realize, this cot is very expensive, long when packed, a bit heavy, and the width is just average.
But look at this all from the other side. This is a brand that has been around before I was born, and probably before most of the potential users of this cot were born. It was founded in 1958. This cot itself has been on the market for at least 4-5 years already, so all is known about it (well, except the official weight capacity).
This is a reliable brand and a reliable product. The construction is unique and although the capacity is not officially disclosed, I am pretty sure it can support lots of weight. In any case, I can fully recommend it.

If you need more options of this type, please check under the category Folding Cots. You might want to know that there is also their ingenious Snow Peak Campfield Futon presented here in the site, so have a look.
Note that we add texts here regularly, so bookmark this site and visit occasionally. Have a nice day.