---
Byer of Maine Cottage Cot Bed is a wide folding cot with a 3-inch memory foam mattress and with locking legs.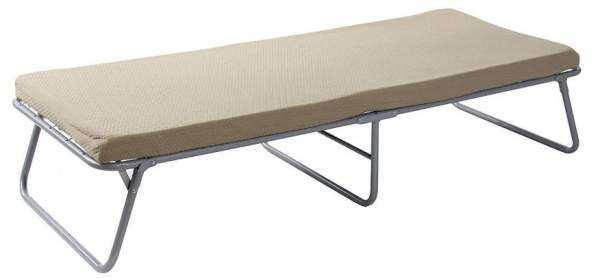 ---
Key features & bonuses
Mattress included.
Memory foam.
Quite a wide cot.
Locking legs.
Removable & washable cover.
---
Where to buy
Check on Amazon. They have the best shipping service with their stores on several continents.
---
What this is about
There are many cots from this brand presented here in the site and you can see their list in my separate text with Byer of Maine cots. But this is the first their cot with the mattress included. So I have added it to my list of cots with mattresses.
This is a new item on the market, but as you realize from the list mentioned above, it is not unique. So it is a folding type and when packed it remains large in two dimensions, but it is thin and you can easily store it in narrow spaces.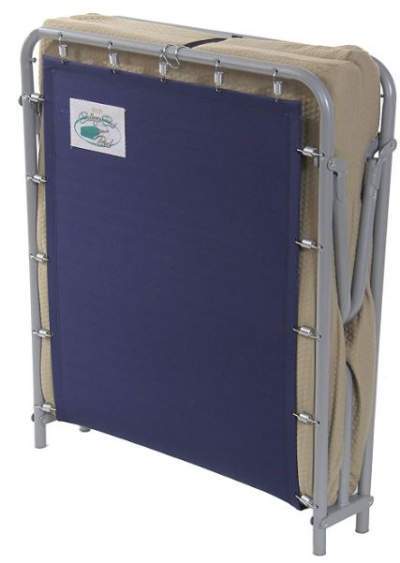 With the width of 31 inches (79 cm) this is a wide cot, but it is still not wide enough to be included in my list of extra wide camping cots.
---
Who is it for
Capacity-wise, the cot is quite moderate as you will see also from the comparison table below. It supports the weight of up to 300 lb (136 kg) and this is a very typical number. So if you need something for really heavy people, please check this list.
Size-wise, the length is just OK and not much more than that, but the width is really good. The bed size is 75 x 31 inches (190 x 79 cm).
The packed size 37 x 32 x 7 inches (94 x 81 x 18 cm) is not its best feature, but this is a part of the design, so this is typical for all folding cots.
Weight-wise, it is a bit heavier than its competitors. Its 28 lb (12.7 kg) is due to the strong steel frame. But the mattress itself is also very thick and large so the weight should not be a surprise.
So this is a cot to be used at places with a car access only. At home, this is a really great extra bed for sudden guests.
---
Materials & construction
The mattress
The mattress is 3 inches (7.6 cm) thick. This is a very comfortable laminate of a memory foam and a conventional foam. Note that it rests on the bed deck which is fixed to the frame with steel spring coils so the whole surface is very comfortable, see the picture.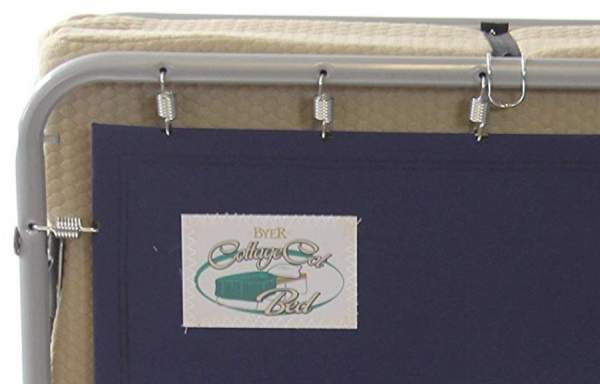 The frame and fabric
This is a steel construction with a locking mechanism on the two legs that are at the ends. The central leg is fixed and the bed folds around it.
The legs are bars, and there are three of them so the weight is distributed. Such a design is good as it will not sink in the ground.
This is also a floor-friendly design and you can use it in floored tents without any problems.
Please see how it works:
With the height of 17 inches (43 cm), you have plenty of space underneath the cot to store your gear in the tent. You will surely need such a space.
---
My rating
The daily updated Amazon price is shown in the link. So it costs considerably more than what you would pay for some of its competitors, you will see two of them in the comparison table below.
Please see how I rate this cot for the same parameters used for all cots of this type in the site:
My rating breakdown of the Byer of Maine Cottage Cot Bed:
Weight -

5.6/10

Size -

8.9/10

Capacity -

7.5/10

Packed size -

4.4/10

Ease of use & features -

9.7/10
Summary
My overall rating for this cot is Good:
Pros
Easy to use.
Great quality.
Removable cover.
Great width.
Comfortable mattress.
Cons
Expensive.
No stuff sack.
---
Specifications
Type: folding camping cot with mattress.
Weight: 28 lb (12.7 kg).
Capacity: 300 lb (136 kg).
Dimensions (L x W x H): 75 x 31 x 17 in (190.5 x 79 x 43 cm).
Packed size: 37 x 32 x 7 in (94 x 81 x 18 cm).
Frame: steel.
---
Byer of Maine Cottage Cot vs Competitors
It may be good to see how this cot compares with some of its competitors. So here are two of them that are different in size and you can get some feeling about the dimensions and weight of this cot. Obviously it is heavier than the other two cots and it is also more expensive, please follow the links to read more.
Byer of Maine Cottage Cot
37 x 32 x 7
(94 x 81 x 18)

Coleman ComfortSmart Deluxe
39.6 x 30.7 x 5.5
(101 x 78 x 14)

36 x 26 x 5.5
(91 x 66 x 14)

---
Summary
So this Byer of Maine Cottage Cot Bed is indeed a strong, sturdy and very comfortable construction with a mattress. It is more expensive than some of the top items of this type on the market. But if you can afford it, this is a quality bed and worth the money. I have included it in my list of best cots with mattresses.

Note that this is not a sponsored text and I am not paid by the manufacturer or related to them in any way.
Thank you for reading. Please use the comment box below in case of questions or comments. Have a nice day.

---