---
The Magshion Portable Military Fold Up Camping Bed Cot is a very popular nicely designed foldable camping cot, very lightweight, with a great price, and with a storage bag included.
---
Key features & benefits
Crazy price.
Very simple and easy setup, just unfold the bed.
Several nice colors.
Very thin when folded.
Storage bag included.
---
Who is it for
In view of its foldable design and such an easy setup, this Magshion cot is a very versatile tool that can be used:
In a tent at any camping place with a car access.
In trailhead hotels.
As a spare bed at home for your overnight guests.
On summer festivals and open air concerts.
In summer camps.
As a piece to keep in the office to rest when necessary or when you work overtime.
In any emergency situation at home or anywhere.
If you have a look in its legs, you see they are a combination of U-shape bars on both ends plus two standard legs in the middle, see the picture below. They all are with additional plastic caps for the floor protection. Obviously, you can use it in a tent, at home, on a pickup. This is a very stable construction.
This is a good design without bars under the bed fabric, so you can be sure about a comfortable sleep. The bars that you see in the pictures are far from the canvas.
The bed folds nicely, and it comes with a cover bag. Note, this is just a dust bag and not a real carry bag. The packed size 36 x 24.5 x 4.5 in (91 x 62 x 11 cm) is such that it does not take much space. So at home, put it in the closet or under your standard bed and use when you need it. For transport, with such a folded size it will fit in most of the cars.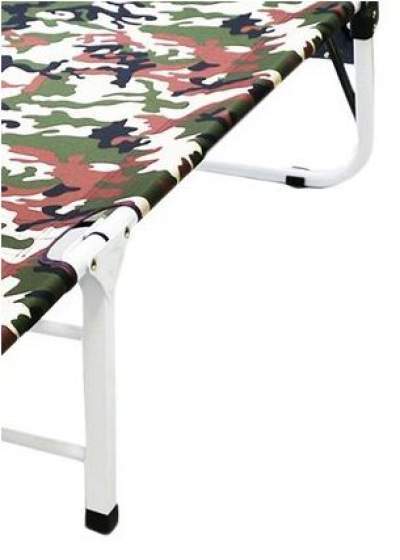 ---
Fitting in the tent
The bed size is 72 x 24.5 in (183 x 62 cm), so using this cot in a tent is not a problem, tents are always with a bigger floor area, and this holds in particular if this is about a 2-person tent used solo.
The Magshion cot is 13.5 inches (34 cm) high so very low tents will not work, but standard solo or 2-person tents are typically around 1 meter or higher so it will fit.
A cot may look like a big piece in a relatively small tent, but look at this from another point of view. You have a huge space under the cot to store all your gear. This is not so if/when you sleep on the ground on a sleeping pad, the floor is taken by the pad and you do not have much space left.
---
Can you use it in any season
The answer is yes. In warm seasons you may not need any pad, but in principle, you will need an insulated pad when it is cold.
However, bear in mind that sleeping on the cot you have air under you, so you need far less insulation as compared to the case when you sleep on the ground. This is because you lose around 50 times more body warmth to the ground than to the air, this is the matter of conduction. So no need to spend money on very expensive pads with a big R-value.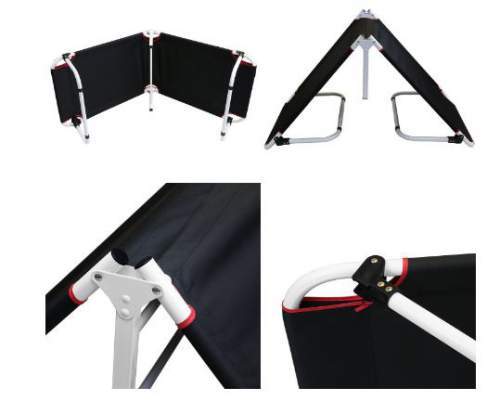 ---
My rating, pros & cons
Observe the length which is only 72 inches (183 cm), it will not work for you if you are a tall person. In this case, check my text with a very long list with cots for heavy and tall people.
The Magshion camping bed is available on Amazon, and its daily updated price is given below. As you realize it is incredibly affordable.
This is a popular cot and this is no surprise in view of its nice design, so many possibilities for color choice, and its price. There are hundreds of reports by customers and the rating is very high. See below my rating:
My rating breakdown of the Magshion Portable Military Fold Up Camping Bed
Weight -

9/10

Size -

8.1/10

Capacity -

7.5/10

Packed size -

5.2/10

Ease of use & features -

9.5/10
Summary
My overall rating of this cot is Very Good:
Pros
• Nice design.
• Great price.
• Easy setup.
• Foldable.
• Durable materials.
• Versatile.
Cons
• The cot is a bit short.
---
Specifications
Weight: 8 lb (3.63 kg).
Capacity: 300 lb (136 kg).
Size (L x W x H): 72 x 24.5 x 13.5 in (183 x 62 x 34 cm).
Folded size: 36 x 24.5 x 4.5 in (91 x 62 x 11 cm).
Fits heights up to 6 ft (183 cm).
Storage bag included.
Steel frame.
Bed fabric: Oxford.
---
Summary
So to conclude this Magshion Portable Military Fold Up Camping Bed Cot review, this is a pleasantly designed small cot, very versatile and with an exceptionally great price. But it may be too short for many people so bear this in mind, otherwise, I can fully recommend it for any of the purposes outlined above in the text.
You might want to compare it with this Purenity Comfort Folding Military Bed built in the same style.
If you are a tall person, there are many other models described in the site. I already mentioned the text with cots for heavy people, but see also this list of Coleman cots, all models available on the market in 2017.
Check on Amazon
Check at Walmart
Thank you for reading. If you find this text useful, please share it with others. Let me know if you have any question or comment, there is a comment box below. I wish you a pleasant day.

---