---
This KingCamp Portable Folding Camping Cot Adjustable 4-Position can be used also as a patio reclining lounger chair, it is an easy to use folding steel construction.
---
Key features & benefits
Reclining cot.
Easy to use folding construction.
Removable pillow.
Storage features.
---
Overview of features
Two the most important features of this cot are its folding design and its reclining design. This is one of those cots that fold easily and remain large in two dimensions. This is why it is very easy to deploy them, there is no assembly of any kind. The packed size is shown in the picture below.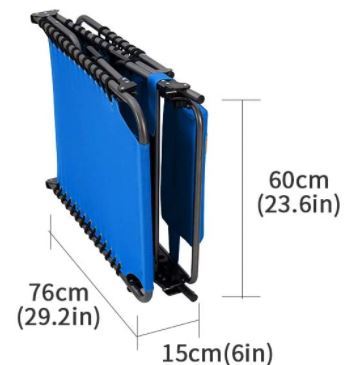 Below you can see a bit about its reclining features. So you realize that there are 4 possible positions for the backrest. This allows for a variety of options for using it as a cot or as a chair.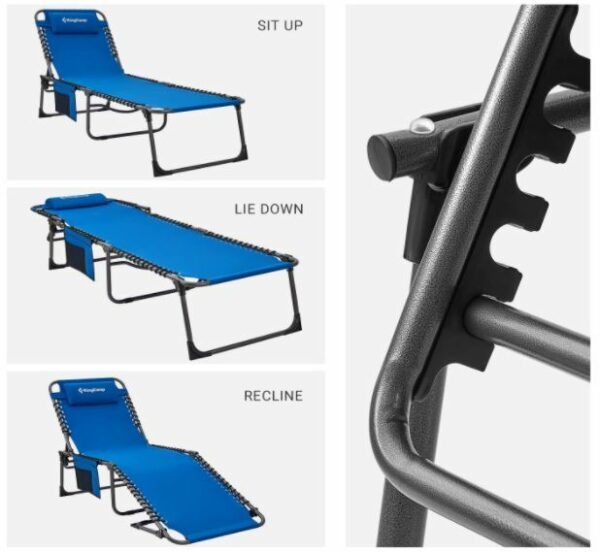 Note that you have a removable pillow shown in the picture below. Yet another great feature here is the bungee attachment of the bed deck to the frame. This is always nice to have because the bed adjusts to your body shape easily and in a natural way. This makes the cot more comfortable when compared to constructions with a fixed fabric position.

There is also a removable storage set on the side, see how it looks: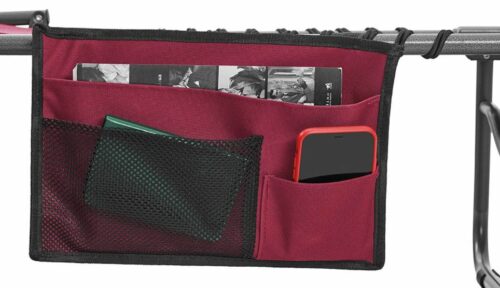 Materials
You have an anodized steel frame here. This is a type of protection that makes it more resistant to corrosion.
Observe also nicely designed and floor-friendly legs where you have bars with plastic elbows for floor protection. With such bars on the ground, this cot will not sink when you use it outdoor, and it will not damage the tent's floor.
The fabric is quite typical for such cots, this is a 600D oxford polyester. Note that they build this cot in several nice colors shown here in the text on purpose.
---
Who is this KingCamp Portable Folding Camping Cot for
Regarding the officially declared capacity, it is quite modest with its 264 lb (120 kg). But this is still good enough for most of the users. In case you need more, see some of these camping cots for heavy people.
Regarding the size, below you can see what you have.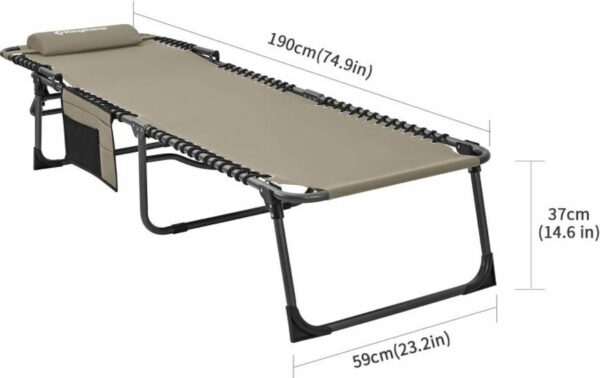 The frame takes a bit of the total useful space, but the length is still not bad for most people. The width is not so impressive, so check these extra wide cots if you want space to sprawl. Note also that this Mountain Summit Gear Campside Folding Cot is built in a similar style but it is wider.
Regarding the weight, the cots is moderately heavy with its 14 lb (6.4 kg). In view of its packed size shown before, such a weight is not so important because you will use a car for transportation in any case.
Regarding the price, it is more than fair for such a nicely built cot.

Specifications
Weight: 14 lb (6.4 kg).
Capacity: 264 lb (120 kg).
Bed size: 74.8 x 23.2 in (190 x 59 cm).
Height: 14.6 in (37 cm).
Packed size: 29.2 x 23.6 x 6 in (76 x 60 x 15 cm).
Warranty: KingCamp offers a 365-day limited manufacturer warranty.
---
Rating, pros & cons
In the table below you can see how this cot stands against my standard set of criteria used here in the site:
Nice design and features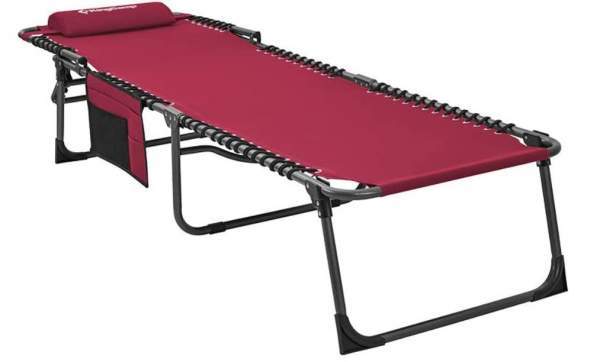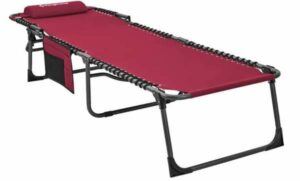 Product Name: KingCamp Camping Cot Portable 4 Adjustable Folding Sleeping Reclining Lounger Chair
Product Description: This Versatile Folding Steel KingCamp Portable Folding Camping Cot Adjustable 4-Position Can Be Used also as a Patio Reclining Lounger Chair.
Brand: KingCamp
SKU: B08V64MWPF
Weight -

8/10

Size -

8.1/10

Capacity -

7/10

Packed size -

6.2/10

Ease of use & features -

9.7/10
Summary
This cot scores reasonably well in all the rating criteria.
Pros
Easy to use.
Reclining backrest.
Great colors.
Fair price.
Cons
A bit bulky when folded.
No carry bag.
---
Final thoughts
So the complicated name of this KingCamp Portable Folding Camping Cot Adjustable 4-Position describes a nicely designed and fairly priced cot.
The bungee attachment of the bed to the frame is a particularly nice feature here. As you have probably experienced with standard cots, when the bed fabric is firmly attached to the frame, the cot does not feel soft. This is not the case here because the bed deck can adjust to your body shape, so it adapts to you.
But do not forget also its reclining design, this adds a lot to the versatility of this product. Fully recommended. I have added it to my list of best folding camping cots and best reclining cots for camping.

Please check in the category Folding Cots if you need more options of this type. You might want to check also this TIMBER RIDGE Folding Sun Lounger that includes a sunshade as well.
Let me know if you have questions or comments, there is a comment box below. Have a nice day.