---
The Coleman Converta Camping Cot is an affordable easy-to-use recliner with several different positions for the backrest and the footrest.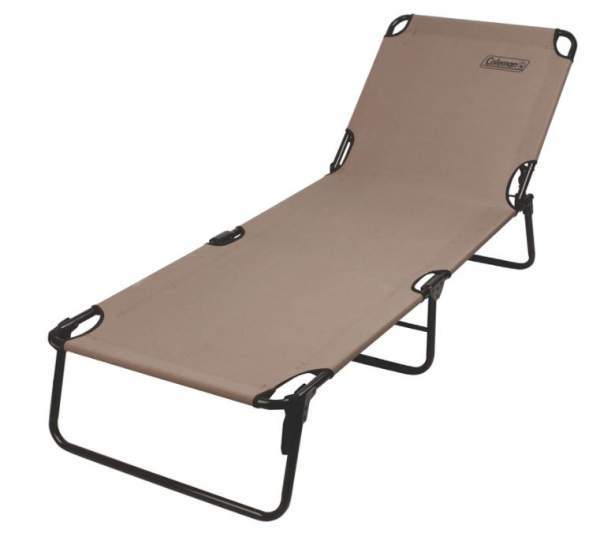 ---
Ket features & benefits
Recliner cot.
No assembly.
Great price.
---
What this Coleman Convertible Cot is about
This cot has been on the market for a decade already, so when you check around you can find thousands of reports by users. As the name tells you, this is a folding cot, so there is no assembly of any kind.
You open and close this cot in seconds. This is one of those cots that fold and become very thin to fit into narrow places, but it remains relatively large in two dimensions. The picture below shows how it looks when folded, and its dimensions: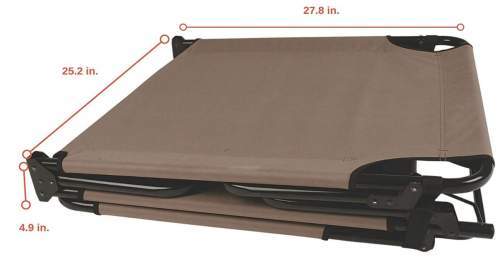 Reclining design: The word Converta in the name implies the fact that you have a reclining design here. So the cot offers 4 different positions for its backrest, and 2 different positions for the footrest. This is shown in the picture below.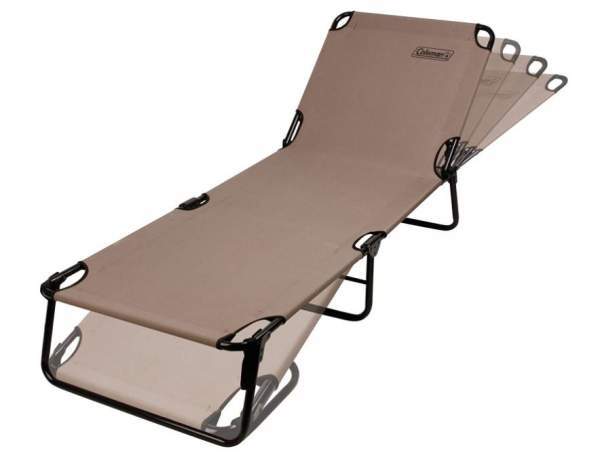 The backrest adjustment is based on two locking elements underneath the head section of the frame. So you simply pull up the head section till you get the position you want. The feet section allows you to fold the U-shaped leg and the cot's end will be on the ground as shown in the picture above.
This makes it similar to a lounge chair, with a backrest and a footrest. But it can also be completely flat as you would expect from a standard cot.
So from this, you realize that this is a versatile construction and it is not surprising that it has been around for so many years. I have included it in my list of best reclining cots for camping.
Materials
The bed is made of a polyester fabric, they describe it as heavy-duty but I have seen many users complaining about its durability. The frame appears to be powder-coated and rust-resistant steel.
---
Who is it for
Regarding the size, the dimensions are given in the picture below. So I would describe its length as typical, but the width is not so impressive. Note that this Mountain Summit Gear Campside Cot is a bit wider.
Note that you have a frame around so the actual useful length and width are a few centimeters smaller. They write it is for users up to 6 feet 2 inches tall, and this is probably realistic.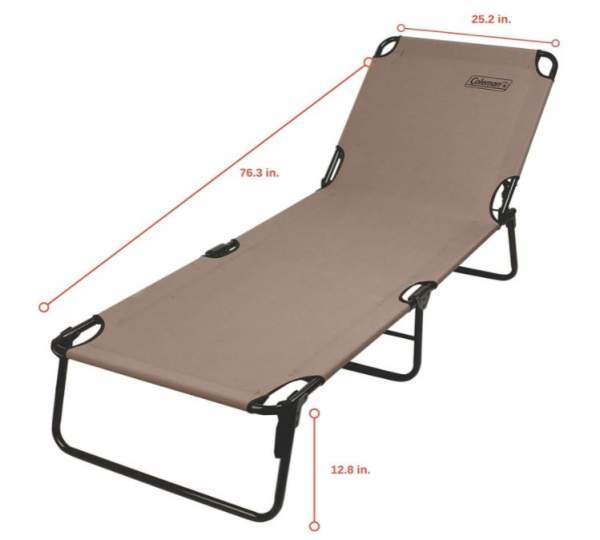 Regarding the capacity, it is quite modest, officially the cot is for users of up to 225 lb (102 kg). This should be good for many people, but if you need something considerably stronger, check my list of cots for heavy people.
Regarding the weight, you have 14.6 lb (6.72 kg). This makes it a bit on the heavy side. The packed size you have already seen; all in all, this is a car camping cot.
Regarding the price, it is more than fair for what you get, a great value for the money.

Using this cot in a tent
Note that you have 12.8 inches (32 cm) clearance underneath the cot. This is a lot of volume and space to store your camping gear.
Yet another feature that I wish to point out is the shape of its legs. They are U-shaped so this is a floor-friendly design and you can use this cot even in a floored tent.
---
Specifications
Weight: 14.6 lb (6.72 kg).
Capacity: 225 lb (102 kg).
Dimensions: 76.3 x 25.2 in (194 x 64 cm).
Height: 12.8 in (32 cm).
Packed size: 27.8 x 25.2 x 4.9 in (71 x 64 x 12 cm).
---
Rating, pros & cons
The table below summarizes my rating of this Coleman Converta Folding Cot. As you realize, it does not score great in some criteria but the overall rating is not so bad. Please rate this cot yourself, you have this option below.
Easy to use recliner cot
Weight -

7.8/10

Size -

8.3/10

Capacity -

7/10

Packed size -

6.2/10

Ease of use & features -

9.2/10
Summary
The packed size and weight negatively affect the overall rating, but you can ignore them, this is a car camping cot.
Pros
Very easy to use.
Reclining/lounge features.
Very good price.
Cons
Complaints about fabric durability.
Bulky.
---
Final thoughts
In summary, this Coleman Converta Folding Cot is a versatile and interesting product, very easy to use, and also very affordable.
It is a bit bulky and heavy, but it has been on the market for more than a decade already, and the brand behind it is globally known. So you know what you are buying.
For more options, please check under the category Folding Cots here in the site. Note that they have yet another version with a suspension bungee attachment, the Coleman Converta Suspension Camping Cot. Check also this TIMBER RIDGE Folding Sun Lounger that includes an adjustable sunshade.
Thank you for reading. Let me know if you have a comment or question, there is a comment box below. Subscribe to my weekly newsletter and stay informed, the form is below.