---
In this text I am describing what a collapsible camping cot is, at least in the sense used in my site. There are several types and sub-types of these cots, so keep reading.
About terminology
There are various terms used to describe cots that can be packed to a smaller size, and quite frequently you will see inaccurate terms used in the names of some of them. I usually point out this in my reviews.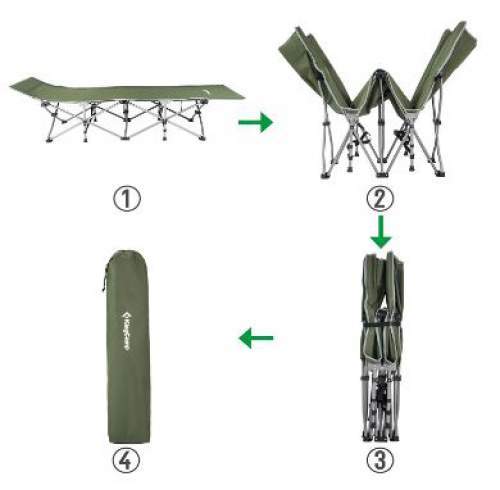 I am certainly not an expert in the English language (not my native at all), so this text is mainly aimed at explaining the terminology used in this site.
So you can have two major groups:
Foldable (or folding) cots. This should be self-evident, it describes cots that fold like a book, preserving two relatively large dimensions when packed. These are not so portable as you can imagine.
Collapsible cots. This term is a bit more complex and I am going to describe it in more details below. But in general, a collapsible cot in the packed state remains relatively large only in one dimension. The stress here is on the word 'relatively' as they can differ a lot, some are packed to 40 cm long tubes and others are over 1 meter long. This may not look so different, but it means a lot when you use them outdoor and transport them to your camping place.
See now more details about the collapsible cots.
So what is a collapsible camping cot
Here you can have the following types:
Collapsible cots that need no assembly. There are two possible sub-groups here:
A) Cots without mattresses. There is a sub-type here, cots with elevated headrest.
B) Cots with mattresses.
Collapsible cots that do need assembly. Now it is becoming a bit difficult to find the best terms to describe them properly, but I shall give examples below so it should be clear. In this group again you can have at least the following two main groups:
A) Military style collapsible cots (with end-bars).
B) Collapsible cots without end-bars.
A separate group of collapsible tent-cots. These are specific tools with a tent on the cot.
So if you feel confused, no worry, below are examples for each of them. One thing to remember, for most of them you do not need any tool to set them up (but there are exceptions).
1.A) Collapsible cots that need no assembly – without mattresses
This is a particularly elegant type. You can deploy them literally in seconds. If you do not believe, see this video of the Kamp-Rite EZ Fold cot, to see more please follow the link:
Now you realize why I use to say that they open like an umbrella. The construction of these cots may look complicated but they really work nicely.
In the same group are the Purenity Stable Camping Cot, KingCamp Folding Camping Bed Cot, Byer of Maine Easy Cot, and some others.
These cots are mid-weight, portable to short distances, but definitely not to carry in a backpack. They deploy quickly and you fold them away equally quickly, great tools indeed. The bed fabric is permanently attached to the frame.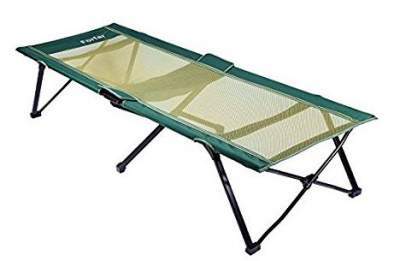 I mentioned that here you have a specific sub-group of cots with elevated headrest. Examples of this type are the KingCamp Cot and the Purenity Cot.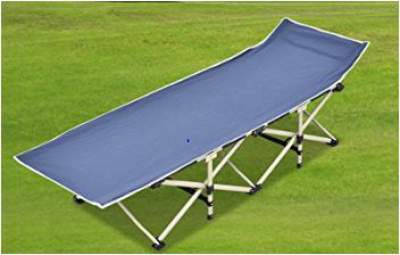 1.B) COLLAPSIBLE COTS THAT NEED NO ASSEMBLY – WITH MATTRESSES
The reason for having this sub-group is the following. They are collapsible of course, with the usual bed deck permanently attached to the frame. But they also have a sewn-in cover (or sleeve) for an air-mattress which comes in the package.
So these are complete sleep systems, double-wide, the most comfortable and the heaviest of all. To see what I am talking about here, please check my following texts:
Here is the best example: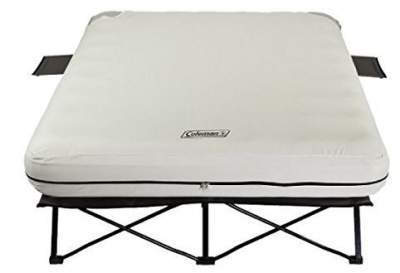 2.a)Military style collapsible cots (With end-bars)
This type requires assembly, the bed fabric is most of the time permanently attached to the bars. Typically, these are the cots with the greatest capacity, and usually with X-shaped legs. If you check my text about cots for heavy people, you will see them top ranked.
To see more, it is best to have a look in this nice video about the absolute champion, the Teton Sports Outfitter XXL Cot:
Note that end-bars imply an effectively shorter length for sleeping although some of them are really long, this Alps Mountaineering Camp Cot XL is 218 cm of length, probably an absolute champion regarding the length.
In general, these are in the same weight category as those from the previous collapsible group or heavier, truly heavy-duty tools. Some of them require a tool (just a strong bar or a screwdriver) to add the final end-bar because of the tension created in the canvas, but most of them do not need any extras.
Here is one example (no tools needed here), the Coleman Big-N-Tall cot: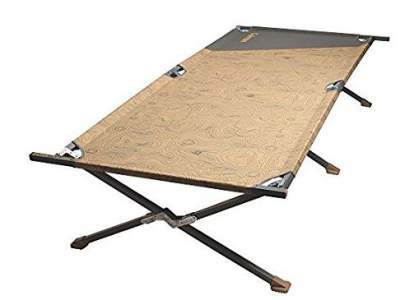 2.b) Collapsible cots without end-bars but with assembly needed
These cots are the lightest of all. In fact, some of them are ultra lightweight, around 1.2 – 1.3 kg only, and I have included them in the category of backpacking and backpack portable cots. To see what I mean it is best to check this text.
But as I said, when they are packed they are disassembled and you need to assemble them every time you use them. So now you guess, there are two general groups here too. See the two examples side by side: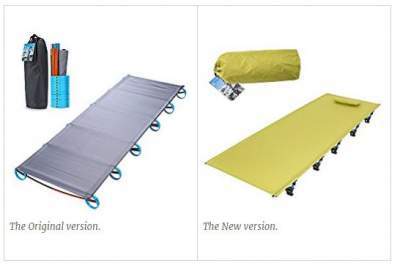 Many cots presented in the site are in this group, to mention just a few: Kingcamp Ultralight Compact cot, Big Agnes Helinox Cot One V2, Moon Lence Portable Ultralight Compact Camping Cot, etc.
The other type is with a bow frame technology, these are currently the lightest on the market, and one of the champions is this new Therm-a-Rest UltraLite Cot, but see also the Therm-A-Rest LuxuryLite Mesh Cot, and Yahill Ultralight Cot which is available in both versions mentioned here.
In this video, you can see how to setup one of them, the Therm-A-Rest LuxuryLite Mesh Cot:
As you see, it takes some time, but the result is great. These cots are usually incredibly packable so you can carry them in the backpack, attached to the backpack, on a bicycle, on a motorbike, and in the car of course.
3. Collapsible Tent-Cots
There are many of them presented in the site. I shall mention just a few like the Kamp Rite Compact Tent Cot XL, Ozark Trail Instant Tent Cot, and OUTAD tent cot.
All of them are with a tent that is sitting on the cot. Some are designed so that the tent and the cot can be used both separately and together, and these I have put in the category 3-in-1 tent-cots.
See one nice example, the FUNS Off Ground Backpacking Tent Cot. Observe the legs, this belongs also to the group 2.B) presented above.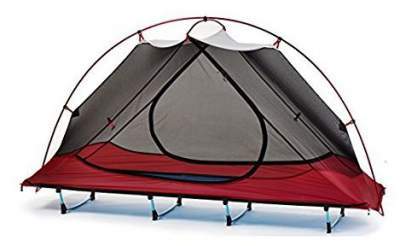 ---
Summary
So I hope you did not get even more confused and that now you have a better idea of what a Collapsible Camping Cot really is.
These are very handy and useful tools. Some are short when packed and light enough so that they can be carried in the backpack, some heavier are short enough to transport on a motorbike or a bicycle, kayak etc., and some are considerably heavier and longer so you can transport them only in the car.
All of them are suitable for home use as well.
Thank you for reading and please let me know if you have any question and comment. I wish you a nice day.


---