---
The DEERFAMY Camping Cot Easy Set up with Carry Bag is a folding and compact outdoor bed with a 20 seconds setup time.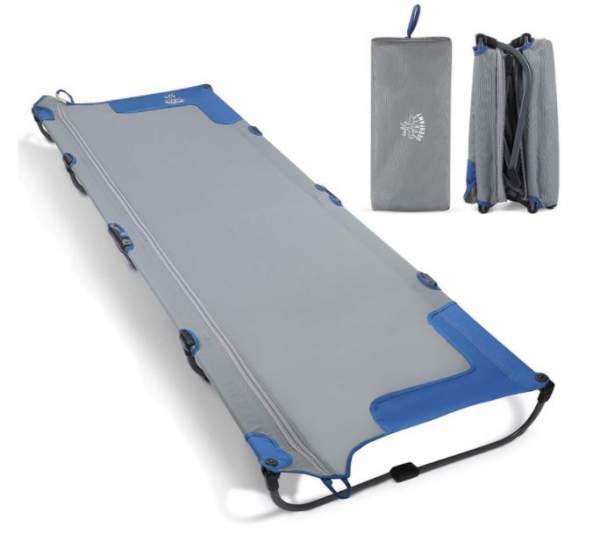 ---
Key features & benefits
Folding construction.
20 Seconds setup time.
Compact.
Carry bag.
---
What this is about
Here you have a cot that can be described as folding and this would mean there is no particular assembly. This means you simply unfold it, raise its folded legs and then zip its zipper that runs all the way from one end to another. The official setup time is 15-20 seconds only.
It packs small, the carry bag with its dimensions is shown below. Note that the carry bag is built large enough so the cot stores inside easily.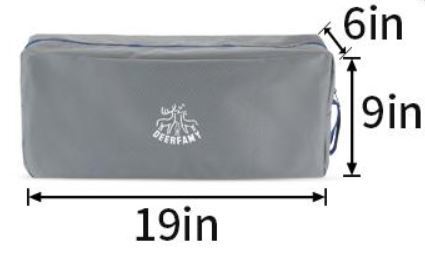 There are two major reasons for such a compact packed size and such a quick setup time.
♦ The first is that the legs bars are folding type, you can see them in the picture below: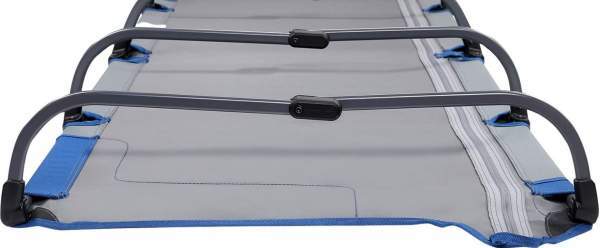 ♦ The second is the mentioned zipper. You can see it in the pictures above.
All that you see here is one single piece, the elements are permanently pre-attached to each other. So is this a unique design?
Well, it is rare but not unique, you can see it also in this Timber Ridge Folding Lightweight Camping Cot. These are almost the same cots. No doubt both of them come from the same factory, but the Timber Ridge cot is longer.
The materials
There are 5 previously shown U-shaped folding steel legs poles that are pre-attached to the side rails.
The fabric is strong and durable, you have a 600D 100% polyester. The important part here is the zipper, so no worry about this, you have the best that is available, this is a YKK zipper.
---
Who is this DEERFAMY Camping Cot for
Regarding the capacity, it is quite modest 225 lb (102 kg). I guess the zipper is the major limiting factor. No doubt this is good enough for most potential users, but if you need something much stronger, please check my list of cots for heavy people.
Regarding the weight, they describe it as portable, so it is indeed so, but bear in mind that it weighs 11 lb (5 kg). You would not want to carry it long distances.
In view of its packed size mentioned above, you can transport it easily even on your bicycle. But this is not for a pack and for long distances. Check my list of backpacking cots if you want something much lighter.
Regarding the size, the bed measures 75 x 26 inches (191 x 66 cm). This is good enough for most people and for me as well, but I am a short person. Note also that there are no end bars here, so the length is a truly useful length.
Regarding the purpose and best use, the cot is quite low, you have 6 inches (15 cm) clearance, so this will fit in any tent, including the lowest solo tents. You will still have the space underneath the cot to store some thin and long items from your gear.
Observe also that the legs are long bars and there are many of them. So the weight is distributed and this design is safe for the tent's floor. I have included it in my list of best low camping cots.
The cot can be used also as a spare bed at home for sudden guests, or you can keep it in the office for short naps.
Outdoor, you can use it anywhere and it will keep you just enough off the cold and unpleasant ground. In the summertime, you do not a pad, but in a cold environment, you can add some insulation underneath you.
Regarding the price, I would say it is moderate but there are indeed more affordable options on the market. The mentioned Timber Ridge cot is far more affordable and it is practically the same.

---
Specifications
Weight: 11 lb (5 kg).
Capacity: 225 lb (102 kg).
Dimensions: 75 x 26 in (191 x 66 cm).
Height: 6 in (15 cm).
Packed size: 19 x 9 x 6 in (48 x 23 x 15 cm).
---
Rating, pros & cons
Below you can see how this cot stands against my rating criteria, and some pros & cons. Please rate it yourself if you are familiar with it.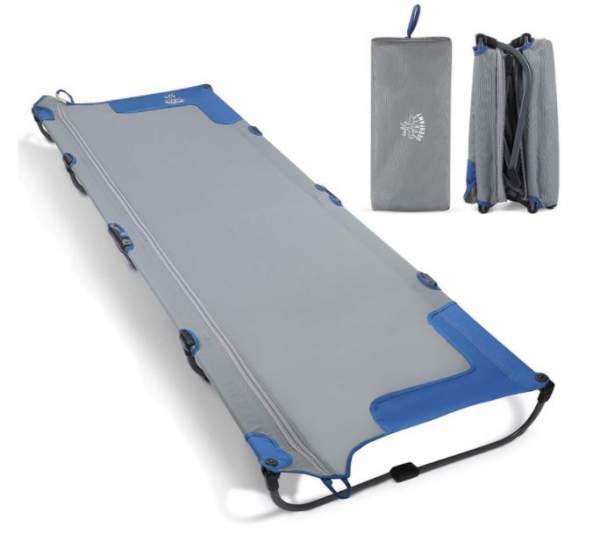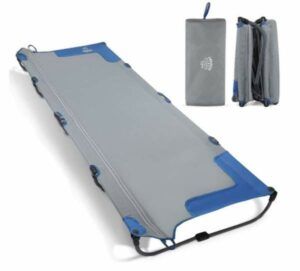 Product Name: DEERFAMY Camping Cot Easy Set up with Carry Bag
Product Description: The DEERFAMY Camping Cot Easy Set up with Carry Bag Is a Folding and Compact Outdoor Bed with a 15 Seconds Setup Time, It Is Low and Fits in Any Tent.
Brand: DEERFAMY
SKU: B08PNWQSB3
Weight -

8.4/10

Size -

8.3/10

Capacity -

7/10

Packed size -

9.2/10

Ease of use & features -

9.5/10
Summary
The capacity is modest but the overall rating is still Very Good.
Pros
Very compact.
Very specific design.
Easy to use.
Cons
Modest capacity.
A bit narrow.
---
Final thoughts
So the DEERFAMY Camping Cot Easy Set up with Carry Bag is indeed very easy to use and compact for transportation. The dimensions are such that it will fit in any camping tent. This is a versatile folding bed, fully recommended. It is included in my list of best folding cots for camping.

For more options, please check under the category Camping Cots here in the site, you will find them in hundreds. You have the same design in this Timber Ridge Folding Lightweight Camping Cot which is longer.
Let me know if you have questions or comments, there is a comment box below. Thank you for reading and have a nice day.