---
WolfTraders Patented Deluxe Folding Turbocot is an incredible tool with a truly express setup in one move. It offers a comfortable sleeping space of 78 x 28.5 inches (198 x 72 cm).
Key features and benefits
Express setup – no assembly.
Reasonable price.
Built-in handles.
Stands up on its own.
Multiple built-in pouches on both sides.

Now, to realize what express setup means, it is best to see this short video:
So if you are impressed with this, keep reading.
What type is this – what is in the name
This is a turbocot in the true sense as it sets up in one move, and you take it down in the same manner.
They use the term "patented" here. This is a great design, no doubt about this, but it is practically the same as the Kamp-Rite EZ cot which is described in my separate text. The only true difference are the added pouches on the sides.
I am not sure about the word folding here; it is more appropriate to say this is a collapsible cot because it closes almost like an umbrella, with only one relatively large dimension. Its collapsed size is 38 x 8 x 8 inches (96 x 20 x 20 cm). Note, these are official numbers from the manufacturer directly; various other numbers can be seen elsewhere.
The word deluxe in the name is about its dimensions and comfort, so you have 78 x 28.5 inches (198 x 72 cm) bed size here, a sturdy and stable structure.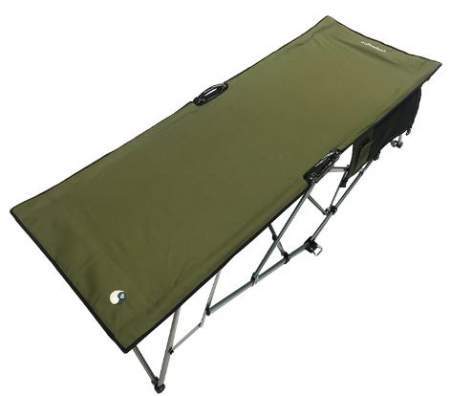 Who is it for
This cot can be used as:
a camping tool,
a spare bed at home.
For the outdoor use, you will need a car for transportation, this is because of its weight and of the length in the packed state. The carry bag is nicely designed to move it around in the camp. So it is perfect for any activity with a car access.
At home, this is a great extra bed for emergency situations and for sudden guests. You do not need a pad but it can be added for extra comfort.
Note that all legs are with plastic feet, so you will not have issues with the floor, neither at home nor in a tent.
The bed length is almost two meters, and there are no end bars, so this all is a true useful length, suitable even for tall people.
How WolfTraders Cot works
You have seen it in the video, no tools or brute force is needed for setting it up. The key element in taking the cot down is the foot-tab shown in the picture below. You just step on the tab and pull the handle which is close to you up. This will trigger the cot to collapse.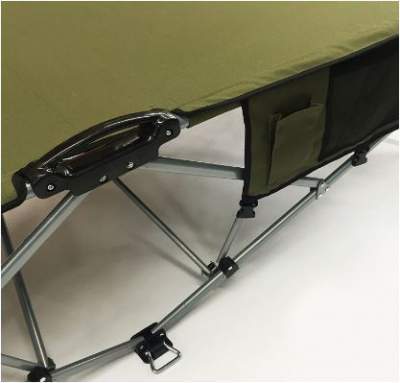 To realize how different this system is, please see this video where they show this cot side by side with some standard military type cot which needs assembly. You will enjoy it:
Bonuses
The cot comes with integrated big pouches on both sides. On one side you have a long pouch with a zipper, and a bottle holder. On the other side you have a large mesh pocket and a phone pouch.
When the cot is in the collapsed state, these pouches are used to wrap it and to cinch it down. There are several buckles for this purpose.
I would say that the stand-up feature is also a bonus, see it below, useful when you store the cot in the closet, and the same is with the nicely designed carry handles.
Finally, the integrated stuff bag shown below is a bonus as well. It is useful for storage at home, to keep the bed clean from dust.
Materials
The frame is made from 25 x 16 x 0.7 mm steel tubing. The bed fabric is a heavy duty 600D polyester with a PVC coating. You have double stitching and reinforcements, all in all a durable and well-made structure.
Pros and Cons
My summary looks as follows:
Good

Less good
• Very easy setup.
• Very comfortable.
• Very reliable.
• Several bonuses.
• Top quality materials.
• Versatile.
• Very reasonable price.

• 

 A bit narrow.
With the width of 28.5 inches (72 cm) the cot is quite typical, but a few centimeters more would make a lot of difference. But as you see, my list of Pros is quite long.
The two massive handles are really convenient for dealing with the cot, but when it is set up, they look like an obstacle when you want to get to the bed or to get up.
The price
The price is truly great, only $79 on Amazon at the moment of writing this text. This is for the olive color; observe that the black cot is $99 and there are no differences between them whatsoever. But this changes all the time so check the links for updates. See how I rate this cot:
My rating of the WolfTraders Patented Deluxe Folding Turbocot
Weight -

6.2/10

Size -

8.6/10

Capacity -

8.0/10

Packed size -

8.4/10

Ease of use -

9.9/10

Price -

9.6/10
Specifications
Weight: 25 lb (11.3 kg).
Capacity: 350 lb (158 kg).
Dimensions (L x W x H): 78 x 28.5 x 19 in (198 x 72 x 48 cm).
Folded size: 38 x 8 x 8 in (96 x 20 x 20 cm).
Carry bag included.
Storage pouch.
Fabric: thick 600D polyester.
Heavy duty steel frame.
Built-in handles.
Colors: 2.
WolfTraders Turbocot vs competitors
See how the Turbocot compares with its closest competitor, the EZ cot from Kamp-Rite and yet another similar cot. To see more please follow the links:
Bed size, inches (cm)

Packed size, inches (cm)

Weight
lb (kg)
WolfTraders
Turbocot

78 x 28.5 




(198 x 72)

38 x 8 x 8




(96 x 20 x 20)

25 (11.3)

Byer of Maine Easy Cot
78 x 31
(198 x 79)
39.2 x 7
(100 x 18)
21 (9.5)
Kamp-Rite EZ Fold Cot
79 x 29
(201 x 74)
39 x 9
(99 x 23)
25 (11.3)
The prices of the three cots are, respectively, $80, 85, 78. Clearly, they are very balanced but observe the bonus pouches which you have with the Turbocot, they make a lot of difference.
Summary
To conclude this WolfTraders Patented Deluxe Folding Turbocot review by stressing again that this is a very particular design and the cot comes with several bonuses. This all together with such an affordable price makes it a true bargain. I can fully recommend it.

If you still need something different, please check in the Categories above; this site all about cots and I am sure you will find something for you.
Let me know if you have any question or comment, there is a comment box below. I wish you a nice day.


---