---
This OSAGE RIVER 600lb Deluxe Folding Camping Cot with a built-in pillow is very easy to use and suitable for heavy users.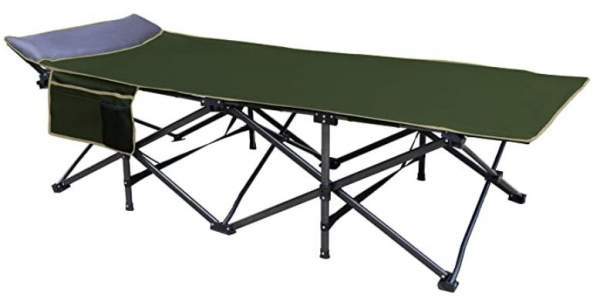 ---
Key features & benefits
No assembly.
Huge capacity.
Built-in pillow.
Reasonable price.
Carry bag.
---
Overview
So here you have a camping cot that can be described as folding, and this is one of those that fold down to a narrow but long tube. The pictures below show some steps in the process of its expansion. As you realize, it opens from the center in the for direction, all easily done and without tools.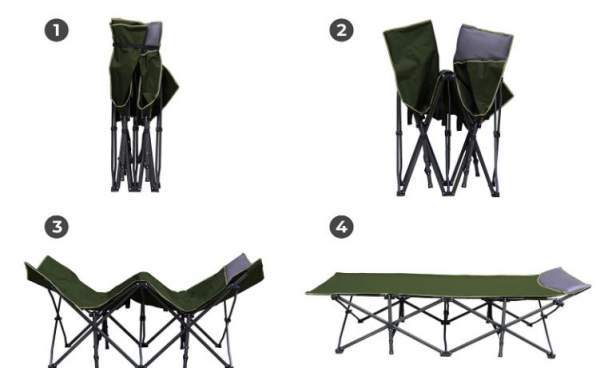 When folded, the dimensions are 43 x 12 x 10 inches (109 x 30 x 25 cm), see below. You have a carry bag included to keep it clean from dust when stored at home for a longer period of time.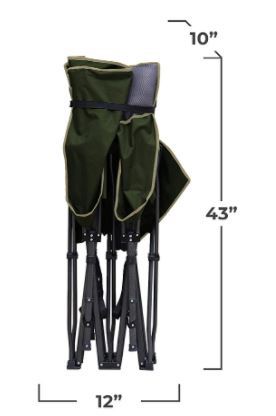 As you realize from the title, the cot comes with a pillow and with an elevated headrest, so you might manage without any extra head support, see the picture below. You can see also its bonus storage system on the side, for small items like keys, a smartphone, or a pocket lamp. This storage set includes 3 pockets and the overall size is 15 x 9 inches (38 x 23 cm).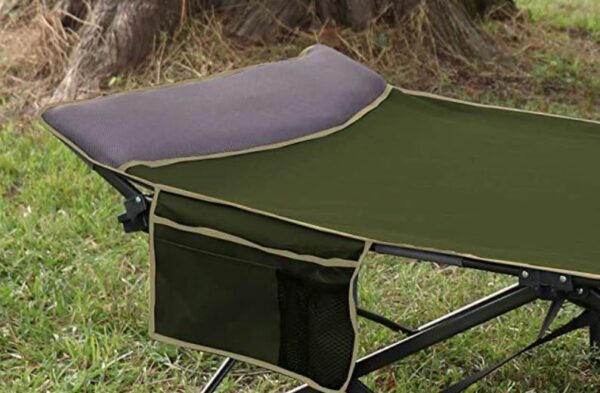 Materials & construction
The frame is tubular carbon steel and the cot is with numerous support bars and straps. The picture below shows how this all looks. The cot comes with plastic caps on its 10 legs, so the weight is distributed and it will not sink easily in the ground. But if you use it in a floored tent, you might consider adding something for floor protection because 4 of its feet are rather narrow.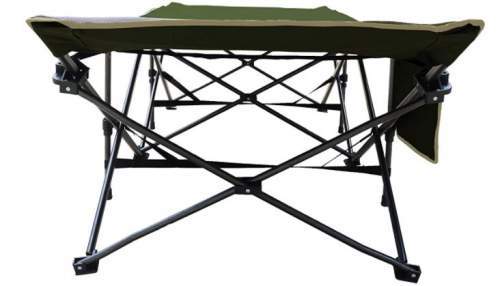 The fabric is a waterproof heavy-duty 600D PVC coated polyester. Not clear what they use in the integrated pillow, most likely this is some open-cell foam.
---
Who is it for
Capacity-wise, the cot officially supports the weight of up to 600 lb (272 kg). So this is enough even for the heaviest users. This is why I have included it in my list of best cots for heavy people.
Size-wise, this is a large cot, you have 79 x 31.5 inches (200 x 80 cm). It is both long and wide, and note also that there are no end-bars in the feet and head area, so this is all a useful length without pressure spots.

Weight-wise, the cot is quite heavy with its 20 lb (9.1 kg), but you have seen its frame and capacity. With the packed size shown above, clearly, this is a cot for places with car access.
Price-wise, I would say this is a fair price for the value.

Note that the cot is very tall, you have 18.5 inches (47 cm) of clearance. So although there are so many legs and bars, you can still use this space to store your gear. With such a height, it may be suitable for elderly users.
---
Specifications
Weight: 20 lb (9.1 kg).
Capacity: 600 lb (272 kg).
Bed size: 79 x 31.5 in (200 x 80 cm).
Bed height: 18.5 in (47 cm).
Folded size: 43 x 12 x 10 in (109 x 30 x 25 cm).
Frame: steel.
---
Rating, pros & cons
Below you can see how I rate this cot, the same criteria are used for all of them here in the site so you can easily compare:
Huge capacity & large bed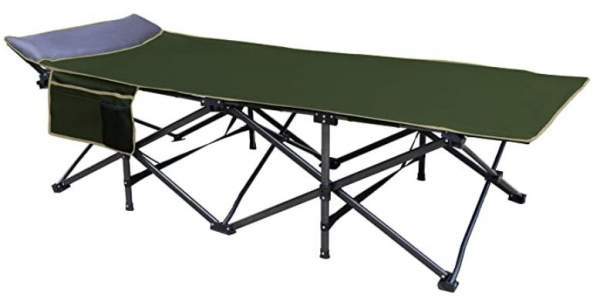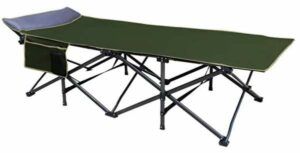 Product Name: OSAGE RIVER 600lb Deluxe Folding Camping Cot
Product Description: This OSAGE RIVER 600lb Deluxe Folding Camping Cot with a built-in pillow is very easy to use and suitable for heavy users.
Brand: OSAGE RIVER
SKU: B08TQKHPJ9
Weight -

6.8/10

Size -

8.9/10

Capacity -

9.8/10

Packed size -

7.2/10

Ease of use & features -

9.7/10
Summary
The weight is not the best feature of this cot, but the overall rating is still very good.
Pros
Huge capacity.
Large bed.
Reasonable price.
Easy to use.
Carry bag.
---
Final thoughts
So this OSAGE RIVER 600lb Deluxe Folding Camping Cot with Built in Pillow is large and with an impressive capacity. This makes it suitable for anybody, and this can be outdoor or as a spare bed at home.
In spite of its overall size, this cot is very easy to set up and to fold away. But bear in mind its weight and the folded length. The headrest and the storage system are true bonuses, and the price is fair. Fully recommended. It is included in my list of best folding camping cots.

For more options please check under the group Camping Cots here in the site. Let me know if you have questions or comments, there is a comment box below. Thank you for reading and have a nice day.