---
This Stansport Heavy Duty One-Step Camp Cot is an easy-to-use folding outdoor bed that is both large and wide, and with a great capacity.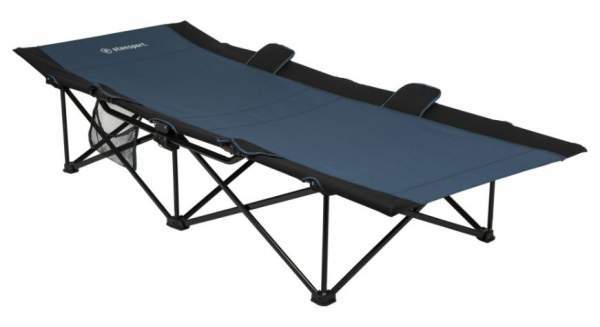 ---
Key features & benefits
Folding cot.
Great dimensions.
Great capacity.
Elevated headrest.
Zippered pillow pocket.
Side storage pouch.
Carry bag.
---
What is in the name
The words One Step in the name are most likely related to the fact that this is a folding cot that needs no assembly. You open it or close it in seconds. If you look closely you will see a long handle on the side, this is added to pull the cut up and to fold it.
The top picture above shows the cot in its full size, but see below how it folds like an umbrella towards the center.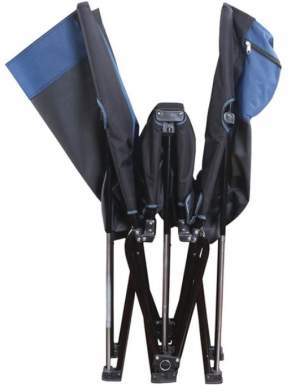 When you fold it, you can store it in its carry bag shown below. Its dimensions are 43 x 12 x 9 inches (109 x 30 x 23 cm). So it becomes a thin but elongated tube that will not take too much space in your car trunk. As you realize, it is equipped with a shoulder strap so you can carry it short distances.

The side view below shows that the cot comes with an integrated elevated headrest. If this elevation is not enough for you, check this Redcamp cot which is a reclining type.

Note that there is a zippered pouch in this headrest, shown below, so you can put inside some pieces of clothing or a pillow.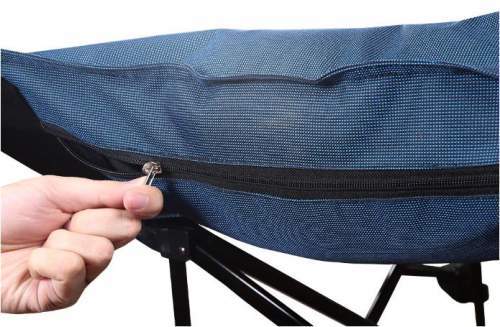 Yet another bonus here is a mesh pouch on the side, so you can keep small items off the ground and close at hand. The picture below gives a close view, observe that they have added those small flaps at places where the cot folds, so you do not touch cold metal at any spot. This is an attention to details which I appreciate here.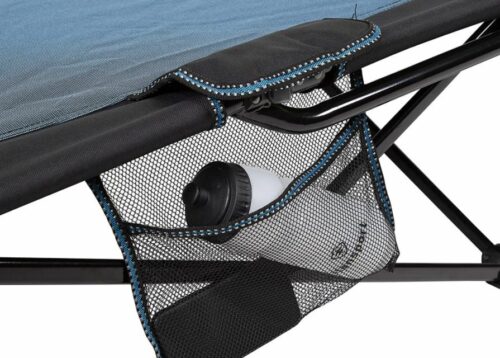 Materials
They do not provide information about the materials used. But the frame is clearly steel and the fabric appears to be polyester.
There are 6 legs and the feet are very wide, so this is a good design, they will not sink in the ground easily, and they are floor-friendly as well. Observe numerous X-shaped support bars for lateral stability.
---
Who is it for
Capacity-wise, the official capacity of this cot is 450 lb (204 kg). This qualifies it to be included in my list of cots for heavy people. It is not surprising when you see those six X-crossed structures in the frame.
Size-wise, the cot is equally impressive. The bed measures 80 x 32 inches (203 x 81 cm). So it is both long and wide.
Note that there are no bars in the head or feet area, so this is all true useful length. But if this is still not long enough, please check my list of best cots for tall people.
Weight-wise, the cot is quite heavy, so be ready for this. It weighs 22.5 lb (10.2 kg). In view of the previously shown packed size, this is clearly a cot for places with a car access.
Please see a bit more in this short video:
---
Specifications
Weight: 22.5 lb (10.2 kg).
Capacity: 450 lb (204 kg).
Dimensions: 80 x 32 in (203 x 81 cm).
Height: 16 in (41 cm).
Packed size: 43 x 12 x 9 in (109 x 30 x 23 cm).
---
Rating, pros & cons
Below you can see how I rate this cot and some of the pros and cons:
Great dimensions & capacity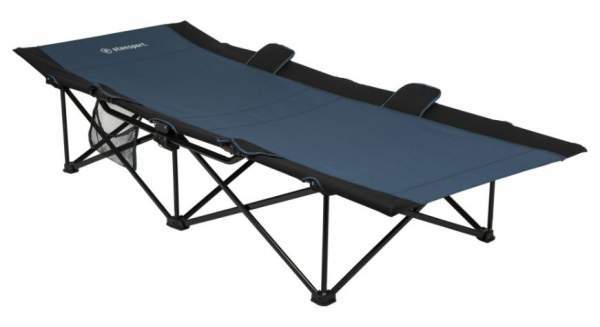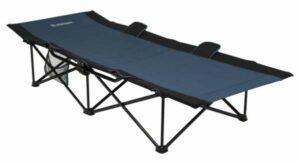 Product Name: Stansport Heavy Duty One-Step Camp Cot
Product Description: This Stansport Heavy Duty One-Step Camp Cot is an Easy-to-Use Folding Outdoor Bed that is both Large and Wide, and with a Great Capacity.
Brand: Stansport
SKU: B00XLHMGE2
MPN: G-32-80
Weight -

6.5/10

Size -

9.1/10

Capacity -

9.5/10

Packed size -

7.2/10

Ease of use & features -

9.7/10
Summary
The cot is heavy and a bit long when packed, but the overall rating is still Very Good:
Pros
Great capacity.
Great size.
Carry bag.
Easy to use.
Integrated headrest.
Head pillow pocket.
Cons
Heavy.
A bit long when packed.
---
Final thoughts
In the summary of this Stansport Heavy Duty One-Step Camp Cot review to stres, what you have here is a cot that has been on the market for quite a number of years already. The brand behind this cot is well-known globally, so you know what you are buying.
The bed size is impressive and the same holds for the official capacity. The cot is nicely built and the price is appropriate.
Please check under the category Cots if you need more options to see. You might want to compare this cot with yet another folding cot but of a different type, the KingCamp Portable Folding Camping Cot Adjustable 4-Position.
Let me know if you have questions or comments, there is a comment box below. Bookmark this site and visit it again, I add texts here regularly so this will keep you informed. Thank you for reading and have a nice day.