---
This Baby Delight Go with Me Bungalow Deluxe Portable Travel Cot is a folding easy to use structure with a removable canopy and a carry bag.
---
Key features & benefits
Folding cot.
Removable folding canopy.
Easy to use.
Carry bag included.
---
What this is about
So here you have a really beautifully designed folding cot for kids that needs no assembly. There are essentially two separate parts in it, the cot itself and the canopy. You see them below folded separately, and they fit together in the carry bag:
To make the cot ready you simply unfold and press so that the snap button comes into place and locks the cot. You will see in the video below how this is done. The fence shown below remains pre-attached to the cot, not that this is just a net, completely safe for the kid.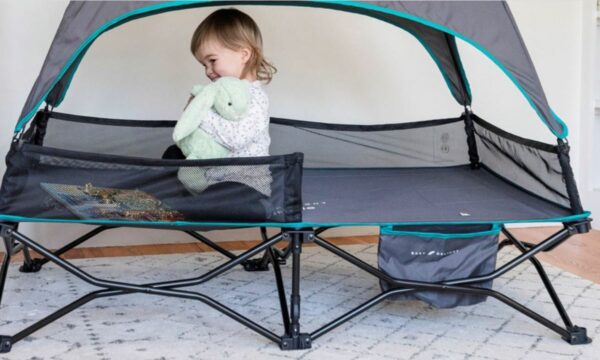 After that you may or may not add the canopy. It is with pre-attached poles that fit into the corners of the net.

The frame is metal, quite strong, and stable. I could not find any information at the manufacturer's site about the type of metal, but in view of its weight, this must be steel. The cot comes with a storage pouch on the side, visible in the picture below.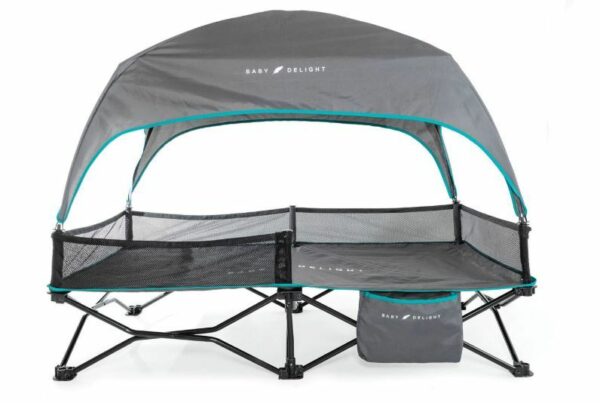 Please see more in this short video:
---
Who is it for
Regarding age & height: The manufacturer recommends this cot for:
Kids of up to 50 inches (127 cm) of height.
Kids older than 15 months.
Kids lighter than 75 lb (34 kg).
Regarding the construction & overall size: This cot will easily fit in any family camping tent. For such a use, you can remove the canopy, but no doubt your kid will love to keep it, so the height with canopy is 41.5 inches (105 cm) and this is still very low and you can use it in any tent.
The feet are wide so the cot will not damage the tent's floor. If you use it outside the tent, they will not sink in the ground. The canopy provides great shade, according to the manufacturer it blocks 98% of UVA & UVB rays.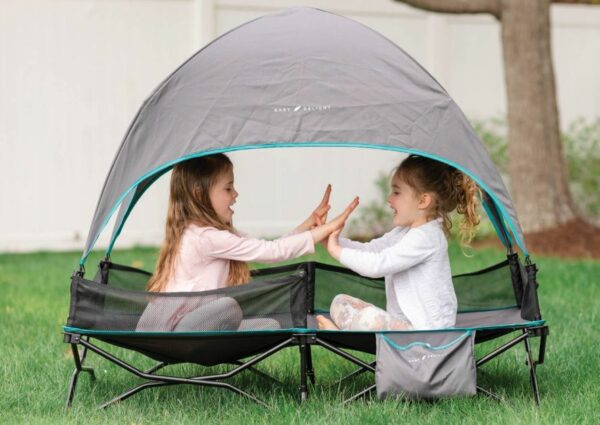 Regarding the packed size & weight: The package is a bit long tube that measures 32.5 x 9.3 x 6.5 inches (83 x 24 x 17 cm). It weighs 12.5 lb (5.67 kg), so it is not particularly light, but the carry strap helps and you can carry it attached on the shoulder. Clearly, this is a camping item for places with a car access.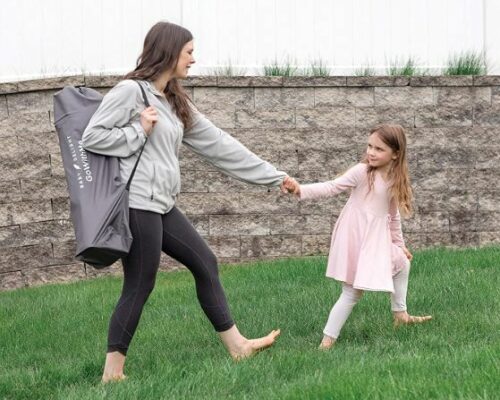 ---
Specifications
Weight:
– Without canopy: 12.2 lb (5.5 kg).
– With canopy: 12.5 lb (5.67 kg).
Weight capacity: 75 lb (34 kg).
Dimensions: 50 x 26 in (127 x 66 cm).
Height: 16.25 in (41 cm).
Height with canopy: 41.5 in (105 cm).
Packed size: 32.5 x 9.3 x 6.5 in (83 x 24 x 17 cm).
---
My rating, pros & cons
Please have a look at how I rate this cot and what I see as good and less good:
Nicely built and very easy to use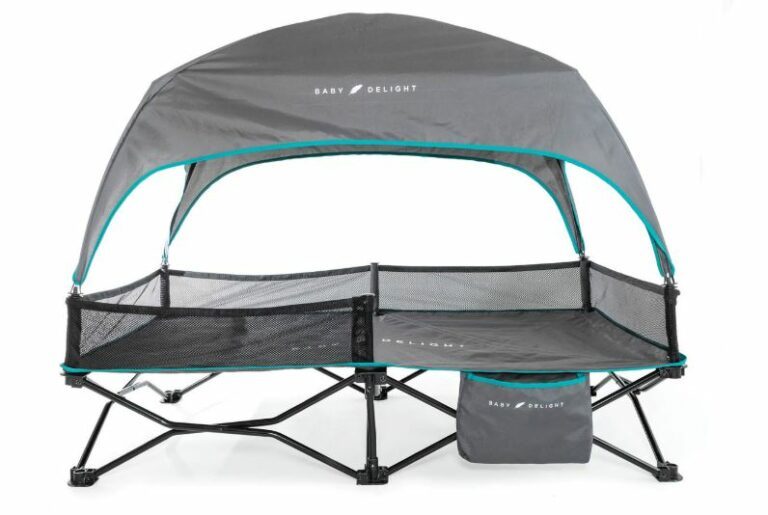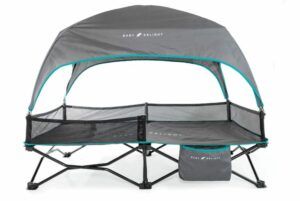 Product Name: Baby Delight Go with Me Bungalow Deluxe Portable Travel Cot
Product Description: This Baby Delight Go with Me Bungalow Deluxe Portable Travel Cot is a Folding Easy to Use Structure with a Removable Canopy and a Carry Bag.
Brand: Baby Delight
SKU: B081SJC9XB
MPN: BD05320
GTIN-8: 819956000770
Weight -

8.2/10

Size -

6.6/10

Capacity -

3.5/10

Packed size -

8.4/10

Ease of use & features -

9.8/10
Summary
My overall rating of this kids' item is Good. It is negatively affected by the small capacity.
Pros
Great canopy.
Easy to use.
Carry bag.
Cons
Low capacity.
Only for small kids.
---
Final thoughts
To summarize this Baby Delight Go with Me Bungalow Deluxe Portable Travel Cot review, what you have here is a really nicely built cot for kids, and very easy to use. Note that it is meant for smaller kids only. So if you need something larger for kids, please check this Disc-O-Bed Youth Kid-O-Bunk with Organizers.

This cot is included in my list of best tent cots for kids. If you need cots for adults, please check under the category Cots here in the site.
Thank you for reading. Let me know if you have any question or comment, there is a comment box below.