---
Bushtec Adventure Camping Cot Sierra 440 is extra large, padded and very soft, with extendable legs, and it folds into a lounger at several heights.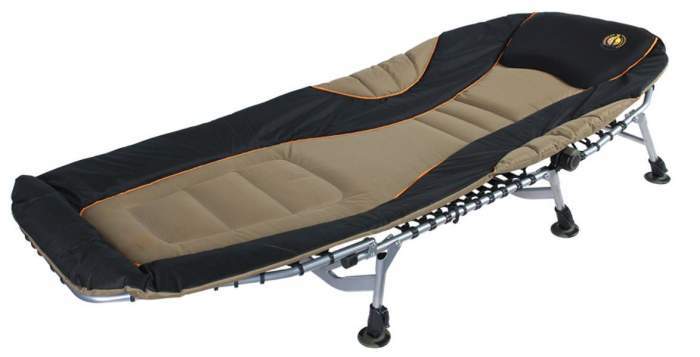 ---
Key features
Extra wide and long cot.
Padded.
Adjustable head incline.
Folding type.
Adjustable legs length.
---
Where to buy
Check on Amazon, it is available in several of their stores globally, and their shipping conditions are usually the best.
---
What is in the name
The number 440 in the name denotes the capacity (in pounds), so this is a strong cot and I have included it in my list of cots for heavy people.
This is a folding type cot, and the meaning is that it remains relatively large in two dimensions when packed. The packed size is 33 x 32 x 10 inches (84 x 81 x 25 cm), see the picture: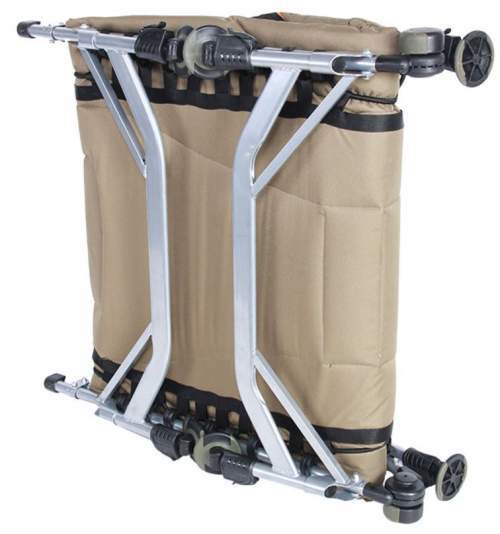 Yet another feature that sets it apart is the padding for extra comfort. You can realize from the pictures that this is a very pleasant and soft bed.
A lounger
What you have here is a construction with an adjustable incline in the head zone. So the cot folds into a lounger at several different heights, see how it can look: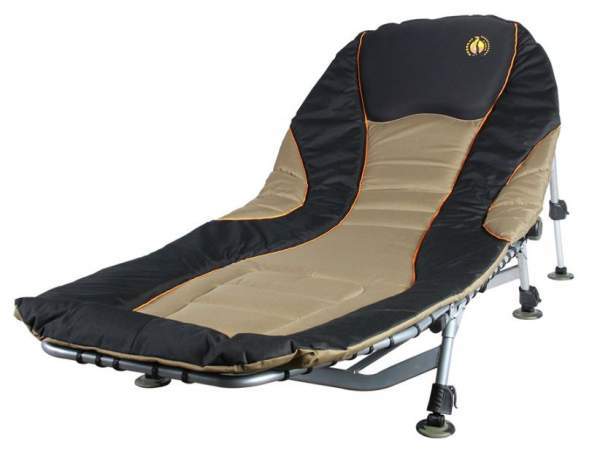 Extendable legs
Observe that the legs length is adjustable so you can always extend them and have a stable cot if the terrain is uneven. You can extend them up to 22 inches (56 cm) at the head side and up to 16 inches (41 cm) at the foot side.
So with such an adjustment you can transform it in a chair with a footrest and also make a flat bed surface regardless of the terrain. All the legs extend independently.
You see the handle on the leg below, this will lock it in any length you need. But note also that the feet are adjustable as well, they can pivot and adapt to the ground.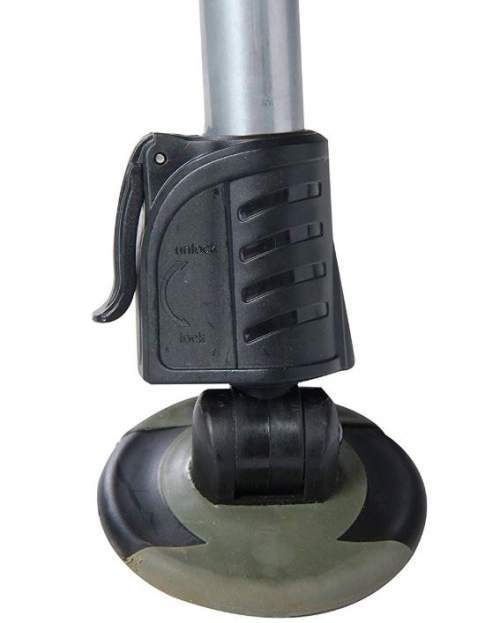 ---
Who is it for
Capacity wise, this is an exceptional cot with 440 lb (200 kg) capacity. So it can support almost anybody.
Size-wise, with the dimensions of 82 x 34 inches (208 x 86 cm), this is a huge cot suitable even for very tall people. It is also very wide and I have included it in my list of extra wide cots.
Weight-wise, with its 29 lb (13.2 kg) and also in view of its packed size mentioned above, this is a cot for places with a car access.
I see it as a great camping cot and also a cot for hunters. But it can be used as a nice extra bed at home for sudden guests and for emergency situations in general. Pity they did not add a stuff sack to protect it from dust when you store it at home.
---
Using this cot in a tent
This is a large item but it will fit in any family camping tent, see many great options here. The feet are enormous and floor-friendly so you can use it in a floored tent, there should be no issues with the floor.
On the other hand, the bed is minimum 10 inches (25 cm) above the ground, so you have plenty of storage space underneath the cot.
Do you need a pad? The bed platform is nicely designed and padded so you definitely do not need one. If this is about summer camping or perhaps even 2-season camping, the padding will be enough.
In a much cooler environment you can add some insulation, but being so much off the ground you will always need far less insulation as compared to sleeping on the ground.
---
Materials
The bed deck is a ripstop, waterproof, fire retardant, and UV protected canvas and you have extra padding. The zoomed image below shows you how comfortable and cozy this is. Note that the deck is attached to the frame through straps so there is no noise which you might expect in the case of steel springs that are used in some cots of this type.
The frame is steel. The bed folds easily, you can see one detail below which allows you to change the head section incline.
---
My rating, pros & cons
This is an expensive cot, but it is padded and with great capacity. They describe it as the most comfortable cot in the world and they might be right but this comes at a price. Check this Timber Ridge Juniper Cot if you need something far more affordable.
Please see how I rate it, I use the same criteria for all cots here in the site, so you can compare easily.
My rating of the Camping Cot Sierra 440:
Weight -

5.4/10

Size -

9.3/10

Capacity -

9/10

Packed size -

4.6/10

Ease of use & features -

9.7/10
Summary
I have some objections, and my overall rating of this cot is Good:
Pros
Great size.
Huge capacity.
Top quality item.
Reclining design.
Very soft and pleasant.
Cons
Large when packed.
Expensive.
No stuff sack.
---
Specifications
Weight: 29 lb (13.2 kg).
Capacity: 440 lb (200 kg).
Dimensions (L x W x H): 82 x 34 x 10 in (208 x 86 x 25 cm).
Packed size: 33 x 32 x 10 in (84 x 81 x 25 cm).
Frame: steel.
*The numbers are directly from the manufacturer's site.
---
Camping Cot Sierra 440 vs Chinook Heavy Duty Padded Cot
It may be useful to see how this cot compares with one of its closest competitors, the Chinook 29250 Heavy Duty Padded Cot. As you see it is much heavier but this is because it is bigger and the frame is steel so the capacity is bigger as well. The prices are quite similar, please follow the links for more details.
33 x 32 x 10
(81 x 81 x 25)

Chinook Heavy Duty Padded Cot
34 x 30.5 x 10
(86 x 77 x 25)

---
Final thoughts
In the summary of this Bushtec Adventure Camping Cot Sierra 440 review, I can only add that I am impressed with the features and quality of this item. If you can afford it, you will have a very comfortable camping bed. It is added to my list of Best Padded Cots for Camping.

If you need something different, perhaps camping beds with mattresses, please check this list with some really great models. Need something longer? No problem, check these extra long cots, all longer than 210 cm.
Note that this is not a sponsored text and I am not paid by the brand or related to them in any sense. Please use the comment box below in the case of questions or comments. Have a nice day.

---