---
Eltow Portable Folding Camping Cot is an easy to use reclining steel cot with a carry bag and a pillow included, ideal for camping and as a spare bed for sudden guests.
---
Key features
Folding cot.
Reclining design.
Easy to use.
Reasonable price.
Carry bag included.
---
Where to buy
This cot is available on Amazon, so if you are lucky you might find it at your local Amazon store and save on shipping.
---
What type of a camping cot is this
Here you have a typical example of a folding cot as you realize from the name of this Eltow Folding Camping Cot. Do not mix it with their another cot under the name ELTOW Cozy Folding Camping Cot which folds differently and has a mat.
So it folds from two sides towards the center and the result is what you see below. I have included it in my list of best folding cots: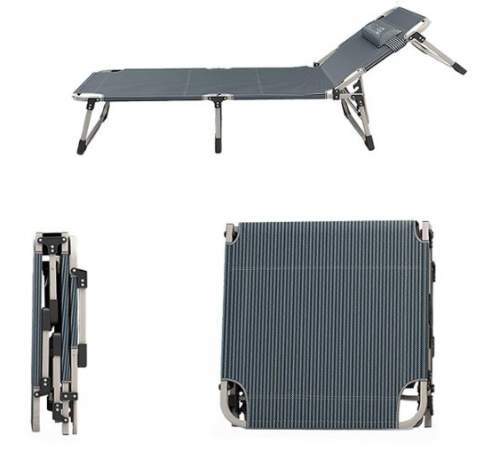 Note also that it comes with a stuff bag shown below. It has straps to carry it short distances, and the bag is good to have and to keep it clean when stored at home for a longer time.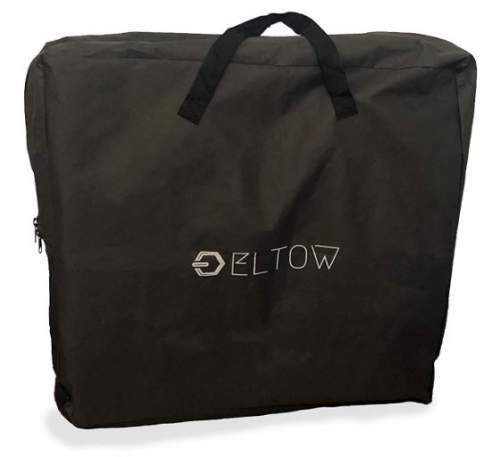 You also have a pillow here, it is attachable and removable. But note that this is not a padded cot, if you need such a type, check this list with some great padded camping cots.
Reclining design
This cot transforms to a lounger due to its easy to use reclining system. You have 5 different positions and changing them is easy, just pull the bar and unhook: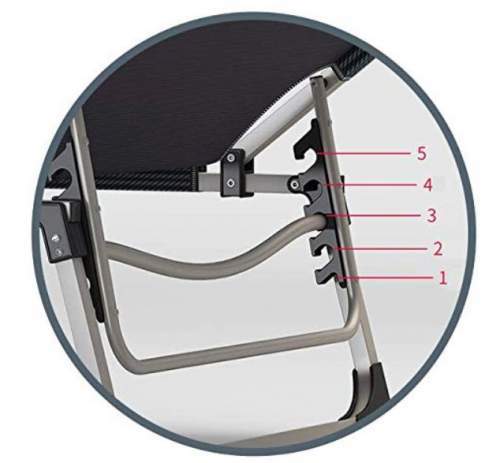 Materials
This is a steel construction and the fabric is among the strongest you will find in such cots. This is a waterproof and tear-resistant 1680D Oxford cloth that can withstand constant use.
Using this cot in a tent
The legs are bars and there are four of them, so it will not sink on a soft terrain. You can safely use it also in a larger family camping floored tent.
There is 12 inches (30 cm) clearance between the bed deck and the floor. This is lots of space to store your camping gear.
---
Who is it for
Capacity-wise, the cot can accommodate people of up to 350 lb (159 kg) and this is obviously good enough for most of the users. But if you still need something stronger, see my list with extra strong camping cots for heavy people.
Size-wise, with the dimensions of 75 x 27.5 inches (190 x 70 cm), this is a reasonably large cot. But you have a frame around so the effective bed is a bit smaller. If you need something bigger please check this list with extra large camping cots.
Regarding the weight & packed size, being a folding cot, it remains large when packed so it needs some space in the car. But it is thin when packed, only 6.7 inches (17 cm), so it can fit in narrow spaces. It is a bit heavy, but you have very durable materials used in its construction, hence the weight.
---
My rating, price, pros & cons
This cot is on Amazon-US with the price shown in the link below. Observe also this is an Amazon Prime product so you can have it shipped for free. All in all, this is a very reasonable price for such a quality item. Please see how I rate it:
My rating of the Eltow Portable Folding Camping Cot:
Weight -

7.4/10

Size -

8.5/10

Capacity -

8/10

Packed size -

5.8/10

Ease of use & features -

9.5/10
Summary
My overall rating of this cot is Very Good:
Pros
High-level craftsmanship.
Recliner.
Pillow included.
Reasonable price.
Carry bag.
Easy to use.
---
Specifications
Weight: 17 lb (7.7 kg).
Capacity: 350 lb (159 kg).
Dimensions: 75 x 27.5 x 12 in (190 x 70 x 30 cm).
Packed size: 28 x 27.5 x 6.7 in (71 x 70 x 17 cm).
Frame: steel.
---
Eltow Portable Folding Camping Cot vs Competitors
I have decided to show you this Eltow cot side by side with two other cots built in the same style. So all of them are folding and very easy to use. It is heavier than the other two, but this is a steel structure and its capacity is bigger.
It is also more expensive, but this is the only reclining cot here. Please follow the links for more.
28 x 27.5 x 6.7
(71 x 70 x 17)

36 x 27 x 6
(91 x 69 x 15)

36 x 24.5 x 4.5
(91 x 62 x 11)

---
Final thoughts
So Eltow Portable Folding Camping Cot is portable and you can take it to camp or set it up in your patio, garden, yard or poolside, or use as an emergency bed. I love its reclining design as it allows you to adjust the back and turn it into a chaise bed or a comfortable chair.
This is a robust, sturdy and durable steel structure but elegant at the same time, and the nicely designed pillow is an extra bonus. I have included it in my list of best car camping cots.

If you would want something different and more packable, check this Eureka! Quick Set Camping Cot which is ready in a second.
Please note that this is not a sponsored text, and I am not paid by the manufacturer. In the case of questions or comments please use the comment box below.

---