---
This Alpcour Folding Camping Cot is a version with an integrated headrest, a stable steel construction with a bonus pillow, storage elements, and a carry bag.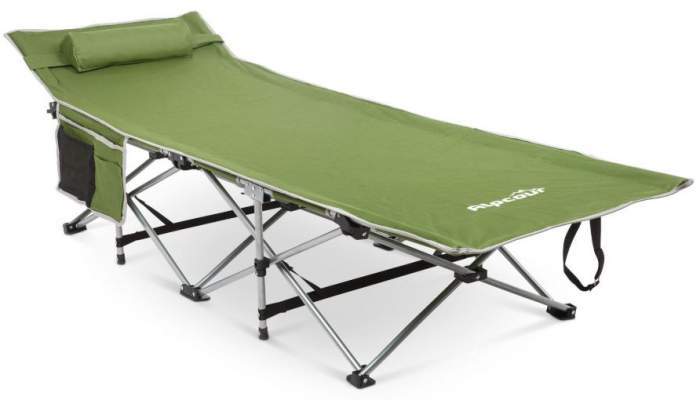 ---
Key features & benefits
Steel frame.
Folding design.
Head incline.
Pillow included.
Side storage elements.
Carry bag included.
Amazon's choice product.
---
Where to buy
This cot is available on Amazon. They operate globally as you know, so please follow the link and check shipping conditions for your location.
You can find it also at Walmart.
This is also an Amazon's Choice item, and this means recommended as highly rated, well-priced, and ready to ship immediately.
---
What type of cot is this
Here you have a typical folding construction which means that all the elements are permanently interconnected and the cot folds like an umbrella. The pictures below show how this is done: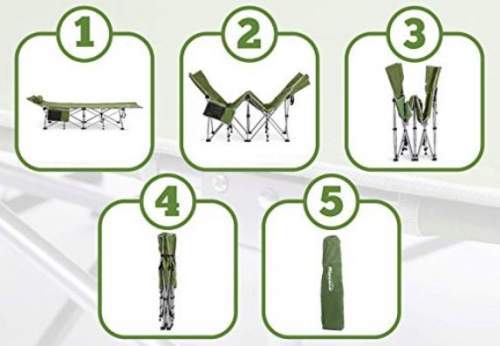 The cot remains a bit long when packed, see the picture below; the dimensions are 40 x 8 x 5 inches (102 x 20 x 13 cm). But you have a carry bag included and the cot fits nicely in it, so you can keep it clean from dust when stored at home and also carry shorter distances.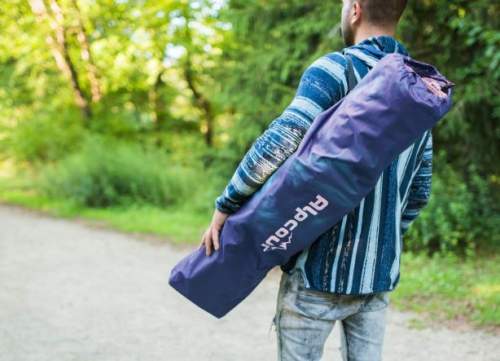 Elevated headrest & pillow
The cot is not flat, the head section is elevated for some 4 inches (10 cm) with respect to the rest of the bed, see the picture below. So you can manage without any pillow.
But they have added a bonus pillow for people who need more incline for the head and for side sleepers. It comes with a strap that keeps it in place.

One extra bonus is the storage system on the side shown in the picture, so you can keep plenty of small items off the ground.
---
Who is it for
Size-wise, with 75 x 26 inches (191 x 66 cm) dimensions, the bed is large enough for most of the users. There are no bars on the two ends, so the length is fully useful, see the picture below. But if you are a particularly tall person, check our separate list of cots for tall people.
Note also that the cot is 15 inches (38 cm) tall so this may be suitable for elderly users and for people who do not like sleeping close to the ground. But this also means that you cannot use it in very low tents.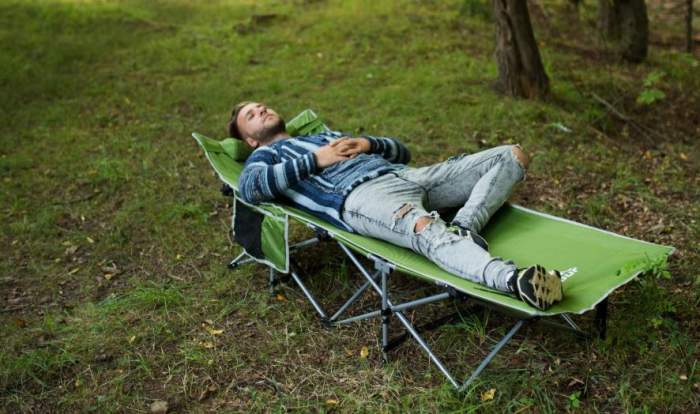 Capacity-wise, with the declared 300 lb (136 kg) weight capacity, this cot is quite typical and strong enough for most of the users. For very heavy people, it is best that you check our separate list.
Weight-wise, with its 14 lb (6.4 kg) of weight, this cot is not particularly light, and you will see how it stands when compared with some other cots of this type. But the weight is due to its steel structure and numerous support bars, so this is not necessarily a bad thing.
You have already seen its packed size, so in view of the mentioned weight, this is a car camping item.
---
Materials & construction
The fabric is standard for cots of this type, so this is a 600D breathable polyester, but it is also double-layered and water-resistant. Note that they build it in three different colors. The carry bag is nylon.
All those numerous support bars and legs are steel tubing so the structure is very stable. The feet are some sort of synthetic, most likely nylon.
Using this cot in a tent
I already mentioned that it is a rather tall cot, so you will need a high tent. Such a space underneath the cot is useful to store lots of your gear, so this is not a bad feature at all.
The feet are such that you can use it in the floored tent without issues, there are 10 feet with plastic caps, and some of them are rather large.
Please see a bit more in this short video:
---
The price & my rating
Below you can see the current price of this cot and this is clearly a very affordable item. Note also that this is an Amazon Prime product so you can have it shipped for free.
This cot has received hundreds of reports by Amazon customers, and the average rating is impressive. Please see how I rate it against my standard set of criteria used for all the cots in the site:
My rating of the Alpcour Folding Camping Cot:
Weight -

8/10

Size -

8.3/10

Capacity -

7.5/10

Packed size -

8.2/10

Ease of use & features -

9.7/10
Summary
My overall rating for this great cot is Excellent:
Pros
Very good price.
Very easy to use.
Carry bag.
Headrest, pillow & storage elements.
Cons
Long when packed.
A bit heavy.
---
Specifications
Weight: 14 lb (6.4 kg).
Capacity: 300 lb (136 kg).
Dimensions (L x W x H): 75 x 26 x 15 in (191 x 66 x 38 cm).
Packed size: 40 x 8 x 5 in (102 x 20 x 13 cm).
1-Year unlimited warranty.
---
Alpcour Folding Camping Cot vs KingCamp Cot & Yolafe Camping Cot
I have decided to show you how this cot compares with two of its competitors built in the same style. So both KingCamp Cot and Yolafe Camping Cot are with headrest and steel construction.
As you see, there are some differences in the parameters but they are not substantial. All are very affordable and you will realize this when you follow the links.
Alpcour Folding
Camping Cot
40 x 8 x 5
(102 x 20 x 13)

41.3 x 9.1 x 6.7
(105 x 23 x 17)

36.2 x 15.3 x 6.7
(92 x 39 x 17)

---
Final thoughts
So this Alpcour Folding Camping Cot with headrest is a quality product with features that provide great comfort and support. It is very easy to use and to store in its carry bag.
This is certainly not a backpacking item as they mentioned in the description, but it is versatile enough. So you can use it for car camping, at the beach, in the backyard, and also as a spare bed at home.
Check on Amazon
Check at Walmart
You might want to know that they also have a version without the headrest. If you need more options to check, just search under the category Cots here in the site, you have them in hundreds. They have yet another cot on the market with a great weight capacity.
See also this Alpha Camp Cot built in the same style, with huge capacity and suitable for heavy people.
Note that this is not a sponsored text, and I am not paid by the manufacturer. Please use the comment box below in case of questions or comments. Have a nice day.

---