---
The Coleman ComfortSmart Cot Deluxe is one of the most popular foldable camping cots on the market, with sturdy steel construction, mattress, and the price tag hard to match.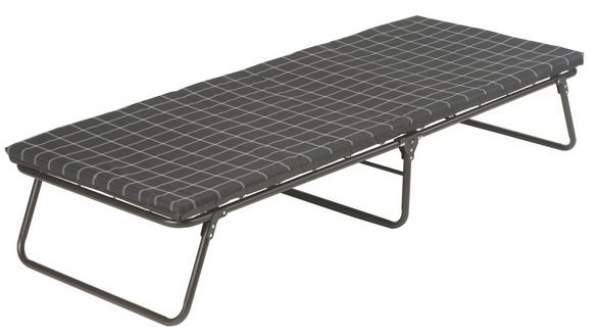 Key features
A foam mattress included.

Durable heavy-duty steel construction.

Suitable for tall people, up to 6 ft 6 in (198 cm).
Great price, around $80 at the moment of writing this text.
---
Who is it for
This is a great camping cot, suitable to be used at places with a car access. In view of its weight, 19.3 lbs (8.7 kg), this is not something to carry long distances around. So I see it used at:
trailhead hotels,
regular camping places,
summer open-air music festivals,
vacations,
beaches.
Being so nicely foldable, the cot is also good to have at home as an extra bed for sudden overnight guests, and for any emergency situations.
The cot is very long and wide, and with the capacity up to 300 lbs (136 kg), so it is a great bed for tall and heavy people.
---
Description
The Coleman Cot Comfortsmart Deluxe is a sturdy steel construction with a ComfortSmart coil suspension system and foam mattress pad. So the bed surface is suspended by springs and it looks like a trampoline. The mattress thickness is 1.75 inches (4.5 cm), quite enough for ordinary use.
But if you need extra insulation, you can add any insulated sleeping pad, or just the Exped MultiMat which is with the R-value 1.2, but it is large and you can fold it once and have the R-value 2.4 or even 4.8 if you fold it twice.
The Coleman 30 x 80 ComfortSmart Deluxe Cot is, in fact, the largest of Coleman's single foldable beds with mattresses. Note that there is a complete list of all Coleman cots available on the market, presented in my separate text, please have a look.
Unpacking and setting it up
The cot folds to the side where its legs are, and the mattress is stored on the same side. It is kept folded by a Velcro tab on the top. So just undo the Velcro, open and spread, put it on its 3 bar legs, put the mattress on its opposite side and it is ready.
You can see this happy owner unpacking the cot which he just received:
Fitting the cot in a tent
The bed surface is some 15 inches (38 cm) above the ground, and the cot can easily fit in any 2-person tent, perhaps even in some solo tents as well.
If you plan to use it in such smaller tents, it is best to have a tent with the front entrance. With such a design, it is easier to get unfolded cot in the tent.
Note also that its legs are, in fact, bars. So they will surely not damage the floor of the tent, see the picture below.
The cot will take a lot of space in any tent, but this is not a wasted space. You get a lot of comfort, and remember that you also have a huge volume and space under the cot, where you can store all your gear, see the picture below. So, in fact, the cot is more effective regarding space than a sleeping pad which you would use to sleep on the ground in the tent.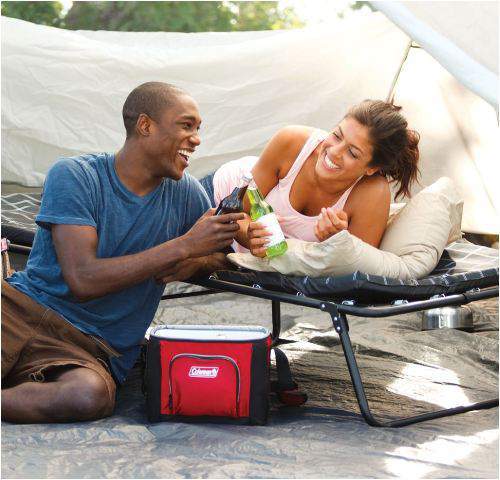 Fitting in the car trunk
The pad folds compactly to 39.6 x 30.7 inches (101 x 78 cm), and in this case, its thickness is only 5.5 inches (14 cm), so it fits inside most car trunks. But if you need something collapsible to only one larger dimension, check this cot from the same brands.
---
My rating, pros & cons
The list of Pros is long. It would be great to have a cover or a carry sack, but this is not a big deal.
The daily updated price on Amazon-US is given in the link. This is an Amazon's Choice item and this means recommended by the seller as well-priced, and ready to ship immediately. It is also an Amazon Prime product.
This is a very popular camping bed which has received a huge amount of reviews everywhere. No doubt, there are very good reasons for its high rating. See below the breakdown of my own rating:
My rating breakdown of the Coleman 30 x 80 Comfortsmart Deluxe Cot
Weight -

7/10

Size -

9/10

Capacity -

7.5/10

Packability -

4.4/10

Ease of use & features -

9.7/10
Summary
My overall rating of this cot is Very Good:
Pros
• Mattress included.
• Very quick setup.
• Very comfortable.
• Very reliable.
• Durable materials.
• Great size.
• Great price.
---
Specifications
Type: foldable cot.
Weight: 19.3 lbs (8.7 kg).
Weight capacity: 300 lbs (136 kg).

Setup dimensions: 80 x 30 x 15 in (203 x 76 x 38 cm).

Folded dimensions: 39.6 x 30.7 x 5.5 in (101 x 78 x 14 cm).

Foam mattress thickness: 1.75 inches (4.5 cm).

Fits people up to 6 ft 6 in (198 cm).

Superior comfort.

Comfortsmart spring coil suspension.

Durable construction – a strong folding steel frame.

Compact, folds up to fit inside most car trunks.

1-year limited warranty.
---
Summary
To conclude this overview of the Coleman ComfortSmart Cot Deluxe, this cot has been on the market for several years already and it remains one of the bestsellers on Amazon and on other places.
Users love this cot, it is so reliable and comfortable, easy to use, and at a great price. The included mattress adds value and comfort, and you do not need any extra pad with this system. This is a great tool and I can fully recommend it. I have included it in my list of best cots with a mattress.
Best places to buy:
Note again that all Coleman cots are presented in my separate text. These are all foldable or collapsible tools, but not designed to be carried long distances. So they can be used at any place with a car access.
But if you need something that you can carry in your backpack, for hiking, mountaineering, kayaking, motorbike travel, or for backpacking, please check my text with some ultra lightweight cots. On the other hand, if you need something for extra heavy people, check this list.
On the other hand, if you need something for extra heavy people, please check this list.
Thank you for reading. I love to hear from you, so please use the comment box below in the case of comments and questions. Have a nice day.

---