---
The TR Camping Cots Foldable for Adults is a folding and easy to use compact and very affordable outdoor bed.
---
Key features & benefits
Folding cot.
Very compact.
Easy to use.
Carry bag.
Great price.
---
What is in the name
This TR Camping Cots Foldable for Adults seems to be the only cot of this brand so far. So I am not sure why they use plural but this is a part of its official name.
On Amazon they write it is US-patented. I am not sure if this is really so and here is why.
In fact, there are several cots of this type on the market. To realize this, you can check the DEERFAMY Camping Cot and also Timber Ridge Folding Lightweight Camping Cot.
I have been following this industry for many years, and from what I know, the mentioned Timber Ridge cot was the first on the market with this design.
On the other hand, you see the name of the brand, it is TR, so I am not sure if this means 'Timber Ridge' or not.
This all aside, here you have a nicely designed folding cot. This means that this is all one single piece, all the elements are pre-attached to each others. So you simply unfold it and it is ready in seconds.
This is a clever design with a long zipper that runs parallel to the side bar, you can see it in the picture below on the left.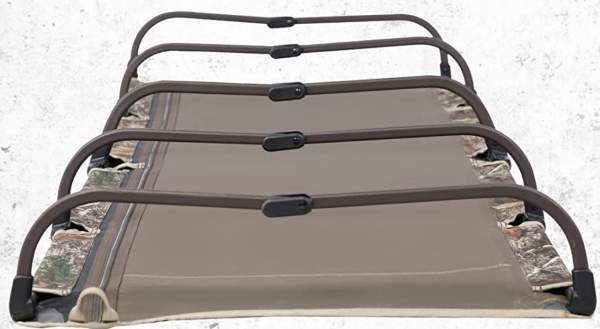 When you unzip it, you can fold all its legs in half, and then fold the rest of the cot. These steps are shown in the pictures below. When you need the cot, you will do the steps in the opposite order.
When not in use, the cot packs into its carry bag shown in the picture. Its dimensions are 20 x 8 x 5.5 inches (51 x 20 x 14 cm).
The materials
All the metal elements are made of a steel alloy, they claim it is rust-proof. The fabric is a durable polyester oxford.
As you realize from the pictures, there are five U-shaped legs/bars so the weight is distributed and the cot will never sink on a soft ground. You can also use it in a floored tent without problem with the floor.
---
Who is it for
Regarding the capacity, the cot is a bit modest, it is officially for users of up to 225 lb (102 kg). So if you need more, please check my list of camping cots for heavy people.
Regarding the dimensions, it is moderate, quite similar to many other cots on the market. The bed measures 75 x 26 x 6 inches (191 x 66 x 15 cm).
Note that there are no end bars, so the length is all a true useful length. The cot is quite low, and it will fit in any tent. You have 15 cm of clearance so you cam still store some longer and thin pieces of your gear under the cot. I have included it in my list if low camping cots.
Regarding the weight, with 12.4 lb (5.6 kg) it is normal for such a type, you are not supposed to carry it long distances in any case.
I already mentioned its packed size so you realize you can transport it even on a bicycle.
---
Specifications
Weight: 12.4 lb (5.6 kg).
Capacity: 225 lb (102 kg).
Dimensions (L x W x H): 75 x 26 x 6 in (191 x 66 x 15 cm).
Folded dimensions: 20 x 8 x 5.5 in (51 x 20 x 14 cm).
Frame: steel alloy.
Carry bag: yes.
---
Rating, pros & cons
Below you can see how the cot stands against my rating criteria. You can rate it from your side, there is a rating bar for this.
Folding and easy to use compact cot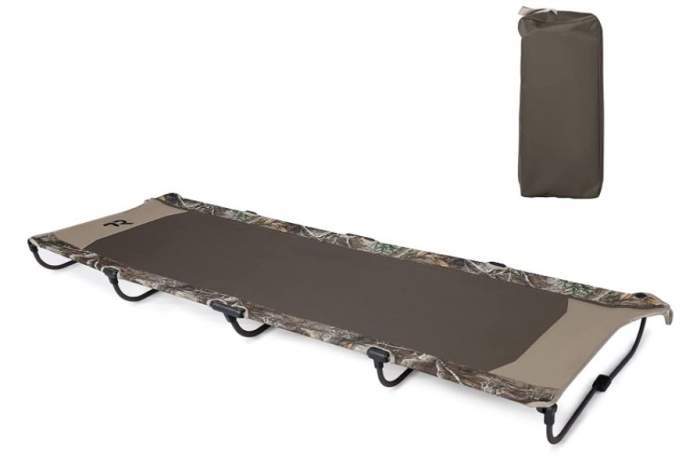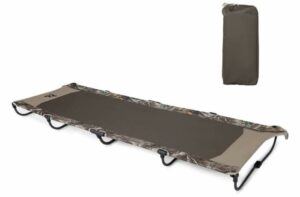 Product Name: TR Camping Cot Foldable for Adults
Product Description: The TR Camping Cots Foldable for Adults Is a Folding and Easy to Use Very Compact and Affordable Steel Outdoor Bed Suitable for Various Outdoor Activities.
Brand: TR
SKU: B09C5MYGT7
Weight -

8.2/10

Size -

8.3/10

Capacity -

7/10

Packed size -

9.2/10

Ease of use & features -

9.5/10
Summary
This cot scores high in almost all rating criteria so the overall rating is very good.
Pros
Easy to use.
Compact.
Very good price.
---
Final thoughts
So this TR Camping Cot Foldable for Adults is a really easy to use folding cot. It packs to a very small size and this makes it versatile as you can transport it in various ways. I have added it to my list of best folding cots for camping.
Best places to buy:
For more options, please check under the category Folding Cots, you will find them many here in the site, and in all sizes and shapes.
Bookmark this site and visit it when you find time, this will keep you informed, you have new texts added here on a regular basis. Let me know if you have questions, there is a comment box below. Thank you for reading and have a nice day.