---
The Guide Gear Quick Fold Cot is folding and very easy to use, with a carry bag included, and an incredible price tag.
---
Key features & benefits
Folding cot.
No assembly.
Integrated head rest.
Carry bag included.
Incredible price.
---
What this is about
Those who follow this industry may remember that Guide Gear had a similar cot on the market more than a decade ago. So this is a new one but built in the same style.
The words Quick Fold in the name indicate the fact that this is a folding cot, very easy to use, and without any assembly. You open it or close in seconds.
When not in use, it folds in a bit long but narrow tube shown in the picture below. You can store it in its included carry bag and keep clean from dust. The bag has a shoulder strap so you can carry it short distances.
When packed in its carry bag, the dimensions are 42 x 8 x 6 inches (107 x 20 x 15 cm).
As you realize from the top picture above, the cot is designed with an integrated incline or headrest. So back sleepers might manage even without extra pillow.
A storage pouch is on the side to keep you small items at hand and off ground.
Materials
The frame is all a single piece, with all the elements pre-attached. This is a heavy-duty powder-coated steel.
There are 10 feet here and they are with protective caps. So the cot should be safe to use even in a floored family camping tent. But you can add something extra for protection. Pieces of a cardboard will be enough.
They do not provide any information about its fabric. My guess is this is some polyester as usual.
---
Who is this Guide Gear Quick Fold Cot for
Regarding the capacity, this cot is quite typical with its 300 lb (136 kg) weight capacity. So if you need more please check in my list of cots for heavy people.
Regarding the dimensions, the cot is wide enough but not particularly long, see the picture. But note that there are no end bars, so the length of 74 inches (188 cm) is a true useful length.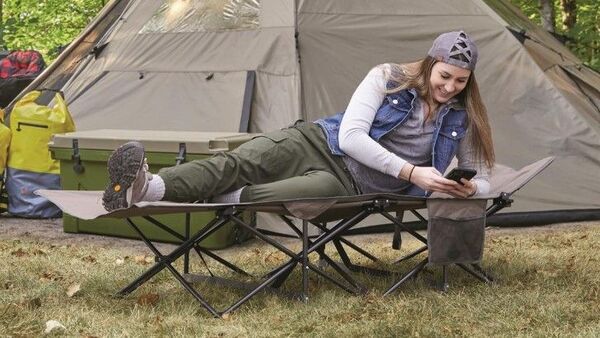 If this cot is not large enough, and you want something in the same style, check this Stansport Heavy Duty One-Step Camp Cot.
Regarding the weight, I would describe it as on the heavy side with its 16 lb (7.2 kg). But this is fine, you are not supposed to carry such a cot long distances.
You have already seen its packed size, so it is a bit long but rather thin, and it will not take much space in the car.
Regarding the price, it is hard to match. For a cot from such a renown brand this is simply incredible.
---
Specifications
Weight: 16 lb (7.2 kg).
Capacity: 300 lb (136 kg).
Dimensions (L x W x H): 74 x 27.5 x 16.5 in (188 x 70 x 42 cm).
Folded dimensions: 42 x 8 x 6 in (107 x 20 x 15 cm).
Frame: steel.
---
Rating, pros & cons
Below you have my rating against the same set of criteria used for all the cots here in the site, so you can easily compare. As you realize, it stands very good.
Easy to use folding and incredibly affordable cot.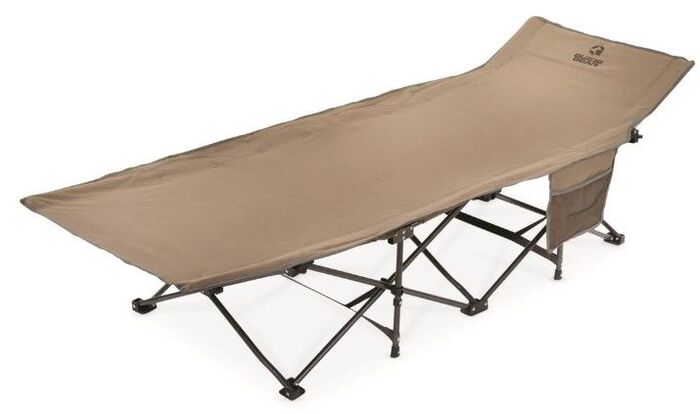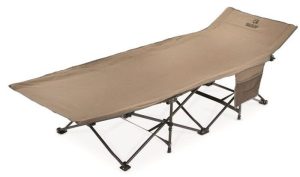 Product Name: Guide Gear Quick Fold Cot
Product Description: The Guide Gear Quick Fold Cot Is Folding, Reliable, and Very Easy to Use, with a Carry Bag Included, and an Incredible Price Tag.
Brand: Guide Gear
SKU: 732282
MPN: COTZ-011-BRN-SG
Weight -

7.6/10

Size -

8.5/10

Capacity -

7.5/10

Packed size -

8.2/10

Ease of use & features -

9.6/10
Summary
This cot stands good against all the rating criteria, so the overall rating is very good.
Pros
Very easy to use.
Carry bag.
Incredible price.
Cons
Not very long.
A bit heavy.
---
Final thoughts
In summary, this Guide Gear Quick Fold Cot is not unique, there are many cots on the market built in the same style. But it is easy to use and reliable as you would expect from such a respected brand. The price is hard to match. Fully recommended. It is added to my list of best folding cots.
Best places to buy:
For more options, please check under the category Folding Cots, you will find them many here in the site, and in all sizes and shapes.
Bookmark this site and visit it when you find time, this will keep you informed, you have new texts added here on a regular basis. Let me know if you have questions, there is a comment box below. Thank you for reading and have a nice day.