---
This REI Kingdom Cot 3 review is about a very long and nicely padded cot with an adjustable headrest. It can easily transform into a lounger when needed.

---
Key features & benefits
Folding cot.
Padded.
Very long.
Extendable front legs.
Integrated pillow.
It can transform into a lounger.
---
Overview
Here you have a very typical folding camping cot, one of those that remain large in two dimensions when folded. So the packed size is not its best feature, it measures 33 x 32 x 8.5 inches (84 x 81 x 22 cm). The picture below shows how it looks when packed, so although it is bulky, as you realize it is quite thin.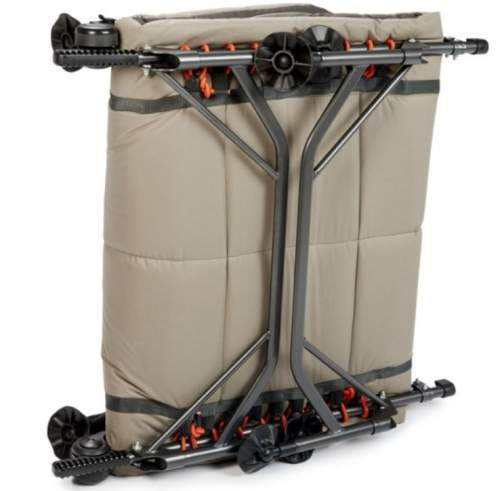 With such a design you have no assembly, it comes ready to use, and you can always have it ready in seconds.
This is also a nicely padded cot with a plushy and soft fabric. So you do not need an extra pad with such a cot, but you can add it for extra comfort or if you sleep in a cold environment. This is why I have included it in my list of best padded camping cots.
There are some adjustability options in the design, For example, you have extendable front legs. The height adjustability at the head section is in the range of 15 – 23 inches (38 – 58 cm), and this means with the legs on the ground. So with this, you can change the headrest inclination and you can manage even without a separate pillow. Note that in the head section, you have more padding so it looks like an integrated pillow. The picture below shows it with the elevated headrest.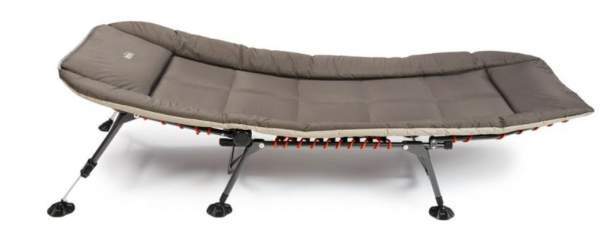 There are twist knobs for this adjustment (see the picture below), but some users have been complaining that it is hard to manage them in the beginning. So they must be loosened to allow enough slack to disengage teeth that are normally dovetailed into a set knob on the frame. You do this on both sides simultaneously.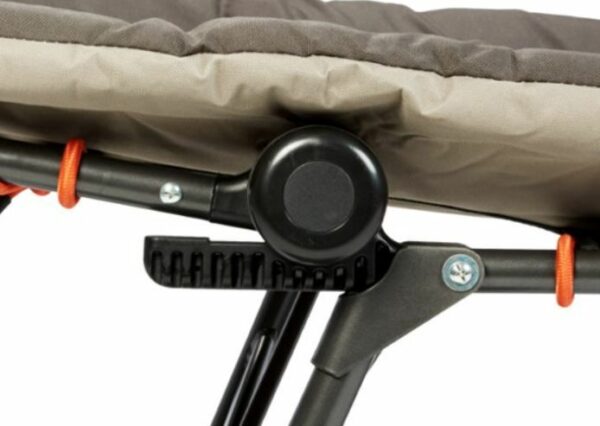 Below is a zoomed image that shows extended legs, observe also the stabilizing bar between them. Because of this I have included it in my list of best cots with adjustable legs.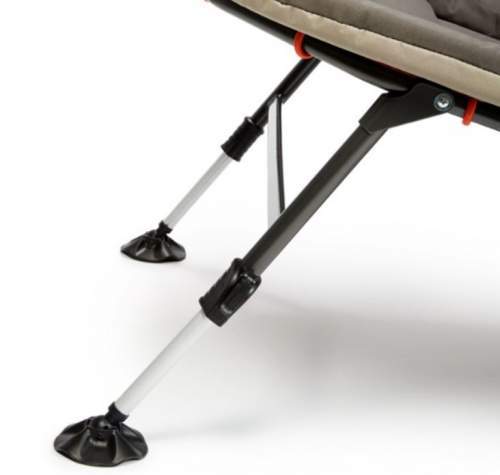 In addition to this head inline adjustment, this head section can be raised to an almost vertical position so the cot transforms into a lounger. In this case, the front legs raise as well and they are off the ground of course.
Materials
The frame is a combination of aluminum and steel. The 6 feet are with very large pivoting plastic caps, you have seen it in the picture above, a bit more you can see below.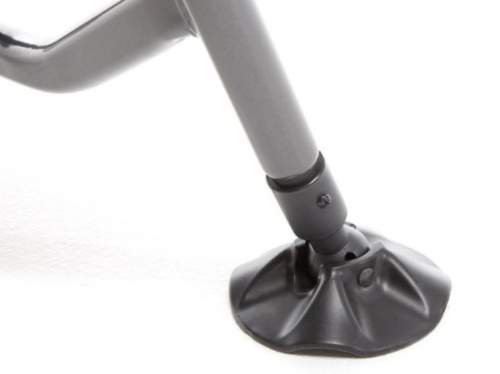 The fabric is a quilted quick-drying and water-resistant polyester. It is not clear what kind of padding is inside, most likely this is an open-cell foam. Observe that it covers the edges so you do not touch the cold frame anywhere. The bed platform attaches with a bungee cord so this allows for the bed to adjust to your body easily, see how it looks: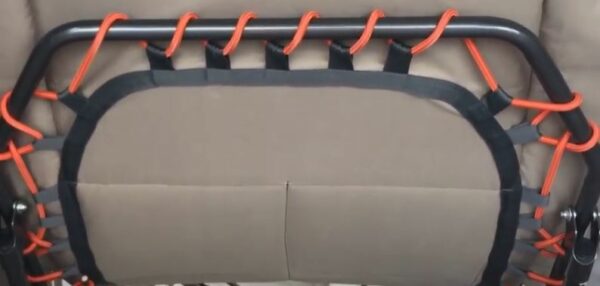 They recommend spot cleaning the fabric when necessary, or use a garden hose and a cleaning brush with some soap, and let it dry naturally.
---
Who is it for
Regarding capacity, the cot is quite modest with its official 300 lb (136 kg). It looks robust with all those support bars. This should still be good for most of the users, but if you need more it is best to check our list of cots for heavy people.
Regarding the size, here you have a very long cot, no less than 82 inches (208 cm). This does not qualify it to be included in my list of extra long cots but this is indeed an impressive size. Note also that the cot is wide, you have 31.5 inches (80 cm) width here. Although the frame is around, because the padding covers the frame tubes, all this length and width is the true space to use.
Regarding the weight & packed size, the cot is heavy with its 20 lb (9.1 kg), and its packed size you have already seen above. They describe it as 'small for convenient storage and travel' but this is definitely not so. This is for places with a car access. I have included it in my list of cots for car camping.
How about using this REI Co-op Kingdom Cot 3 in a tent?
In view of its length, the cot will not easily fit in small tents, but this will also depend on the tent's construction. But it should easily fit in most of the 3-person tents, perhaps even in some tents for two people.
Note that the cot is moderately high, there is 14 inches (36 cm) clearance. So this is a useful volume to store your camping gear.
The feet are such that they should not damage the tent's floor, but I would always add something, at least pieces of cardboard or a rug. The padding offers a bit of insulation, and you are above ground so you do not need extra insulation except if you camp in a very cold environment.
---
Specifications
Weight: 20 lb (9.1 kg).
Capacity: 300 lb (136 kg).
Dimensions: 82 x 31.5 in (208 x 80 cm).
Height: 14 in (36 cm).
Folded size: 33 x 32 x 8.5 in (84 x 81 x 22 cm).
---
Rating, pros & cons
Below you can see how I rate the cot against my standard set of criteria so you can easily compare with other cots. I give also some pros and cons, note that it comes without a carry bag, pity. You can use some plastic bag to keep the cot clean from dust when stored at home.
Very Long & Nicely Padded Cot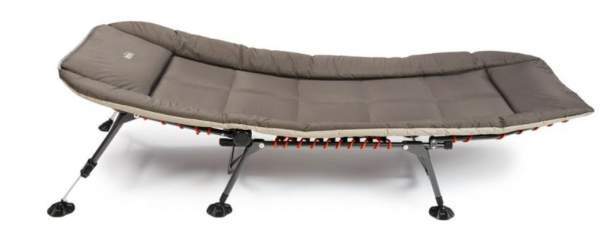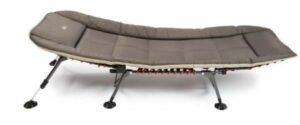 Product Name: REI Co-op Kingdom Cot 3
Product Description: This REI Kingdom Cot 3 Review Is About a Very Long and Nicely Padded Folding Cot With an Adjustable Headrest.
Brand: REI
SKU: 892837
Weight -

6.8/10

Dimensions -

9.1/10

Capacity -

7.5/10

Packed size -

4.6/10

Ease of use & features -

9.4/10
Summary
The cot does not scorer great in some of the criteria, like the packed size and weight, but you can ignore them, this is a car camping cot.
Pros
Very long.
Padding.
Easy to use.
Reclining.
Cons
Bulky.
Heavy.
A bit expensive.
No carry bag.
---
Final thoughts
To summarize this REI Kingdom Cot 3 review by stressing again its great size and its padding which is such that it cradles you in the middle of the cot and you do not touch the frame at any point. Putting aside the fact that the cot is heavy and bulky when folded, it is very easy to use and you can have it ready in seconds.
You have also seen that this is a versatile item, so you have a camping bed and a lounger in one product. Fully recommended. It is included in my list of best reclining cots for camping.

For more options please check under the category Camping Cots, you will find them many in all sizes and shapes. Bookmark this site and visit it from time to time, we add here texts on a regular basis so this will keep you informed. Thank you for reading and have a nice day.