---
This Byer of Maine Easy Cot Review is about a camping bed that has been on the market for many years already. Sturdy and reliable, this is a tool that has stood the test of the time in the true sense.
Key features and benefits
Standout feature: incredibly easy setup, the name tells it all.
Very reliable camping bed.
Steel frame.
Great price.
Great size.
Good packed size.
Amazon's Choice product.

---
Description
I think it is best to start with this video from Byer of Maine, note it is from 2010, so the cot has been on the market for a very long time already. The cot is presented here by the vice-president of the company. See why it remained so popular after so many years:
The setup
From the video, you have realized the meaning of the name of this cot. As its name suggests, the Easy Cot is incredibly easy to use, just remove the cot from its carrying bag, and open it up. You have seen it, done in seconds, no tools required. The same is when you need to fold it up.
The only camping cot known to me with such an elegant and easy setup is the Kamp-Rite EZ Fold Cot, have a look.
The Easy Cot is a folding bed in full sense, so it folds up to a relatively small size, with only one long dimension 39.25 x 7 x 7 in (100 x 18 x 18 cm). All steps in the setup are shown in this picture: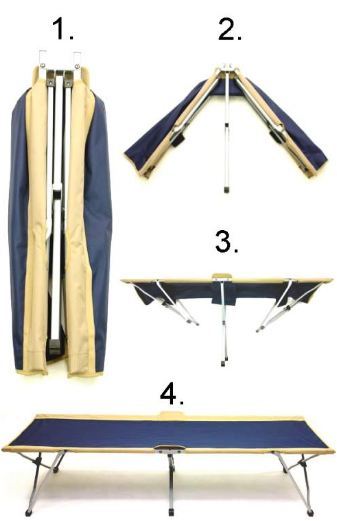 Materials and comfort
The Byer of Maine Easy Cot includes the following:
welded steel legs,
600 denier polyester, and
multiple fabric reinforcements.
This is a very strong construction and they give guarantee for the 330 lb (150 kg) capacity. I am sure it can take far more. The bed fabric is strong and it is reinforced by extra webbing pieces underneath it.
The bed size is great, 78 x 31 inches (198 x 79 cm), so this should be good even if you are a stomach or side sleeper. The bed also provides 18 inches (46 cm) clearance from the cold ground.
Note that there are no end bars in the head and foot area, so all the length of the bed is usable. There are no bars underneath the fabric to break your back, it is all canvas. Also, the sidebars are completely covered, no unpleasant metal to touch during a cold night. I truly love its design and the color.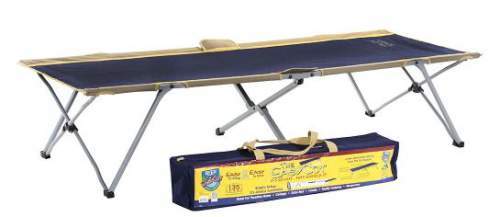 Fitting in a tent
Bear its height in mind if you plan to use it in a tent, it should be high enough to accommodate such a high cot.
Note also that not every solo tent can accommodate this cot. Take as an example this popular ALPS Mountaineering Lynx 1 tent which is long enough but perhaps not wide enough.
Two of such cots will easily fit in most of the 3-person tents, like this Kelty Gunnison 3.3, but this is not so with every 2-person tent, see for example the popular Kelty Salida 2 tent which cannot take two cots of this type side by side.
Here is one more video, from some more recent time:
---
Who is it for
Perhaps first to stress who it is not for. This is a heavy and heavy-duty tool. With the weight of 21 lb (9.5 kg), this is not something you would want to carry long distances, although it has a beautifully designed carrying case (shown above) with a shoulder strap made of a durable material which is the same as the cot fabric.
So this is an outdoor camping bed to be used at places with a car access. This may include a variety of possibilities, like:
trailhead hotels,
regular camping places,
summer open-air music festivals,
vacations, and
beaches.
In view of its length when collapsed, it may no be so suitable to transport on a motorbike, for such a purpose perhaps you might consider something smaller. There are many suitable cots described in my another text.
This is also a nice piece to have at home for emergency situations and for sudden overnight guests. The carry bag is so nicely designed and you can store it anywhere in the closet at home.
---
My rating, pros & cons, price
The cot is heavy, but as I said above, this is the part of its design. It is meant to be used as a camping cot, so the weight is a fact but this is not a true objection.
The Amazon-US price is shown below, updated daily and accurate, and truly reasonable for such a reliable and quality tool. Note this is an Amazon Prime product and you can have it shipped for free.
This is an Amazon's Choice product as well, so this means it is recommended by them as well-priced, and ready to ship immediately.
The cot has been on the market for many years, and there is a huge amount of customers' reports available on various sites. The average rating by Amazon customers is very high. There is not much to object to this cot, it is one of the most reliable tools on the market. See the breakdown of my rating:
My rating breakdown of the Byer of Maine Easy Cot
Weight -

6.8/10

Size -

8.8/10

Capacity -

8/10

Packed size -

8.6/10

Ease of use & features -

9.5/10
Summary
My overall rating of this cot is Excellent:
Pros
• Very easy setup.
• Very comfortable.
• Very reliable.
• Durable materials.
• Great size.
• Very reasonable price.
---
Specifications
Weight: 21 lb (9.5 kg).
Capacity: 330 lb (150 kg).
Dimensions (L x W x H): 78 x 31 x 18 in (198 x 79 x 46 cm).
Packed size: 39.25 x 7 x 7 in (100 x 18 x 18 cm).
Color: Blue & Tan.
All-steel construction.
600 denier polyester fabric.
Carry bag included.
---
What is Byer of Maine – company started in 1880
The Byer Manufacturing Company has a long history, it was founded in 1880 in Bangor, Maine. They relocated in 1925 to the village center of Orono, Maine. After the WW II and Korea war, they expanded cot production as the cut and sew of a wide range of canvas products for the war efforts. They were continuing to build cots for the military as well as civilian uses.
Several generations of the Byer family were running the company all these years. From the late 1990's they started making hammocks and chairs, and several other products.
---
Summary
To conclude this Byer of Maine Easy Cot Review, the best feature of this cot is its ease of use. Its setup is hard to match. This is a very durable and reliable camping bed, and all other features look reasonable when you compare it with its closest competitors. So yes, I strongly recommend this cot, and I have trust in the brand behind it. Note that they also have a wooden cot on the market.
You might want to check also this Coleman Pack-Away Cot that is built in a similar style. If you still need something different but with a huge capacity, suitable for very heavy people, please check this text with a long list of such tools.
On the other hand, if you need something ultra-lightweight, a cot that can be used for backpacking, check this impressive list.
Note also that the Byer of Maine brand has several other camping cots on the market; they are presented in the links below.

Thank you for reading, if you have any question or comment, please use the comment box below. I wish you a pleasant day.

---