---
The Cabela's Lounge Cot is a reclining folding padded cot with adjustable legs and pivoting feet, easy to use and very comfortable.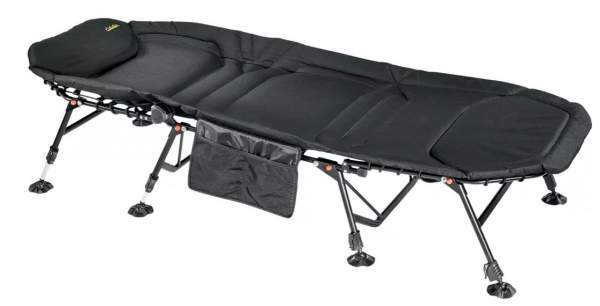 ---
Key features & benefits
No assembly.
Padded cot.
Recliner.
Adjustable legs.
Carry bag.
---
Overview
This Cabela's Lounge Cot is a folding construction, so it comes ready to use and there is no assembly. You open and close this cot in seconds. This is also a reclining cot so you can use it as a pleasant lounger, see how its backrest can be raised: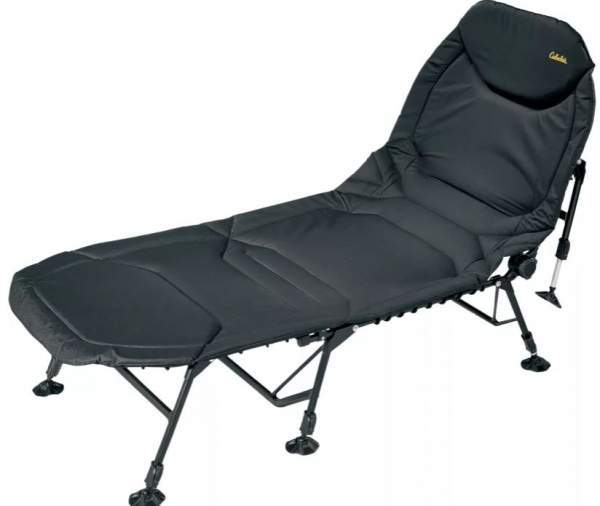 When not in use and for transportation you have a nice carry bag shown below. The dimensions when folded are 35.8 x 33 x 11.2 inches (91 x 84 x 28 cm).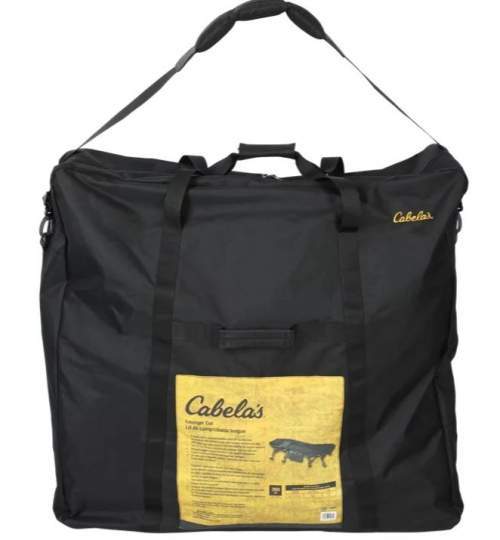 Not many cots of this type come with a carry bag, and as you see this one is designed with very convenient straps and handles.
For reclining, you have knobs on the sides, see below how this looks. Note also its pleasant padding, so you do not touch metal anywhere. In principle, one can manage without extra sleeping pad.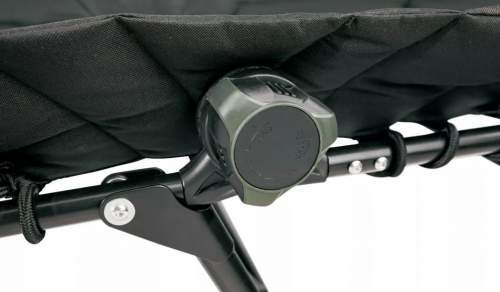 Because of these features they describe it as a 2-in-1 (cot and lounger), but I would say it is 3-in-1 because you do not need a pad. This is why I have included this cot in my list of best padded camping cots.
Yet another feature visible in the picture above is the bungee cord that attaches the bed deck to the frame. This is always a great design because the deck adjusts easily to your body shape and it is not stiff.
Adjustable legs
There are 8 legs and they are in pairs connected with horizontal bars, so the structure is stable to lateral movement. Each of the legs is adjustable and in the picture below you see there is clasp on each leg with a flip-lock tab. So you open it and slide the leg to desired position.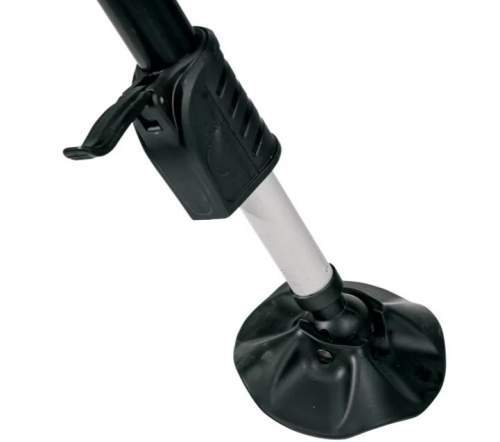 This is a great feature for camping where the ground is not always perfectly flat, so you can level the bed on almost any terrain. Note also those large and pivoting feet, which is yet another great detail for an uneven ground.
This is also useful to spread the weight, so with such legs you should be able to use the cot even in a floored family camping tent. So I have good reason to include it in my list of best cots with adjustable legs.
Other features
The cot comes with a pleasant integrated pillow shown in the picture. So most sleepers will be able to manage without any extra pillow.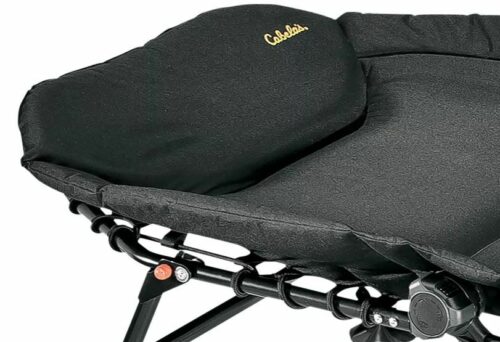 You also have a storage pouch on the side, so you can keep your small items off the ground and close at hand: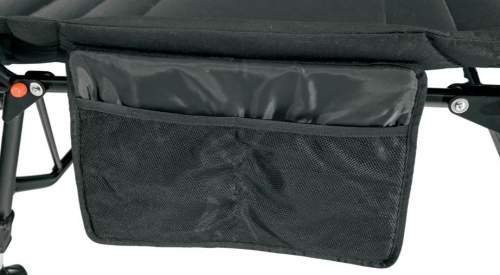 The frame is a very strong steel with tubes that are welded to each other. The bed fabric is nylon.
---
Who is it for
Regarding the capacity, I would describe it as more than moderate, the cot is officially for users of up to 350 lb (159 kg). So this should be perfect for most of potential users.
Regarding the dimensions, the cot is quite long but only moderately wide, the dimensions are (L x W x H) 80 x 26 x 20/13 inches (203 x 66 x 51/33 cm). So if you need something wider, please check my list with extra wide camping cots.
The two numbers for the height describe the bed height for the highest and lowest position of its extendable legs. In any position you always have plenty of space and volume under the cot to store all your gear.
When the legs are at their highest position, the cot is very suitable for elderly users, it is easy to get in and out of it.
Regarding the weight, the cot is quite heavy, it weighs 32.4 lb (14.7 kg). You have already seen its packed size, so you realize this is a camping item for places with a car access.
---
Specifications
Weight: 32.4 lb (14.7 kg).
Capacity: 350 lb (159 kg).
Dimensions (L x W x H): 80 x 26 x 20/13 in (203 x 66 x 51/33 cm).
Folded dimensions: 35.8 x 33 x 11.2 in (91 x 84 x 28 cm).
Frame: steal.
---
Rating, pros & cons
Below you can see how this cot stands against my usual rating criteria. This allows for easy comparison with some other padded cots presented here in the site. There is a rating bar below so you can rate it yourself.
Great padding and adjustable legs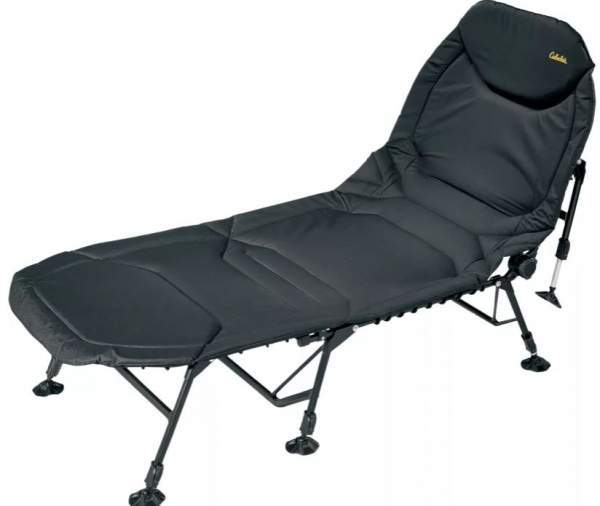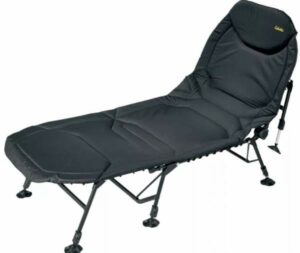 Product Name: Cabelas Lounge Cot
Product Description: The Cabela's Lounge Cot Is a Reclining Folding Padded Cot with Adjustable Legs and Pivoting Feet, It Is Easy to Use and Very Comfortable.
Brand: Cabelas
SKU: 2509682
MPN: 100106819
Weight -

4.8/10

Dimensions -

8.5/10

Capacity -

8/10

Packed size -

4.4/10

Ease of use & features -

9.6/10
Summary
The weight and packed size are not the best features of this cot, but see its other features.
Pros
Great padding.
Pillow.
Telescopic legs.
Carry bag.
---
Final thoughts
So this Cabela's Lounge Cot is well-built and it comes with very useful features. For a 3-season camping you will not need extra pad, you have enough padding here. Also, its integrated pillow means you do not need to carry extra pillow in the camp.
Telescopic legs allow for adjustability in a wide range so you can have a perfectly horizontal bed practically everywhere. I would say this is one of its best features. Fully recommended.
Best places to buy:
You might want to check also my separate list of Cabela's camping cots. For even more options, please check under the category Folding Cots, you will find them many here in the site, and in all sizes and shapes.
Bookmark this site and visit it when you find time, this will keep you informed, you have new texts added here on a regular basis.
Do let me know if you have questions, there is a comment box below. Thank you for reading and have a nice day.