---
Here you have a list of best reclining cots for camping, versatile products that can be used in various situations outdoor and also in the garden at home. Keep reading.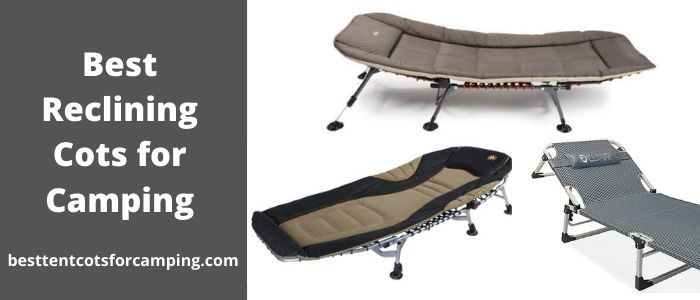 ---
Reclining features add extra functionality and versatility to camping cots. You can keep using such a cot as your camping bed during the night, but it can serve as a pleasant lounge chair during the day. When you raise its backrest, then you have a long platform to sit and to place your legs.
I know that some people love to have a slightly elevated backrest when they sleep. If you are one of them then this type of cots is what you need.
If you look closely, these are all folding cots with all the good and less good features of this design. The good is that they are easy to set up and to take away. There is no assembly of any kind, so you can have it ready in seconds.
The bad is that they are normally always large in two dimensions when they are packed. So they do need space in the car trunk but note that they are always thin when folded for transportation.
---
My list of best reclining folding cots
So here are the cots listed by weight, from heavier to lighter:
All the cots are presented in my separate reviews, so to see more please follow the links. Below I give only their pictures and a few basic features.
---
1. Slumberjack Bear Creek 80 x 30 Deluxe Adult Camp Cot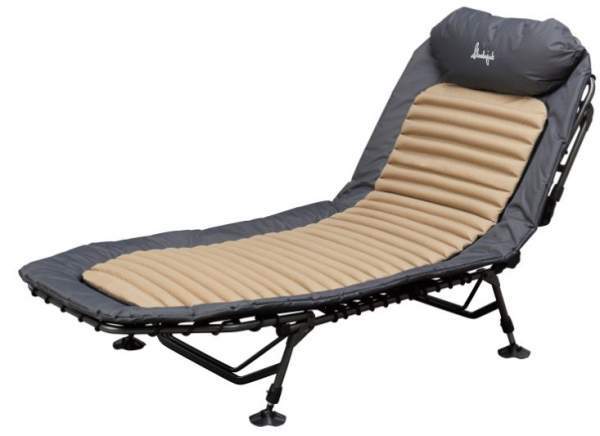 The Slumberjack Bear Creek 80 x 30 Deluxe Adult Camp Cot is huge and nicely padded, the dimensions (in inches) are given in the name. It comes with 6 adjustable legs that have pivoting and wide feet.
You also have a separate pad and a pillow included. The cot is reclining as you realize from the picture. The weight is substantial, 30.36 lb (13.8 kg), and its capacity is 300 lb (136 kg).

---
2. Bushtec Adventure Camping Cot Sierra 440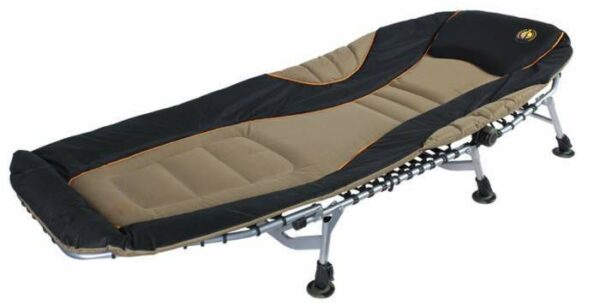 This cot is pretty heavy, you have 29 lb (13.2 kg) here. But there are some good reasons for this. This is a strong steel construction designed for heavy users, so the capacity is 440 lb (200 kg).
But this is also a fully padded cot, so you can manage even without any sleeping pad. It is added to my list of best padded camping cots.
Note also that the cot is very large, you have the dimensions 82 x 34 inches (208 x 86 cm). If you are a tall person this is the cot to consider. I have included it in my list of extra-wide cots.
But it is here because of its adjustable head incline so you can use it as a lounger. Wait, there is more, the legs are also fully adjustable and if you use it on uneven ground, you can still make it completely horizontal.

---
3. Flamrose Oversized Camping Cot with Padded Cushion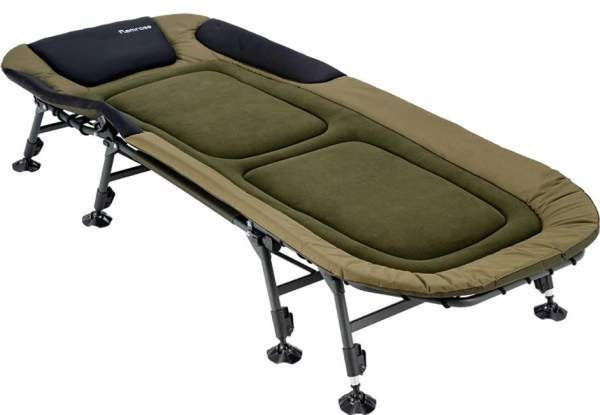 This cot offers 5 separate reclining positions. Apart from that, it has 8 adjustable telescopic legs. They can be adjusted independently within a range of 10 cm.
It is incredibly comfortable with its generous padding and its polar fleece fabric. The frame is a steel. The cot weighs 28.5 lb (12.94 kg) and the capacity is 330 lb (150 kg).

---
4. Timber Ridge Camping Cot XL

The letters XL in the name of this Timber Ridge XL Cot indicate its big size. So the bed is with the dimensions 81 x 29 inches (206 x 74 cm), and surely this is a cot suitable for very tall people. But it is also quite heavy with its 25.6 lb (11.6 kg)
The reason for having it here in the list is its fully adjustable and reclining backrest. The legs are also fully adjustable. This is yet another of padded camping cots here. It also folds twice, but being so long in general, it still remains quite large in two dimensions when packed.
Note that it comes with a bonus bottle holder on the side and also storage pouches. But this is not all.

---
5. REI Kingdom Cot 3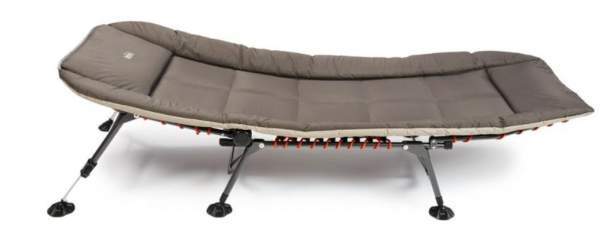 This REI Kingdom Cot 3 weighs 20 lb (9.1 kg), and its official capacity is 300 lb (136 kg). It is here because of its adjustable headrest and its reclining design. So you can transform it into a lounger when needed.
The two legs in the head area are extendable, this is useful when you want to have just a head incline.
This is a very long and nicely padded cot, you have 82 inches (208 cm) from one end to another. It is included also in my list of best padded camping cots.

---
6. TIMBER RIDGE Folding Sun Lounger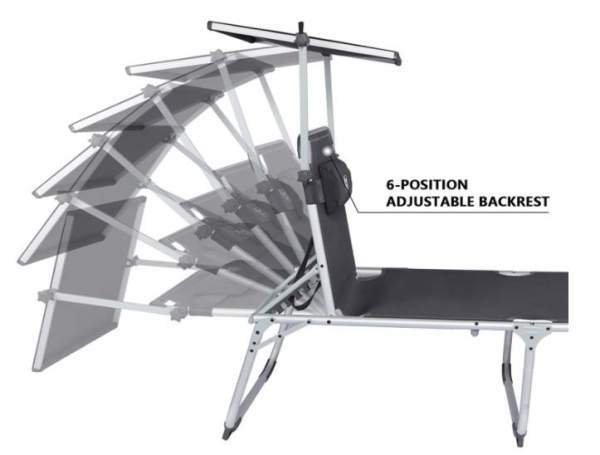 The TIMBER RIDGE Folding Sun Lounger is a portable Aluminium Outdoor Lounger Chair and Cot. So this is a 2-in-1 combination with an adjustable backrest and a sunshade. You have 6 backrest positions as shown in the picture.
The cot comes with a pillow included. The frame is aluminum and the weight is 20 lb (9.07 kg). The dimensions are (L x W x H) 76 x 26.4 x 12.2 inches (193 x 67 x 31 cm).

---
7. Eltow Portable Folding Camping Cot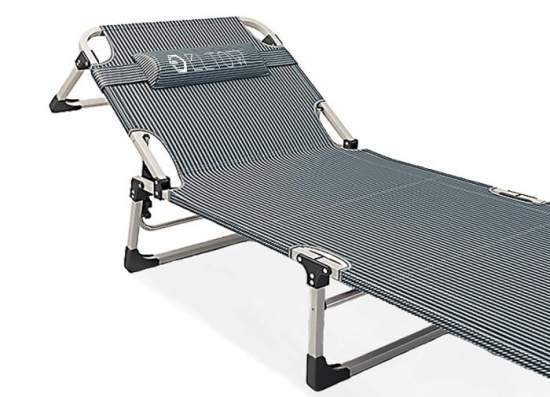 Obviously, this Eltow cot is here because of its reclining design. More precisely, you can use it with 5 different backrest positions as a chair in the camp or as a lounger. So this is a very versatile option.
The weight is 17 lb (7.7 kg) and its capacity is 350 lb (159 kg). Now, when you see the dimensions 75 x 27.5 x 12 inches (190 x 70 x 30 cm), you realize that this is an excellent cot.
It is interesting that you have a carry bag included and there is also a pillow included. The frame is steel, very nicely built, and elegant.

Note that this brand has yet another folding cot under the name Eltow Cozy Folding Camping Cot that comes with a mat included.
---
8. Coleman Converta Camping Cot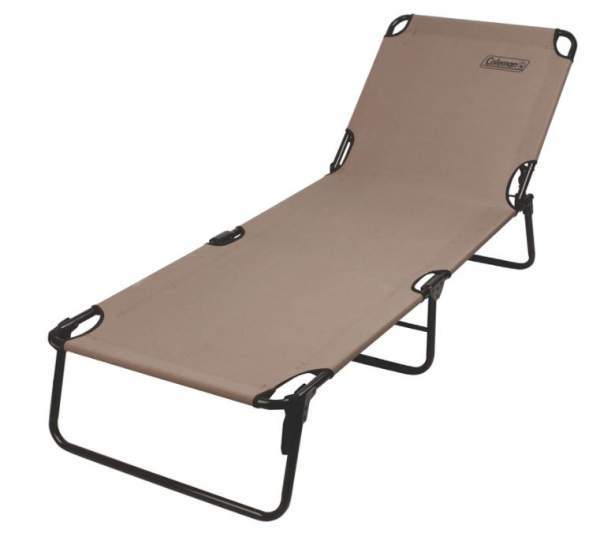 Here you have a very affordable and easy-to-use recliner with several different positions for the backrest and the footrest.
The cot has been on the market for many years and all is known about it. This is a folding construction without assembly, and I have added it also to my list of best folding cots.
The cot weighs 14.6 lb (6.72 kg) and its dimensions are 76.3 x 25.2 inches (194 x 64 cm). The bed height is 12.8 inches (32 cm).

Note that they have yet another version with bungee cord attachment, the Coleman Converta Suspension Camping Cot.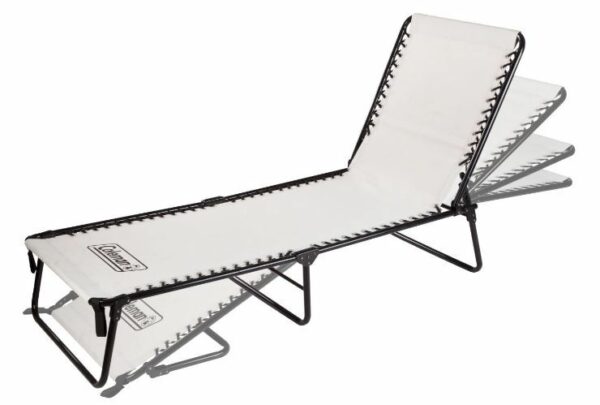 ---
9. SUNNYFEEL Folding Camping Cot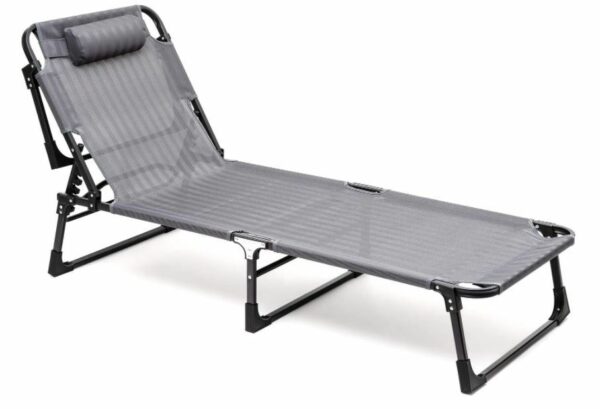 As the name of this cot tells you, it is folding and it folds twice. So it is a bit large when packed but it is thin. The cot is truly heavy-duty with its 660 pounds (300 kg) capacity. It is also an easy-to-use recliner cot with 5 different positions for the backrest.
You have a removable pillow included as a bonus. The cot weighs 14.7 lb (6.7 kg), and the bed size is 75 x 26 inches (191 x 66 cm). You will want to know also that it is very affordable.

---
10. KingCamp Portable Folding Camping Cot Adjustable 4-Position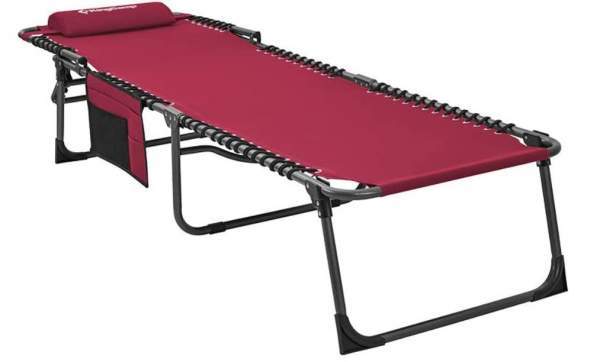 This versatile cot has 4 different positions for its headrest/backrest. It can be used also as a patio reclining lounger chair. As you realize from its name it is folding and it remains relatively large in two dimensions when folded but it is thin.
The frame is steel but the weight is still very good, the cot weighs 14 lb (6.4 kg). The official capacity is 264 lb (120 kg).
It comes with a removable pillow as a bonus, and you also have a few storage pouches on the side. The bed size is 74.8 x 23.2 inches (190 x 59 cm).

---
11. REDCAMP Folding Camping Cot for Adults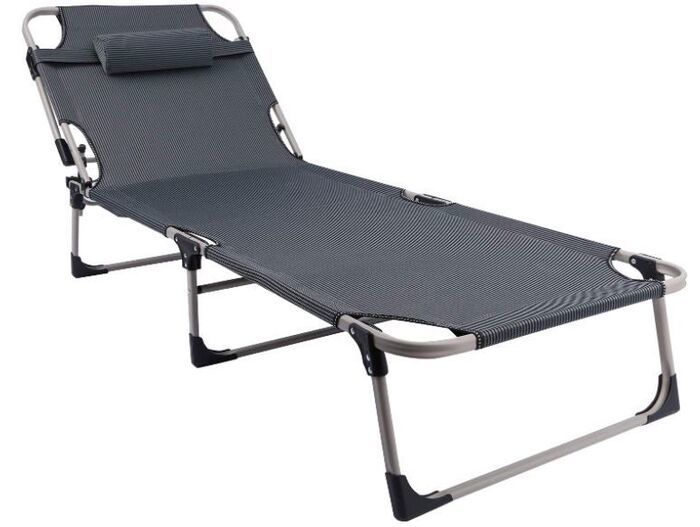 This cot comes with a reclining design and this holds both for the headrest and for the footrest. You have four positions for the headrest and two positions for your feet.
It is an easy to use steel structure with floor-friendly legs and a very durable 1680D fabric.
The cot is available in several different sizes and material options. The version shown in the picture weighs 12.5 lb (5.7 kg) so it is lighter than many of its competitors.

---
12. Rio Beach Portable Folding Backpack Beach Lounge Chair or Cot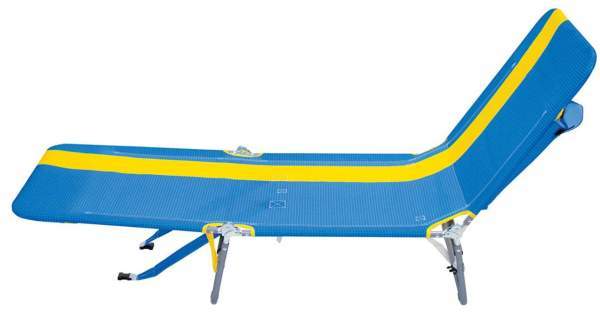 The manufacturer describes this item as a chair, but it is more a cot than a chair. In any case, it is here because of its reclining design. So this is a versatile outdoor product, and it is very light for the items in the list here, the weight is only 9 lb (4.1 kg).
It comes with a backpack-style carry system. Its weight capacity is 250 lb (113 kg). When you make it fully flat you have a bed that measures 72 x 22 x 10 inches (183 x 56 x 25 cm).

---
How to choose your reclining camping cot
So this was my list of best reclining cots for camping, and I hope you find the text useful. All of them are folding cots for places with a car access, they are a bit bulky and most of them can be described as heavy.
But you would not carry them long distances in any case, so the weight and packed size may not be so essential when you have to choose one of them. More important are their other features, in particular, length if you are a tall person, or width if you want space to sprawl. There are big differences in both of these parameters.
Also important may be their weight capacity, here too there are big differences. As you have noticed some of the cots are with pleasant padding and this is important if you do not want to use a sleeping pad.
I shall be updating this text regularly as I find some good products of this type on the market, so bookmark this text and visit it from time to time. If you have questions please use the comment box below. Thank you for reading and have a nice day.