---
SUNNYFEEL Folding Camping Cot is truly heavy-duty with its 660 pounds (300 kg) capacity. This is also an easy-to-use and very affordable recliner cot.
---
Key features & benefits
Folding cot.
Reclining backrest.
Huge capacity.
Very easy to use.
Removable pillow.
Great price.
---
What this is about
So here you have a folding cot and this means it is very easy to use. You open it or fold it in seconds, there is no assembly of any kind. But this is one of those that are large in two dimensions when folded. The dimensions are shown in the picture below.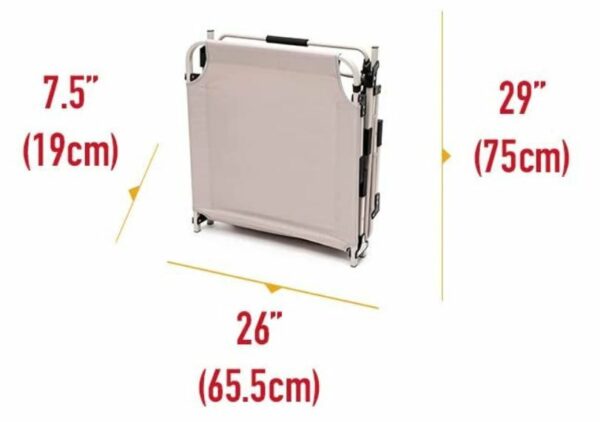 The cot folds to roughly a third of its length. As you realize it is very thin so it will fit in narrow spaces. There is a padded section on its bar in the picture above, this serves as a carry handle.
Reclining design
This is yet another great feature here. It seems there is a trend now for building such reclining cots. There are several new models on the market and they are becoming best-selling products on Amazon.
This adds to the versatility and comfort of a cot. You can use it as a lounger or as a chair with a great footrest. There are 5 specific positions for the backrest. The mechanism is simple and easy to use, see the picture below.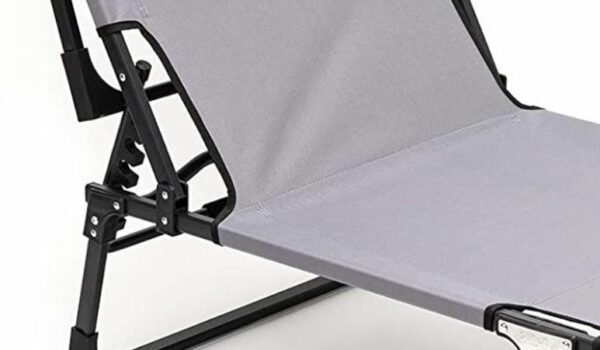 There is also a bonus removable pillow with PU memory foam. So when you use the cot as a flat bed, you do not need an extra pillow.
Materials
This is a sturdy and durable steel frame and there are 4 U-shaped legs/bars. They are with anti-slip caps on the elbow sections. So the weight is distributed and this cot will never sink in the ground. This is a floor-friendly design and you can use it even in a floored family camping tent.
The fabric is a Textilene polyester. Note that they build it in two different colors, you can see them in the pictures.
---
Who is it for
Regarding the size, I would describe this SUNNYFEEL Folding Camping Cot as a moderate size cot, see the picture. You have a bed that measures 75 x 26 inches (191 x 66 cm). Note that there is a frame around and this takes a few centimeters from the true useful length.

Note that there is lots of space to store your gear underneath the cot, the clearance is 30 cm.
Regarding the capacity, this is a truly impressive cot with an official 660 lb (300 kg) capacity. So it is suitable for everybody. I have included it in my list of cots for heavy people.
Regarding the weight, it is on the heavy side with its 14.7 lb (6.7 kg). You have already seen its packed size so you realize that you need a car for transportation. So the weight may not be so important.
Regarding the price, it is simply incredible. This is great value for the money.
---
Specifications
Weight: 14.7 lb (6.7 kg).
Capacity: 660 lb (300 kg).
Dimensions: 75 x 26 in (191 x 66 cm).
Height: 12 in (30 cm).
Packed size: 29 x 26 x 7.5 in (74 x 66 x 19 in ).
---
Rating, pros & cons
Below you can see how this cot stands against my standard rating criteria:
Recliner with a huge capacity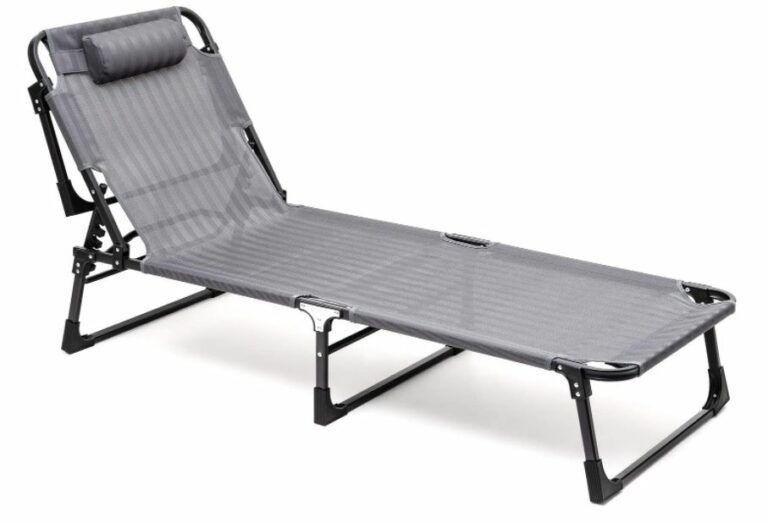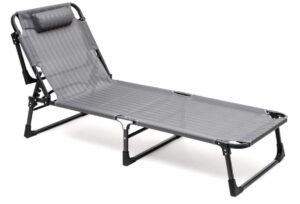 Product Name: SUNNYFEEL Folding Camping Cot
Product Description: SUNNYFEEL Folding Camping Cot is Truly Heavy-Duty with Its 660 Pounds (300 kg) Capacity. This is Also an Easy-to-Use and Very Affordable Recliner Cot.
Brand: SUNNYFEEL
SKU: B08JL5J772
Weight -

7.8/10

Size -

8.3/10

Capacity -

9.8/10

Packed size -

5.8/10

Ease of use & features -

9.7/10
Summary
The cot is a bit bulky and heavy but see its capacity. The overall rating is Very Good.
Pros
Great capacity.
Reclining cot.
Great price.
---
Final thoughts
In the summary of this SUNNYFEEL Folding Camping Cot review, I would point out again its incredible capacity. So even if you are a very heavy person, no worry, this cot will handle any weight.
This is an easy to use, elegant, and versatile cot. Fully recommended. I have included it in my list of best folding cots for camping.

If you need more options built in the same style, please check under the category Folding Cots. Check this Mountain Summit Gear Campside Folding Cot built in a similar style.
Let me know if you have a question or comment, there is a comment box below. Thank you for reading and have a nice day.