---
This Timber Ridge Zero Gravity Chair Oversized Recliner is huge and with an impressive 600 lb capacity, easy to use, and with plenty of great features.
---
Key features & benefits
Folding chair.
Zero-gravity design.
Headrest.
Solid armrests.
Footrest.
Side table.
Padded chair.
Incredible weight capacity.
---
What is in the name
The term Oversized in the name is related to its dimensions and you will see more about this below, but just see the picture below to realize what this means. In fact, they have two chairs with different dimensions, and they sell them at the same place on Amazon. Note that on the manufacturer's site it is under the name Poplar XXL Zero Gravity Lounger.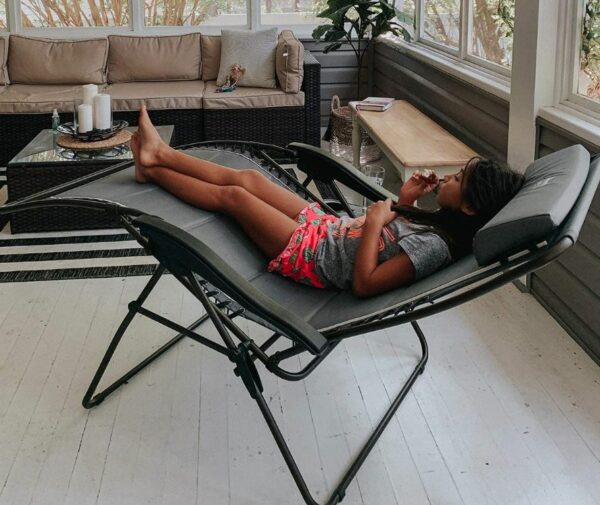 The term Zero Gravity used for the chairs of this type describes the fact that they offer a comfortable setup for maximum relaxation. This implies several different features that include:
Reclining design. The chair offers multiple positions from almost vertical to almost flat backrest positions. This is controlled by the locking mechanisms on the side underneath the armrests. They claim this is a patented design, but you can see the same mechanism in many chairs of this type currently on the market.

The backrest and the footrest move together.

There is also a footrest. When the backrest is reclined, the footrest goes up. This is shown in the picture above. Such a feature is common for all the zero-gravity chairs.
You have also solid armrests that are anatomically designed.
Adjustable padded headrest. You can slide the pillow visible in the picture above to any position. In fact, it can go completely to the lumbar area so it can be described also as a chair with lumbar support. The headrest is not removable.
The chair is padded and this holds also for the mentioned footrest.
But there is more that adds to the overall comfort. You have a folding side table with an integrated cup holder. The table folds underneath the chair for transportation, the pictures below show how you can use it. It is on the right side and cannot be moved to the left, I have seen people asking about this. Because of this feature, I have added it to my list of chairs with a side table.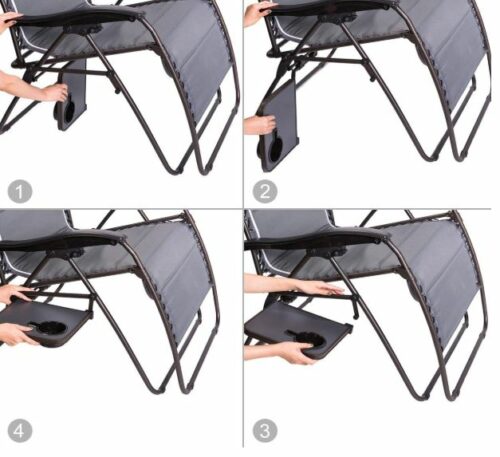 The chair is folding, and this means there is no particular assembly, you simply open it in seconds. It comes assembled, you have nothing to do to make it ready. But such a design also implies that when folded, it remains large in two dimensions. Though it becomes very thin so you can store it in narrow spaces, see the pictures.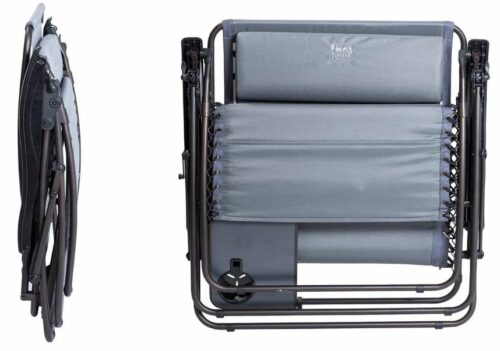 The frame material is steel, this information is from the manufacturer's site, although I have seen aluminum mentioned at some places.

Yet another cool detail is the bungee cord attachment of the seat to the frame, you can see it in the picture together with the side table: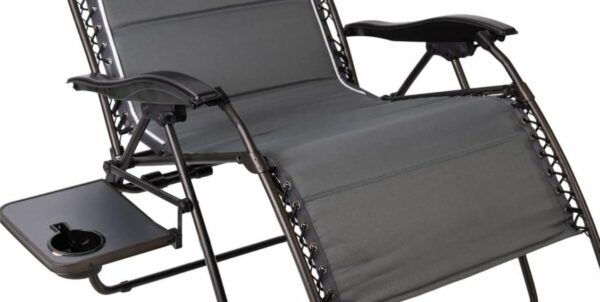 ---
Who is it for
Size-wise, this is a large chair in every sense. The backrest is high, you have 27.5 inches (70 cm) from the seat. So this is suitable even for very tall users. The seat is also very wide, you have 26.7 inches (68 cm). See the picture, note that this is the lower of the two chairs, the other chair mentioned above in the text is with an even higher backrest: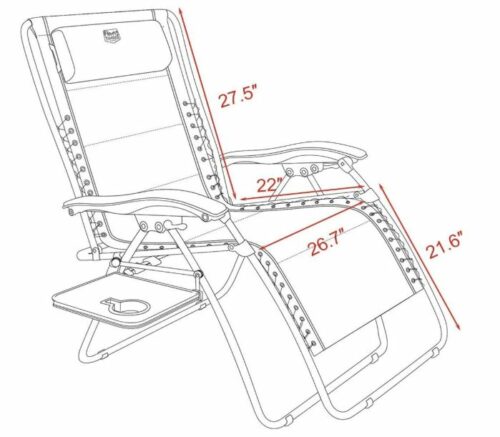 Observe that there are wide armrests, plus the side table, this all adds to its total width. Also, when you recline it completely, it becomes very long, around 72 inches (183 cm) or so. Clearly, this chair needs some space.
Capacity-wise, this chair is also incredibly impressive. Its declared weight capacity is 600 lb (272 kg). So I have included it in my list of chairs for very heavy people.
Weight-wise, this chair is very heavy with its 24.8 lb (11.2 kg), but see its dimensions and features to realize why such a weight. It is also very large when packed, you can realize this from the picture: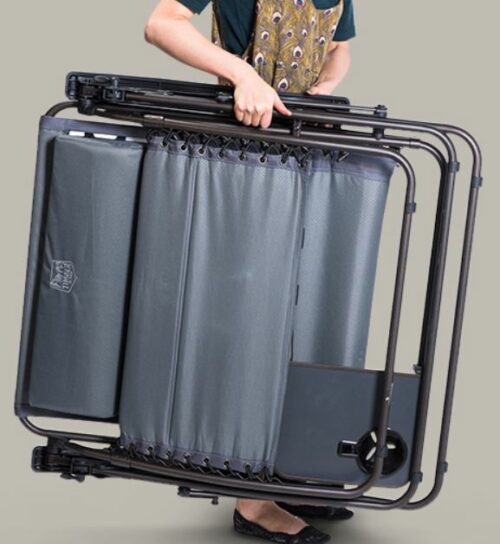 So if you plan to use it for camping, you will need a car. Note also that the lags are bars so the weight is distributed and the chair will not easily sink in the ground no matter where you use it. This is also a floor-friendly design so you can use it in a floored large family camping tent.
---
Specifications
Weight: 24.8 lb (11.2 kg).
Capacity: 600 lb (272 kg).
Seat dimensions (L x W): 22 x 26.7 in (56 x 68 cm).
Seat height: 18 in (46 cm).
Overall height: 43.5 in (110 cm). This depends on the backrest position of course.
Backrest length from the seat: 27.5 in (70 cm).
Total length when reclined to maximum: 72 in (183 cm).
Warranty: full 1-year manufacturer's warranty.
---
Rating, pros & cons
I use several rating criteria and apply them consistently to all the chairs presented here in the site. The average rating for this chair is not particularly high, but see the details:
Huge size and impressive capacity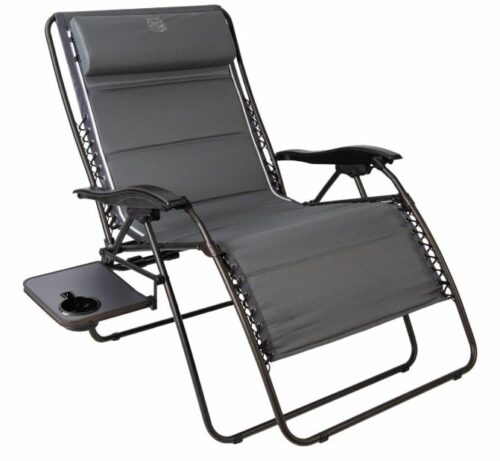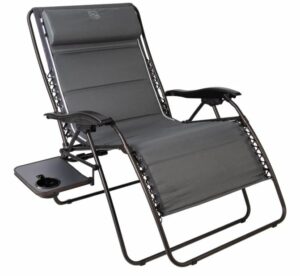 Product Name: Timber Ridge Zero Gravity Chair Oversized Recliner
Product Description: This Timber Ridge Zero Gravity Chair Oversized Recliner is Huge and with an Impressive 600 lb Capacity, Easy to Use, and with Plenty of Great Features.
Brand: Timber Ridge
SKU: B07CP6F9WJ
Weight -

1.5/10

Dimensions -

9.6/10

Packed size -

0.5/10

Capacity -

9.8/10

Comfort -

9.8/10

Craftsmanship -

9.7/10
Summary
The weight and the packed size affect the overall rating very negatively, but it is still Good.
Pros
Incredibly comfortable.
Huge capacity.
Easy to use.
Very strong and reliable.
Side table.
Cons
Large when packed.
Heavy.
A bit expensive.
---
Final thoughts
To summarize this Timber Ridge Zero Gravity Chair Oversized Recliner review, what you have here is an impressive chair, well-built, with huge weight capacity and great dimensions.
It is fully padded, easy to use, and very comfortable with its headrest pillow that can be used also as a lumbar support. The craftsmanship is at a high level. Fully recommended. It is included in my list of best quality zero gravity chairs for camping.
More chairs of this brand you have in my list of Timber Ridge Camping Chairs. If you need more options, just search under the category Camping Chairs here in the site, you will find them in all shapes.
Bookmark this site and visit again, we add texts regularly. Sign up for our weakly newsletter, there is a subscription form below. Thank you for reading and have a nice day.