---
The Coastrail Outdoor XXL Oversized Director Chair offers a very wide seat and it is with a huge capacity, easy to use and reliable.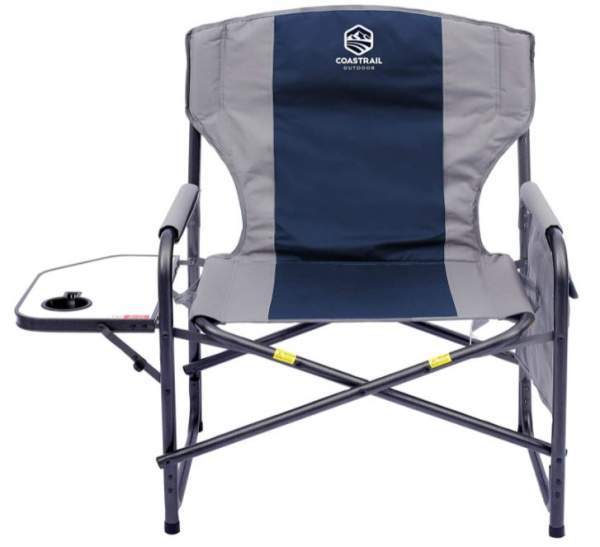 ---
Key features & benefits
Huge capacity.
Storage system.
Padding.
Solid armrests.
Side table.
Very wide seat.
---
Overview
This Coastrail Outdoor XXL Oversized Director Chair is a folding type, so it comes ready to use and there is no assembly. You open it or close it in a couple of seconds.
When folded, it becomes flat and thin, only 3.9 inches (10 cm). But the other two dimensions are substantial as you see from the picture below.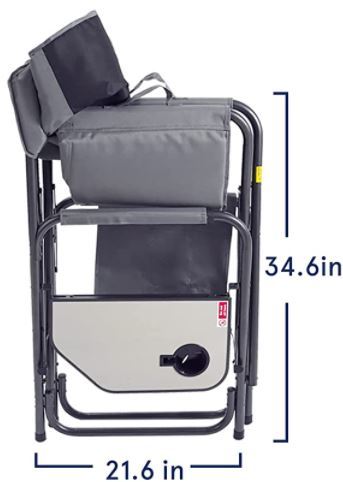 Bonuses
The chair comes with a large storage set on one side, its details are shown in the picture. As you see, there are several separate pockets for various small items which you can keep close at hand. It attaches to the chair with Velcro tabs, so it is removable.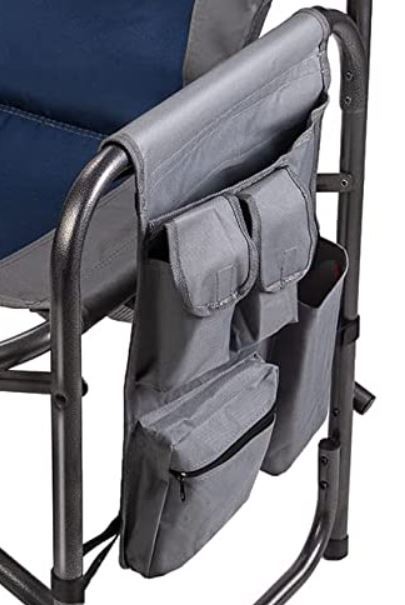 On the opposite side you have a folding side table shown below. It is fixed to the chair but you fold it for transportation. It has a cup holder, and it is equipped with locking stabilizers visible in the picture.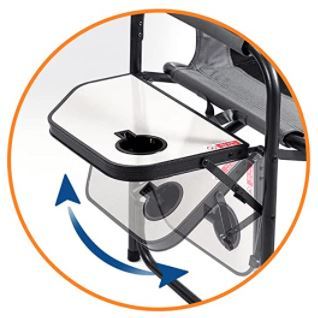 Materials
You have a powder-coated steel frame here with strong tubes that are 1.18 inches (3 cm) diameter. The solid armrests are a part of the frame so you have a stable support.
The feet are with plastic caps, they are narrow and I would not use the chair without some extra protection in a floored family camping tent.
But if you use it on a soft ground, there are horizontal stabilizing bars close to the ground, so the feet cannot sink too much. This is why you can use the chair anywhere.
The fabric is 600D polyester and the same material is used for the padding on the armrests. Note that they offer two different colors. There is no bar on the front of the seat, see the picture, so you are safe from pressure spots here.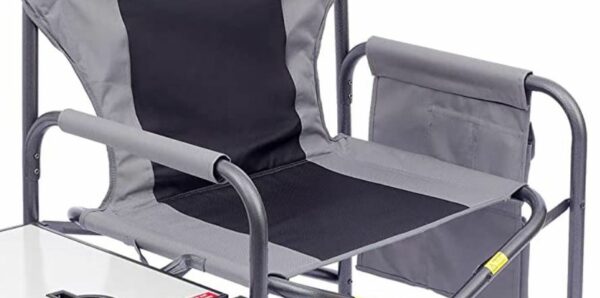 ---
Who is this Coastrail Outdoor Oversized Director Chair for
Regarding the capacity, the chair is officially for users of up to 600 lb (272 kg). So I have included it in my list of camping chairs for heavy people.
Regarding the dimensions, all of them are shown in the picture. Observe that the seat is very wide, you have 23.6 inches (60 cm). This is why I have added the chair to my list of chairs with a wide seat.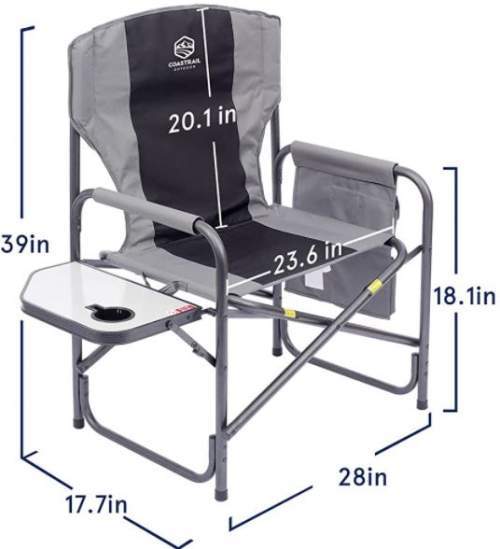 Note that the seat is relatively low, it is 18.1 inches (46 cm) above the ground. The backrest is not very long, so the chair does not offer a headrest. The total width with the side table extended is 37 inches (94 cm).
Regarding the weight, the chair is heavy, it weighs 16.3 lb (7.4 kg). But this weight is typical for such a type. You have already seen its packed size, so it is bulky, though it is thin and it can fit in narrow spaces.
Regarding the price, I think this is fair for such a chair.

---
Specifications
Weight: 16.3 lb (7.4 kg).
Capacity: 600 lb (272 kg).
Dimensions (L x W x H): 17.7 x 28 x 39 in (45 x 71 x 99 cm). The width with the side table is 37 inches (94 cm).
Folded dimensions: 34.6 x 21.6 x 3.9 in (88 x 55 x 10 cm).
Seat height: 18.1 in (46 cm).
Seat width: 23.6 in (60 cm).
Frame: steel.
---
Rating, pros & cons
The table below summarizes how I see this chair. Note that you can rate it from your side, there is a rating bar below.
Very wide seat and a huge capacity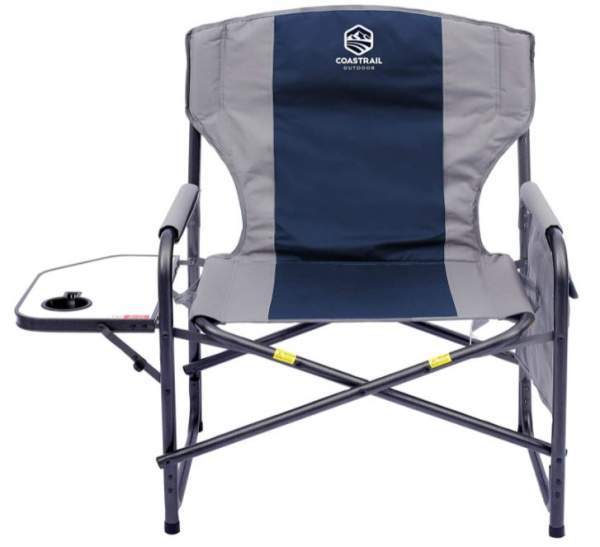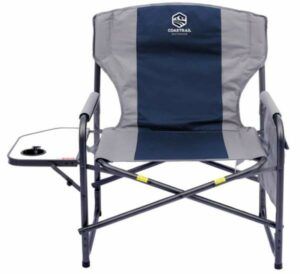 Product Name: Coastrail Outdoor XXL Oversized Director Chair
Product Description: The Coastrail Outdoor XXL Oversized Director Chair Offers a Very Wide Seat and a Side Table, It Is with a Huge Capacity, Easy to Use and Reliable.
Brand: Coastrail Outdoor
SKU: B087484L6M
Weight -

3.5/10

Dimensions -

8.3/10

Packed size -

4/10

Capacity -

9.8/10

Comfort -

9.3/10

Craftsmanship -

9.2/10
Summary
The weight and folded size are typical for such a type but they affect the overall rating which is still Good.
Pros
Wide seat.
Storage elements.
Side table.
Huge capacity.
---
Final thoughts
So this Coastrail Outdoor XXL Oversized Director Chair is a very typical chair of this type, but its seat width and its capacity set it apart from most of its competitors. These features make it suitable for heavy and big users.
Best places to buy:
For more options, please check under the category Camping Chairs, you will find them many here in the site, and in all sizes and shapes.
Bookmark this site and visit it when you find time, this will keep you informed, you have new texts added here on a regular basis. Let me know if you have questions, there is a comment box below. Thank you for reading and have a nice day.