---
This FUNDANGO Extra Long Ultralight Folding Compact Camping Cot Bed with aluminum frame is versatile, backpack portable, and incredibly affordable.
---
Key features & benefits
Long cot (but not extra long).
Lightweight (but not ultra-light).
Collapsible type.
Incredibly compact.
Carry bag included.
Bonus pillow.
Storage elements.
Great price.
---
What is in the name
The title above contains the official name of this cot as suggested by the manufacturer. So you see the words Extra Long and also Ultralight. Well, none of this holds really, I shall say more about this below.
But the word Compact in the name should indeed be replaced with Ultra-Compact, the packed size of this cot is impressive (L x D) 18.9 x 6.7 inches (48 x 17 cm).
The use the word Folding, so here again, this word may be understood in a bit misleading way. It is better to describe it as a collapsible cot, and this means that i) it has several separate parts, and ii) it need a simple assembly. This makes it different from folding cots where all the parts are pre-attached to each other. All the elements are shown in the picture below, and they include its nice cary bag, the bed deck, a bonus pillow, side bars, and legs.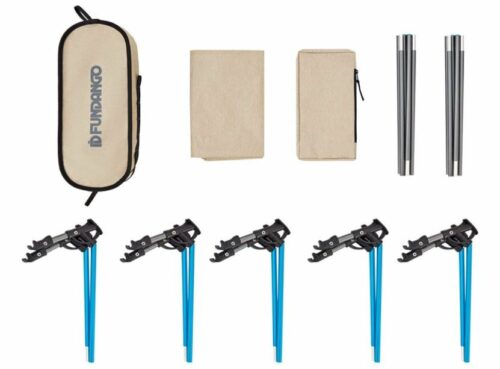 The most important assembly steps are shown in the following series of pictures. You start by passing the two shock-corded side poles through the sleeves on the bed deck, and then start adding legs one by one. No tools are needed for this and you can do this in a few minutes.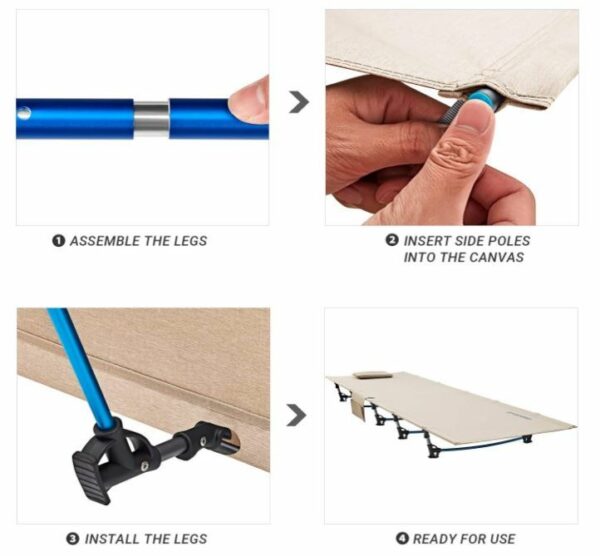 There is nothing unique in the design of this cot, such legs are available in many cots on the market. See these Hitorhike Camping Cot and Moon Lence Portable Ultralight Compact Camping Cot Bed. My guess is that all of them come from the same factory in China.
The materials
The quality frame is behind the great weight of this cot, so this is a high strength 7075 aluminum alloy.
The bed fabric is a breathable 300D ripstop polyester. I must say this denier value is surprisingly low for a cot. Manufacturers usually use a 600D. You can take this Helinox Lite Cot as an example to compare.
The feet and connectors on the legs are some sort of plastic, there is no information about it. Note that the feet are quite large and there are 10 of them so the weight is distributed and the cot will not easily sink on a soft ground. The feet are safe to use in a floored tent.
Bonus elements
They have included a side storage system for small items to keep them off the ground, and also a small pillow, you can see them below. I wonder why they did not make the pillow larger.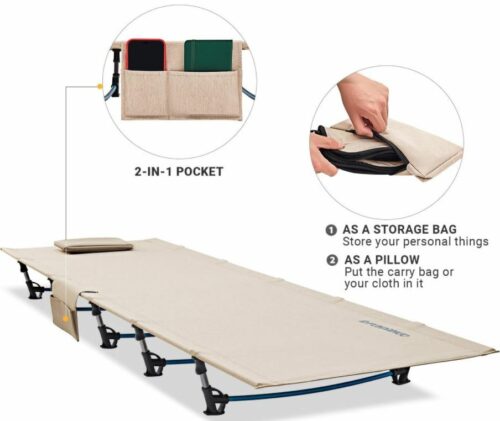 ---
Who is it for
Regarding the weight, with its 5 lb (2.3 kg) this is a very light cot and I have included it in my list of backpacking cots. But it is not ultralight, you can realize this if you see these ultralight cots that are below 3 pounds of weight.
Perhaps the weight can be reduced by omitting one of the legs, but this can work only for users that are not heavy.
You have already seen its great packed size, so the cot is backpack portable, and you can also transport it on a bicycle or on a motorbike.
Regarding the dimensions, the bed measures 78.7 x 27.1 in (200 x 69 cm) so this cot is long and suitable for most users. There are no end-bars and you can use all this length without any pressure spots. But to see what an extra-long cot means, check my separate list of cots for very tall people.
Regarding the price, this cot is a bargain, great value for the money.

Using the cot in a tent
I mentioned its great length, but this will fit in any tent. The height is only 6.7 inches (17 cm) so this is low enough to fit in any tent on the market.
This clearance will keep you off the ground and you need less insulation as usual. The space underneath the cot can be used to store some of your camping stuff, long and thin objects can still be stored there to keep them out of your way.
---
Specifications
Weight: 5 lb (2.3 kg).
Capacity: 265 lb (120 kg).
Dimensions: 78.7 x 27.1 in (200 x 69 cm).
Height: 6.7 in (17 cm).
Packed size (L x D): 18.9 x 6.7 in (48 x 17 cm).
---
Rating, pros & cons
Please see how I rate this cot against my standard set of criteria. It scores nicely in most of them:
Incredibly compact and very light cot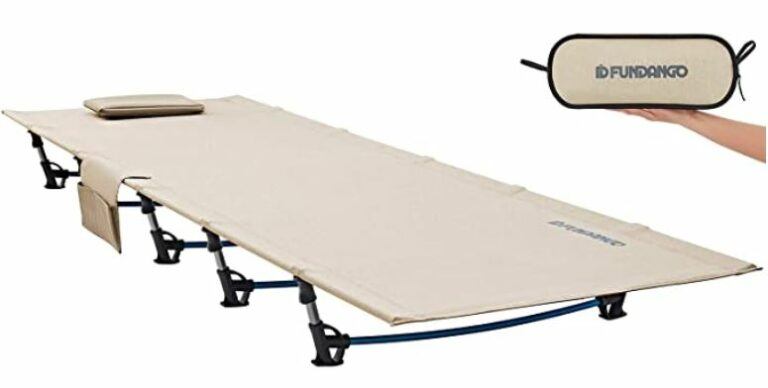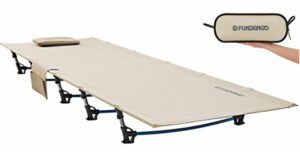 Product Name: FUNDANGO Extra Long Ultralight Folding Compact Camping Cot
Product Description: This FUNDANGO Extra Long Ultralight Folding Compact Camping Cot Bed with Aluminum Frame is Versatile, Backpack Portable, and Incredibly Affordable. 
Brand: FUNDANGO
SKU: B082QP181V
Weight -

9.6/10

Size -

8.5/10

Packed size -

9.9/10

Capacity -

7/10

Ease of use & features -

8.2/10
Summary
This scot scores well in almost all rating criteria, so the overall rating is Very Good.
Pros
Ultra-compact.
Very light.
Reliable.
Bonus pillow.
Great price.
Cons
Moderate capacity.
Very thin fabric.
---
Final thoughts
In the summary of this FUNDANGO Extra Long Ultralight Folding Compact Camping Cot review, I would stress that the packed size, length, and price are the best features of this cot.
It is versatile and backpack-portable, suitable for practically any outdoor activity. You can use it in the office to take a nap, and also as a spare bed at home for sudden guests. When not in use, you can keep it safe and clean from dust in its carry bag.

Please check under the category Cots if you need more options in general, or in the group Backpack Portable Cots for lightweight cots. Note that this brand has yet another cot with extendable legs under the name FUNDANGO Heavy Duty Lightweight Folding Camping Cot.
Bookmark this site and visit again, this will keep you informed because we add texts here on a regular basis. Thank you for reading and have a nice day.