---
EARTH Ultimate 4 Position Outdoor Chair is a folding type with a great headrest design, solid armrests, and an adjustable front legs length.
---
Key features & benefits
4 different back positions.
Adjustable front legs.
Integrated headrest.
Solid armrests.
Head pillow included.
Cup holders.
Zippered storage pouch.

---
What type of camping chair is this
This chair is full of features and I have listed them above. So here a few more words about each of them.
Reclining design: This is a reclining chair and it offers four positions for its back section, see the picture below. This works great also in combination with adjustable front legs which can be extended up to 4 inches (10 cm). So you can have a proper back setup even on uneven terrain or on a slope. I have included it in my list of height adjustable camping chairs.
Integrated headrest: So this is a chair with a very high back section and you have a proper headrest. They have also added a pleasant pillow. This is why I have included it in my list of best chairs with headrest. But the chair is padded throughout the surface and I have added it to my list of padded camping chairs.
The chair is a folding type and with integrated solid armrests. This implies that it folds like a book, but it remains large in two dimensions, see the picture below. Though it is thin when packed, only 5 inches (13 cm), so it fits in narrow spaces when you store it at home or transport in the trailer. You also have a nicely designed strap to carry it attached to the shoulder: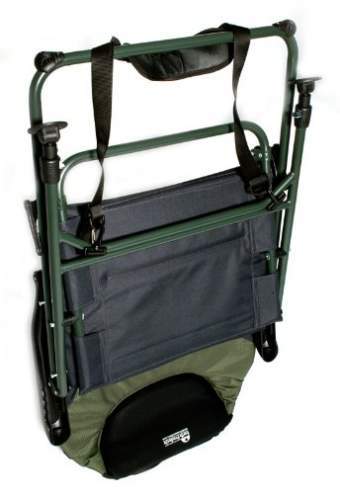 You have storage elements here and they include two cup holders plus a zippered pouch for smaller items: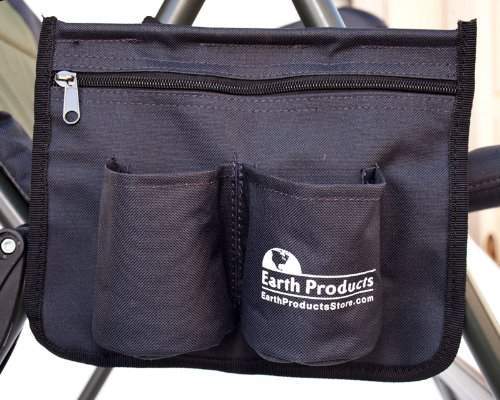 ---
Who is it for
Weight-wise, with its 14.5 lb (6.6 kg) this is a heavy chair. This together with the packed size of 37 x 23 x 5 inches (94 x 58 x 13 cm) means that you need a car for transportation.
Capacity-wise, it supports the weight of up to 300 lb (136 kg). So this is quite typical, and if you need something with a considerably bigger capacity please check this list with best folding chairs.
Size-wise, the seat is around 21 inches (53 cm) wide, and it is 18 inches (46 cm) above the ground (on the back side). The front may change the height when you extend the front legs. So the width is good but the chair is rather low, just to know if you are an elderly or very tall person.
Note that the back section is around 30 inches (76 cm) high, so you will have a head support even if you are a very tall person.
The width between the legs is around 22 inches (56 cm), just to know if you plan to use it in narrow spaces. But when you recline it, the chair takes lots of space from front to the back.
---
Materials & construction
The frame is a combination of aluminum and steel, black powder-coated and with 2.5 cm thick tubes. The front legs are with very wide mud feet to prevent sinking, while on the back you have a bar. With such a design this chair will perform well on any surface. The armrests are a solid and sturdy plastic.
You can also safely use this chair inside a large floored family camping tent, this is a floor-friendly design. The fabric is a durable polyester 600D. Note that you have a padding throughout the chair.
On the site of the manufacturer, they give a 1-year limited warranty. Did not see any statement about it on Amazon. I assume it is the same.
---
My rating, pros & cons
The daily updated Amazon price is in the link below. So the chair is a bit expensive, the examples I gave in the comparison table below show this as well. But it has some extra features which you do not have in its competitors.
The rating on Amazon is excellent, the chair has received numerous reports and the average rating is high. See how I rate it, I use the same criteria for all chairs so it is easy to compare:
My rating of the EARTH Ultimate 4 Position Outdoor Chair: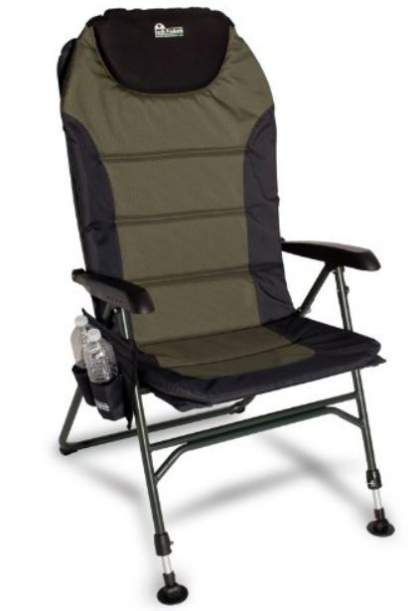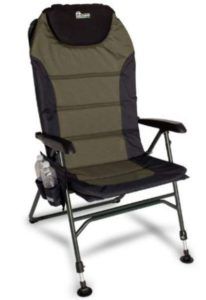 Product Name: EARTH Ultimate 4 Position Outdoor Chair
Product Description: EARTH Ultimate 4 Position Outdoor Chair is a folding type with a great headrest design, solid armrests, and an adjustable front legs length.
Brand: EARTH Ultimate
Weight -

4/10

Dimensions -

7.8/10

Packed size -

2.5/10

Capacity -

7.5/10

Comfort -

9.8/10

Craftsmanship -

9.6/10
Summary
This is an impressive chair, but my overall rating is affected by its packed size and weight. It is still Good:
Pros
Easy to use.
Reclining positions.
Great quality.
Great head support.
Storage elements.
Padded.
Cons
A bit low.
No stuff sack.
---
Specifications
Type: reclining & folding outdoor chair.
Weight: 14.5 lb (6.6 kg).
Capacity: 300 lb (136 kg).
Dimensions (W x D x H): 25 x 16 x 47 in (64 x 41 x 119 cm).
Packed size: 37 x 23 x 5 in (94 x 58 x 13 cm).
Seat height: 18 in (46 cm).
Seat width: around 21 in (53 cm).
---
EARTH Ultimate 4 Position Outdoor Chair vs Competitors
See how this chair compares with two other great chairs with head support. There are big differences in the design and this reflects in their packed size. But see the huge capacity of the King Kong chair! So please follow the links to read more and to check for the updated prices:
Dimensions
(W x D x H), in (cm)

25 x 16 x 47
(64 x 41 x 119)

37 x 23 x 5
(94 x 58 x 13)

ALPS Mountaineering King Kong
38 x 20 x 38
(96 x 51 x 96)

41 x 7 x 7
(104 x 18 x 18)

ALPS Mountaineering Leisure

27 x 16 x 38
(69 x 41 x 97)

45 x 7 x 7
(114 x 18 x 18)

---
Final thoughts
The EARTH Ultimate 4 Position Outdoor Chair is nicely built and its two main features are its great headrest, and the reclining design. The price is not its best feature but if you can afford it this is a great chair. It has been on the market for a couple of years already so it has been tried and tested and all is known about it.

If you need more options, please check my long list of folding chairs, chairs with integrated lumbar support, and also these rocking camping chairs because many of them are with a headrest as well.
This is not a sponsored text and I am not paid by the manufacturer or related to them in any way. I am only expressing my own unbiased views.
Please use the comment box below in case of questions or comments. Have a nice day.

---