---
The OZARK TRAIL 500 lb Capacity XXL Director Chair is extra strong and extra wide, with a huge capacity, padded, and with a useful side table.
---
Key features & benefits
Huge capacity.
Very wide.
Side table.
Solid armrests.
Padded chair.
---
What this is about
This chair is on the market also under the name Ozark Trail XXL Folding Padded Director Chair with Side Table. The main title above is from Amazon.
In any case, this is a folding chair so there is no assembly of any kind. You can open this chair or close it in a couple of seconds. To fold it, stand on one side of the chair, then step on the bottom bar of the frame and pull up on the side of the seat until chair closes.
When not in use, it folds very thin and flat, see the pictures how it looks: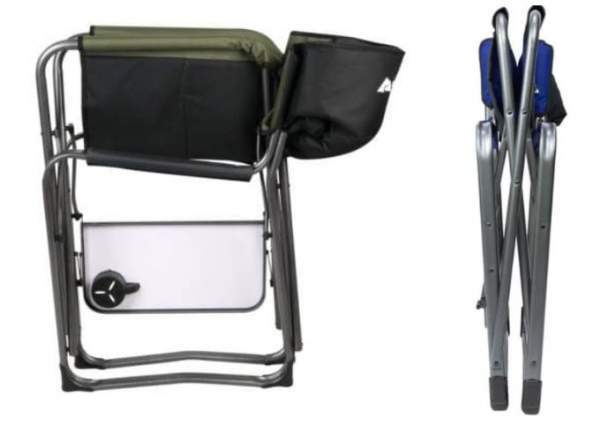 The picture below shows its lightly angled backrest and its solid and padded armrests. From these details you realize that it is easy to get in and out of the chair.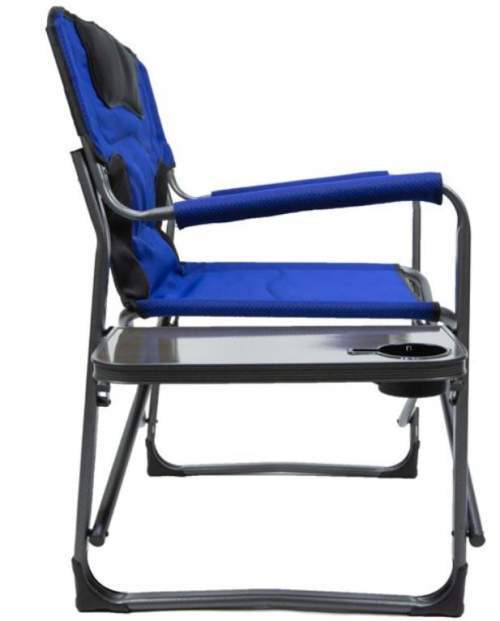 Side table: This is a bonus that comes with this chair, it folds together with the chair and it is not removable. Note that it has an integrated cup holder.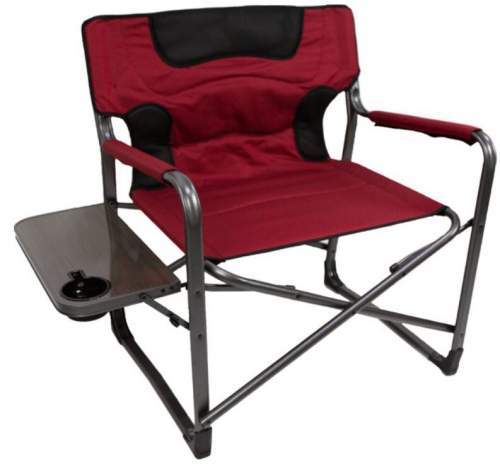 Materials
The frame is a very strong and durable steel, and it has the X-crossed supporting bars on the front and ion the back. Note that the legs are bars with some plastic caps. So this is a floor friendly design.
The weight is distributed, and if you use it outside on a soft surface it will not easily sink. So the chair can be used anywhere, even in a floored family camping tent.
Note that there is a light padding on the seat and on the backrest. More padding is added at several sections, see the picture below. The fabric is available in three different colors shown in the pictures. They did not provide information about its denier value and material, but it looks really strong and tough.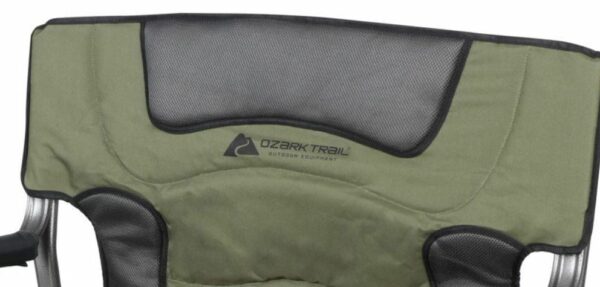 ---
Who is it for
Regarding the capacity, the chair is impressive, officially it can support up to 500 lb (227 kg). So if you need an outdoor chair for a heavy person this is it. I have included it to my list of chairs for heavy people.
Regarding the dimensions, the seat is 18.1 inches (46 cm) above the ground so this is quite moderate. But its width is impressive 28.1 inches (71 cm). This is why I have included it in my list of extra wide camping chairs.
The space between the two solid armrests is 29 inches (75 cm), so this is a lot of space even for very big users. The picture below shows how it looks in use: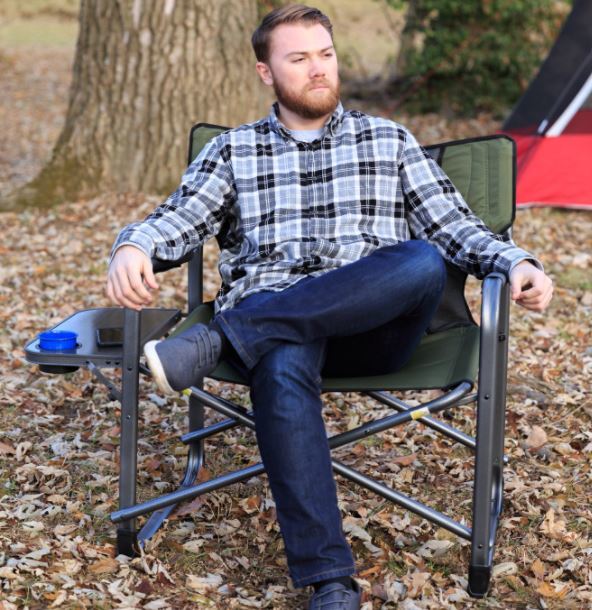 Regarding the weight, this is a heavy chair so be ready for its 19.8 lb (8.9 kg).
Regarding the price, it is very reasonable for such a great chair.
---
Specifications
Weight: 19.8 lb (8.9 kg).
Capacity: 500 lb (229 kg).
Dimensions (L x W x H): 25.6 x 42.9 x 36.5 in (65 x 109 x 93 cm).
Seat height: 18.1 in (46 cm).
Seat width: 28.1 in (71 cm).
Frame: steel.
Folded size: around 36 x 24 x 4.7 in (91 x 61 x 12 cm).
---
Rating, pros & cons
Below you can see how this chair stands against my standard rating criteria so you can easily compare with some other chairs. You can also rate it from your side.
Extra wide and extra high capacity.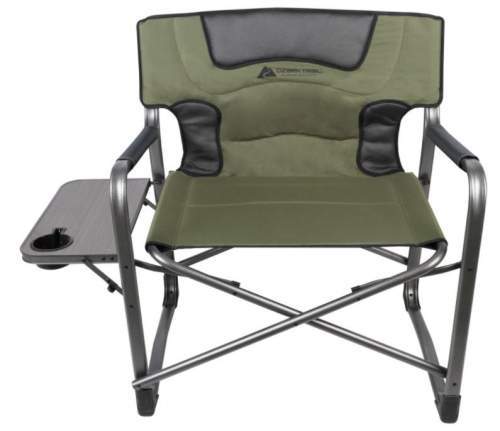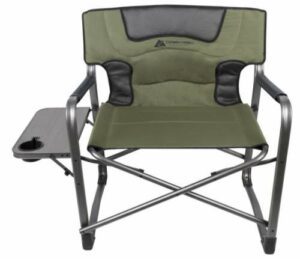 Product Name: OZARK TRAIL 500 lb Capacity XXL Director Chair
Product Description: The OZARK TRAIL 500 lb Capacity XXL Director Chair Is Extra Strong and Extra Wide, with a Huge Capacity, Padded, and with a Useful Side Table.
Brand: OZARK TRAIL
SKU: B087Q256ZN
MPN: FC850-065C
Weight -

2.5/10

Dimensions -

9.5/10

Packed size -

3/10

Capacity -

9.5/10

Comfort -

9.4/10

Craftsmanship -

9.5/10
Summary
The chair is heavy and bulky and this affects its overall rating but see its other features.
Pros
Extra wide.
Huge capacity.
Great colors.
Easy to use.
Side table.
Great price.
---
Final thoughts
So this OZARK TRAIL 500 lb Capacity XXL Director Chair has been around for quite a number of years already and all is known about it. The seat is incredibly wide and the capacity is also equally impressive. It is built to provide maximum comfort in any outdoor situation.
It is padded and you also have padding on its solid armrests. Extra bonus is its side table for keeping your drinks, small items, and snacks at hand. Fully recommended.
Best places to buy:
For more options, please check under the category Camping Chairs, you will find them many here in the site, and in all sizes and shapes.
Bookmark this site and visit it when you find time, this will keep you informed, you have new texts added here on a regular basis. Let me know if you have questions, there is a comment box below. Thank you for reading and have a nice day.