---
Here you have a list with excellent camping chairs with cooler and with a variety of other features, all folding and easy to use.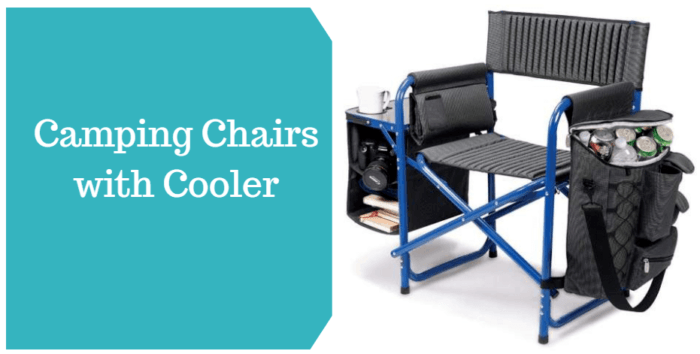 ---
My list of the best camping chairs with coolers
Here is my list with chairs ordered alphabetically, so the numbers are just for navigation and not for ranking. I give only some basic features here, all of them are presented in detail in my separate reviews so please follow the links to read more.
So what you are going to see here?
Obviously, all the chairs are with a cooler. This is a feature which is normally integrated into an armrest or attached to it. So the chairs in the list come with armrests that can be either soft or solid.
But you will also see chairs with a side table, a storage pouch, cup holders, some extra storage pockets on the back or under the seat.
There are examples of chairs with lumbar support.
You will also see some chairs with incredible weight capacity, the biggest on the market.
These are folding chairs, and you have two types: those that fold like a book and remain large in two dimensions, and those that fold and collapse into a bundle.
You will see examples of chairs with a high backrest and also chairs with a headrest.
---
1. Browning Camping Kodiak Chair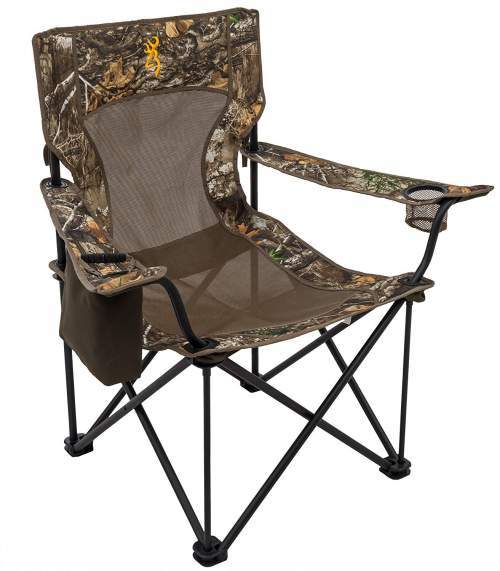 This chair is here in the list because of its cooler which you see integrated in its right armrest. But you might also know that this is one of the chairs with the highest weight capacity on the market, 800 lb (363 kg) and it is in my list of chairs for heavy people. It weighs 13 lb (5.9 kg).
This is a patented design. The chair comes with a storage pouch on the back. This is a folding design with soft armrests and a cup holder. It comes with a carry bag included. For all its features, this is a surprisingly affordable chair.

---
2. Coleman Oversized Quad Chair With Cooler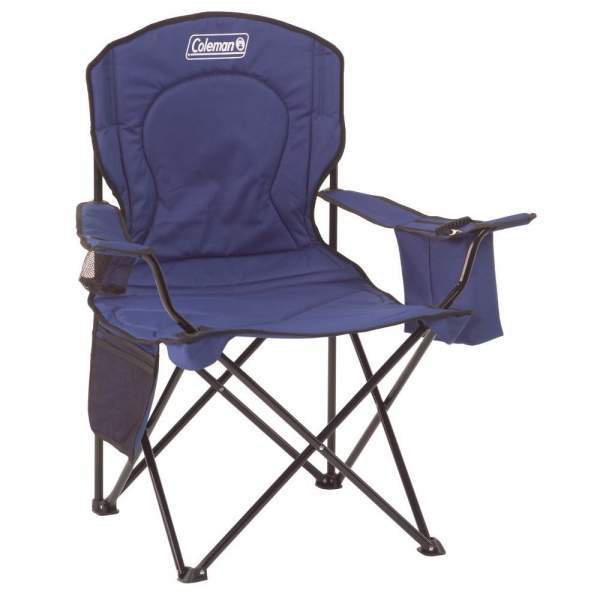 This chair comes with a cooler visible in the picture above, but it also has a storage pouch and a cup holder on the other side.
It weighs 9.94 lb (4.5 kg), the capacity is 325 lb (147 kg) and its dimensions are excellent so this is a chair suitable for tall people.
When it comes to the price, it is unlikely you will find something more affordable on the market. So follow the link for updates.

---
3. KingCamp Folding Quad Chair With Lumbar Support and Armrests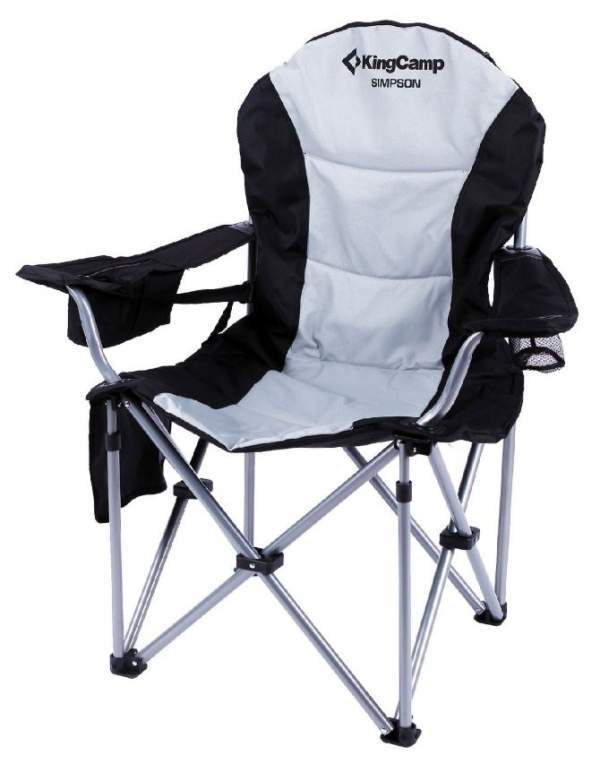 This KingCamp Folding Quad Chair With Lumbar Support and Armrests is a folding camping chair which reduces to 38 x 9 x 8 inches (96 x 23 x 20 cm) when packed.
Obviously, this is a camp chair with a cooler, but you also have a cup holder, a storage pouch, a zippered top pocket, and also adjustable lumbar support. So it is included in my list of chairs with lumbar support.
This is a chair with a great capacity of 353 lb (160 kg), and it weighs 11.3 lb (5.1 kg). Please follow the link for more details.

---
4. KingCamp Heavy Duty Steel Folding Chair/Director's Chair with Cooler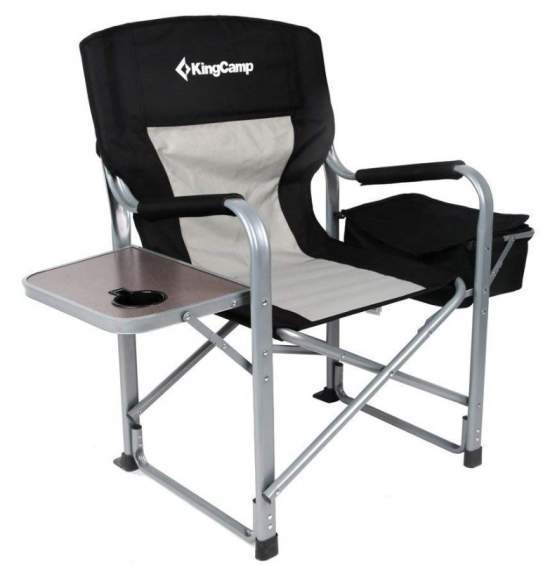 This is one of those chairs that fold remaining large in two dimensions. This is because of its armrests which are solid and padded, and the cooler is a large box attached to its size. So here you have a cooler much larger than in many chairs in the list.
But the list of bonuses includes also a solid side table with an integrated cup holder. This is why I have included it in my list of chairs with side table.
The weight is 14.8 lb (6.7 kg) so it is a bit heavy, and the capacity is quite good 330 lb (150 kg).

---
5. ONIVA Picnic Time Brand Fusion Original Design Outdoor Folding Chair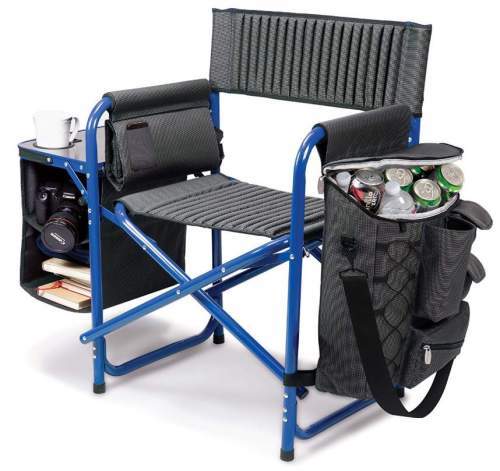 Here you have an incredible construction with a gigantic cooler visible in the picture. This is a detachable insulated cooler which comes with its strap and can be carried as a shoulder bag.
But look what this unique chair also includes:
You have a side folding table with a cup holder.
There are also side shelves.
Shoulder straps are in place so you can carry this chair like a backpack.
Padded seat, backrest, and solid armrests.
You also have multiple pockets.
There are also loops on the back for umbrella or sports banner.

---
6. Prime Time Outdoor Giant Kingpin Folding Chair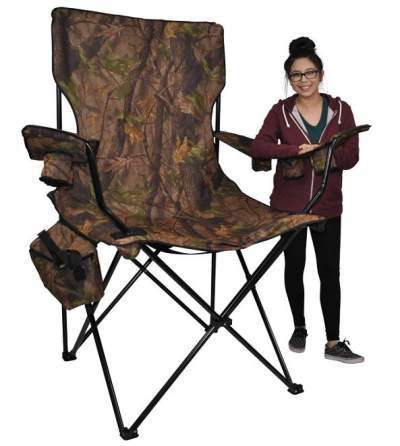 So what you see in the picture is real, this is a gigantic chair which is large enough for two people and you have to climb on it. It comes with a cooler, but you also have no less than 6 cup holders.
It is incredibly tall so you have a great backrest and headrest as well. The weight is 21 lb (9.5 kg), and the capacity is 400 lb (181 kg). You have a carry bag included, but note that the packed size is 66 x 8.5 x 8.5 inches (168 x 22 x 22 cm).

---
7. Timber Ridge Laurel Director's Chair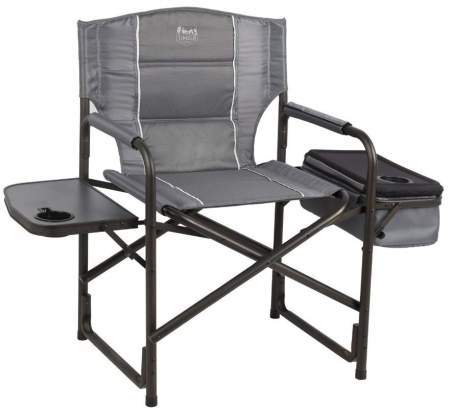 So this is a camping chair with cooler and also with a side table on the opposite side. Note that the cooler is with the volume of more than 13 liters and its top is with a cup holder integrated on it.
This is a lightweight folding and padded chair with solid and lightly padded armrests. There is a mesh pocket under the seat.
The weight is 7.3 lb (3.3 kg), and the capacity is 300 lb (136 kg). You might want to know that the chair is very affordable.

---
Final thoughts & Editor's Suggestion chair
So this was my list of camping chairs with cooler, and as you realize these chairs include a variety of other features that you will find useful outdoors.
Note that the list will be updated regularly whenever I find a chair with a cooler worth adding to this list. So stay tuned, bookmark this text and check occasionally.
Editor's Suggestion
Browning Camping Kodiak Chair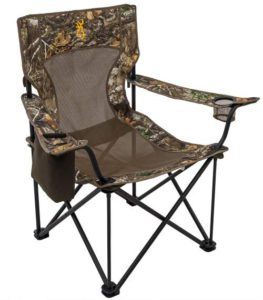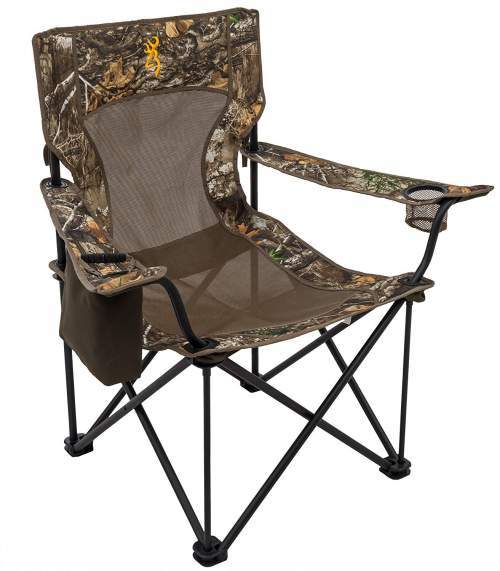 Product Name: Browning Camping Kodiak Chair
Product Description: This Browning Camping Kodiak Chair is with the weight capacity of 800 lb and currently there are no chairs on the market with a greater capacity.
Brand: Browning Camping
Weight -

5/10

Dimensions -

8.6/10

Packed size -

5.5/10

Capacity -

10/10

Comfort -

9.8/10

Craftsmanship -

9.8/10

Price -

9.5/10
Overall rating
Based on the specific ratings, the overall rating is Very Good:
Pros
Easy to use.
Great price.
Great patented design.
Carry bag.
Bonuses.
Thank you for reading. Please let me know if I have missed adding a good chair with a cooler known to you. There is a comment box below.
---