---
The ALPS Mountaineering Adventure Chair is lightweight and very easy to use, with a huge capacity, and with a strong but very breathable mesh.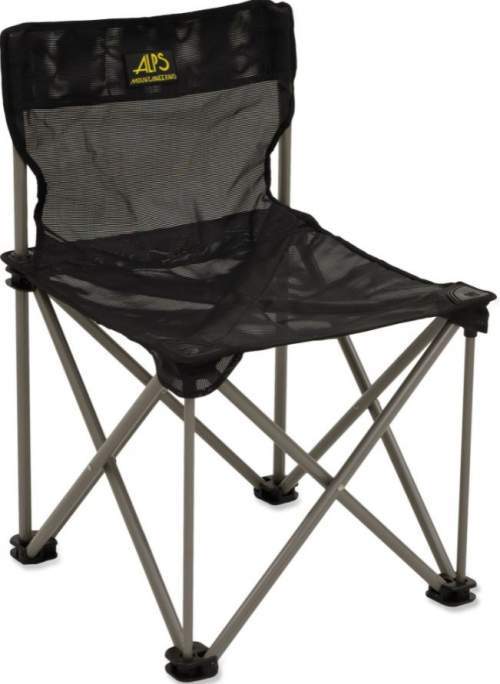 ---
Key features & benefits
Huge capacity.
Lightweight.
Easy to use.
Reliable.
Carry bag.
Great price.
---
Overview
This ALPS Mountaineering Adventure Chair has been on the market for a number of years already. There are many sellers that offer this chair and this is because of the brand that is behind this product and because of its overall quality.
Only on Amazon you will find hundreds of reports by customers, so all is known about this chair. As of the moment of writing this text, the chair is one of the bestselling hunting chairs.
So this is a folding chair, therefore there is no assembly of any kind. It comes ready to use, and it folds like an umbrella. The picture below shows how it looks when folded and when you store it in its included carry bag.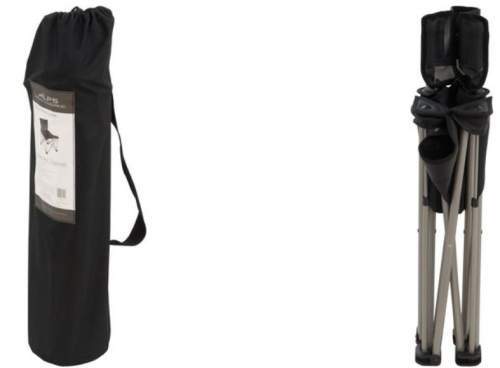 The size when in its carry bag is (L x D) 31 x 7 inches (79 x 18 cm). You can carry it short distances attached to the shoulder, there is a carry strap on the bag.
Materials & construction
This is a very simple construction with a powder-coated lightweight aluminum frame that provides strength and stability for a long-lasting use. The picture below shows its back side, so observe the X-crossed support bars on all sides, plus the legs.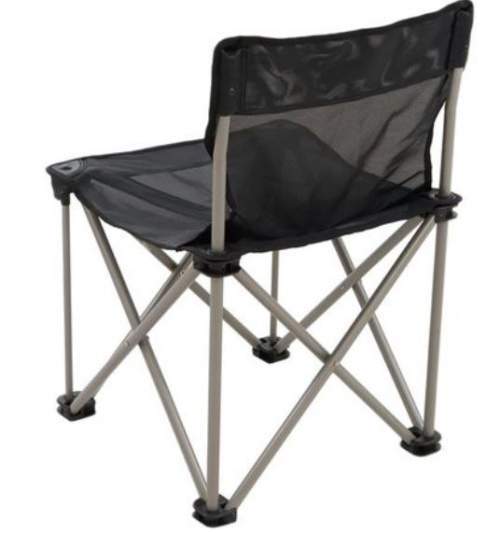 Particularly great are its wide feet, with such a shape the chair will not easily sink in the ground. Note also that the chair is without armrests.
The fabric is a Tech-Mesh, very sturdy, comfortable, and breathable. So the chair is excellent for warm weather outdoor use. Note that they build this chair in two colors shown here in the pictures.
This materials dries fast if it gets wet, and it is easy to clean. Note that there are reinforcements under the seat, they are visible in the pictures.
The backrest is not very high, you have around 13.5 inches (35 cm) from the seat. As you see below, it is quite vertical, so you can use this chair even as a dining chair in the camp.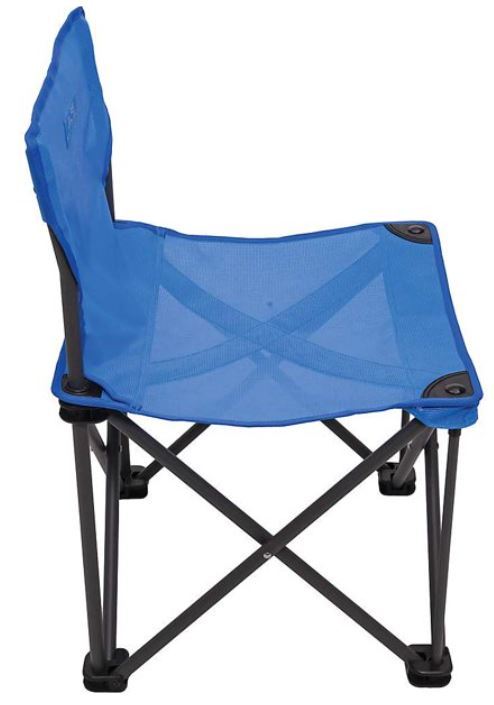 ---
Who is it for
Capacity-wise, the chair is quite impressive. Its official capacity is 400 lb (181 kg). This is not surprising when you see how strong its frame looks. So according to its declared capacity, this chair is supposed to be able to support even the heaviest wrestlers in the Japanese top sumo division.
The brand behind this chair is known for its strong chairs, you can see them many here in the site. This is why I have added it to my list of camping chairs for heavy people.
Size-wise, the chair is far less impressive with its overall dimensions of (H x W x D) 31 x 20 x 20 in (79 x 51 x 51 cm). The seat is moderately high, it is 17.5 inches (44 cm) above the ground.
Weight-wise, the chair can be described as lightweight with its 5.5 lb (2.5 kg). Now, this is remarkable when you see its capacity. You have already seen its packed size, so the chair is for car transportation.
Regarding the price, I would say it is very good for such a quality chair. You have a reliable chair and a globally-know brand.

---
Specifications
Weight: 5.5 lb (2.5 kg).
Capacity: 400 lb (181 kg).
Dimensions (H x W x D): 31 x 20 x 20 in (79 x 51 x 51 cm).
Folded dimensions (L x D): 31 x 7 in (79 x 18 cm).
Seat height: 17.5 in (44 cm).
Frame: aluminum.
---
My rating, pros & cons
The table below summarizes my rating and some pros and cons. As you see it stands very good against my rating criteria. Please rate this chair yourself, there is a rate bar below.
Lightweight chair with a huge capacity
Weight -

8.2/10

Dimensions -

7.3/10

Packed size -

6/10

Capacity -

9/10

Comfort -

9/10

Craftsmanship -

9.7/10
Summary
The chair scores well in all criteria and the overall rating is Very Good.
Pros
Lightweight.
Easy to use.
Huge capacity.
Carry bag.
---
Final thoughts
In summary, this ALPS Mountaineering Adventure Chair is a typical product of this brand. This means the following: i) high quality, ii) simple and reliable construction, and iii) very reasonable price. Fully recommended. I have included it in my list of armless folding camping chairs.
If you need more options from this brand, please check my list of best Alps Mountaineering camp chairs.
Let me know if you have questions, there is a comment box below. Bookmark this site and visit it again, this will keep you informed because I add texts here on a regular basis. Thank you for reading and have a nice day.