---
The Bolderton Heritage Oversized Deck Chair is padded, with a poly-cotton fabric, and its steel frame has a huge 500 lb (227 kg) capacity.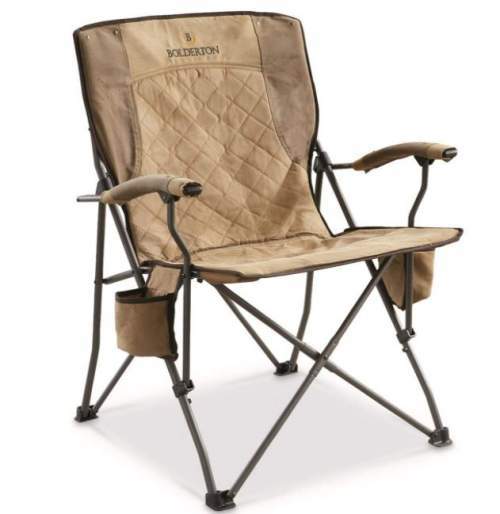 ---
Key features & benefits
Folding chair.
Huge capacity.
Padded chair.
Solid armrests.
High seat.
Poly-cotton fabric.
Bottle holders.
---
Overview
This Bolderton Heritage Oversized Deck Chair is a folding design, so it comes ready to use and there is no assembly when you need it. Just open it in seconds. The picture below shows how it look when folded.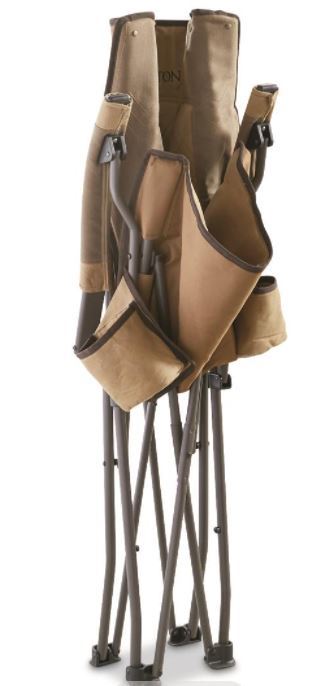 The chair is with solid but padded armrests, note that they are contoured, so it is easy to get in and out of it. You also have dual bottle holders on the sides. Here you can keep other stuff as well, like you smartphone, keys, etc.
The materials
The frame is a powder-coated steel. The poles are X-crossed on all the sides and it is not surprising that the capacity is so great. I like the wide feet, this is a floor-friendly design, and they should not sink easily in a soft ground.
The fabric is a combination of a heavyweight 600D polyester and 12-oz. waxed cotton canvas. This is a retro style and you have a rugged, weather-resistant durability. The chair is with padding on the seat and the backrest. 
Clearly, this is a pleasant material, but keep it out of the rain, it may take long to dry if it gets wet. There is no bar on the front under the seat, so you are safe from pressure spots. See some details here: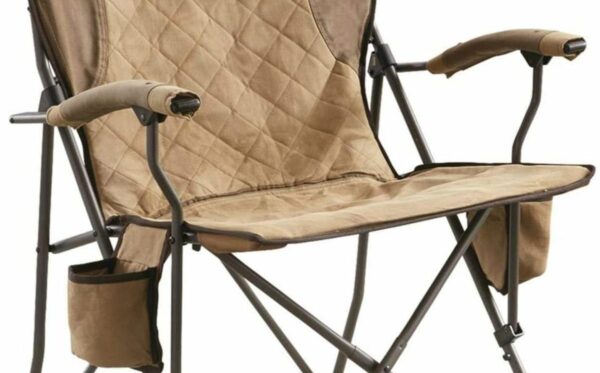 It comes with a storage bag to keep you clean from dust and for transportation.
---
Who is this chair for
Regarding the capacity, this is an impressive chair, officially designed for users of up to 500 lb (227 kg). This is why I have added it to my list of chairs for heavy people.
Regarding the dimensions, the chair measures (H x W x D) 38 x 28.5 x 26 inches (97 x 72 x 66 cm). The seat is quite high, it is 20 inches (51 cm) above the ground.
So the chair is suitable for taller people, and I would say also for elderly users because of such a seat and its solid armrests.
Regarding the weight, this is not its best feature, it weighs 15.7 lb (7.12 kg). The same holds for its packed size which is 44.9 x 11.8 x 7.9 inches (114 x 30 x 20 cm). So if you use it outdoors, this is a chair for places with a car access.
Regarding the price, I think this is fair price for what you get here, a great value for the money.

---
Specifications
Weight: 15.7 lb (7.12 kg).
Capacity: 500 lb (227 kg).
Dimensions (H x W x D): 38 x 28.5 x 26 in (97 x 72 x 66 cm).
Folded dimensions: ss42 x 12 x 10 in (107 x 30 x 25 cm).
Seat height: 20 in (51 cm).
Seat dimensions (W x D): 20  x 17 in (51 x 43 cm).
Backrest height: 20 in (51 cm).
Packed size: 44.9 x 11.8 x 7.9 in (114 x 30 x 20 cm).
---
Rating, pros & cons
The table below summarizes my rating against the usual criteria used for all the chairs here in the site. This allows you to compare it easily with the other chairs. There is a rating bar for you, so you can rate the chair yourself.
Poly-cotton fabric & huge capacity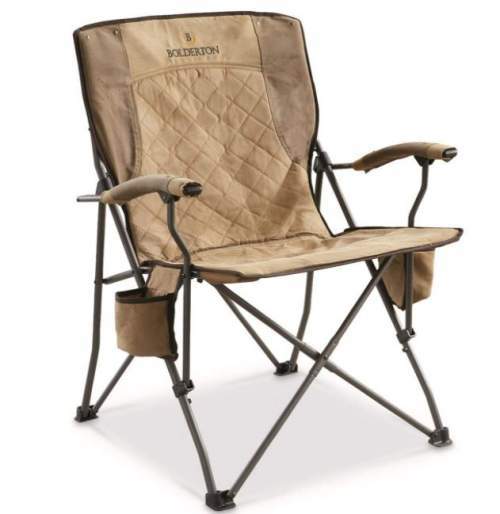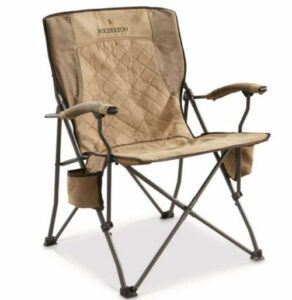 Product Name: Bolderton Heritage Oversized Deck Chair
Product Description: The Bolderton Heritage Oversized Deck Chair is Padded, with a Poly-Cotton Fabric, and its Steel Frame Has a Huge 500 lb (227 kg) Capacity.
Brand: Bolderton
SKU: B08WH4K261
MPN: 718751
Weight -

3.5/10

Dimensions -

8.5/10

Packed size -

3/10

Capacity -

9.5/10

Comfort -

9.5/10

Craftsmanship -

9.7/10
Summary
The weight and packed size affect the overall rating negatively, but see the other criteria.
Pros
Pleasant fabric.
Padding.
Huge capacity.
Easy to use.
Solid armrests.
---
Final thoughts
So this Bolderton Heritage Oversized Deck Chair is a very reliable and pleasant outdoor piece. Its huge capacity makes it suitable for everybody, no matter of how heavy a user can be. Such a chair you can use in the camp but also at home in the garden.
It is very easy to use, if you disregard its weight. You have a great brand behind this product so you know what you are buying. Fully recommended.
Best places to buy:
For more options, please check under the category Camping Chairs, you will find them many here in the site.
Let me know if you have questions, there is a comment box below. Thank you for reading and have a nice day.