---
This Browning Camping Kodiak Chair is with the weight capacity of 800 lb and currently there are no chairs on the market with a greater capacity.
---
Key features & benefits
Huge capacity.
Very durable.
Folding chair.
Cooler included.
Carry bag included.
Storage pouch on the back.
Armrests.
Great price.
---
Where to buy
Check on Amazon, they have great prices and the best shipping conditions with the stores on several continents. Currently, the Amazon price is far better than what you have directly on the manufacturer's site.
---
What type of a camping chair is this
This Browning Camping Kodiak chair is a folding type which collapses like an umbrella from the four directions to the center. So when packed it remains large in one dimension only, the packed size is (L x D) 41 x 7 inches (104 x 18 cm).
From this you realize that there is no assembly, you simply open it up and it is ready in a couple of seconds.

You have a carry bag included and it is equipped with straps to carry it like a backpack, see the picture: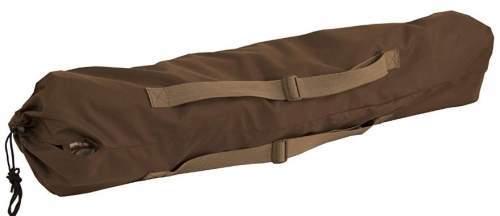 The chair is with soft and adjustable armrests, and it is with straps on the back so you can adjust the angle.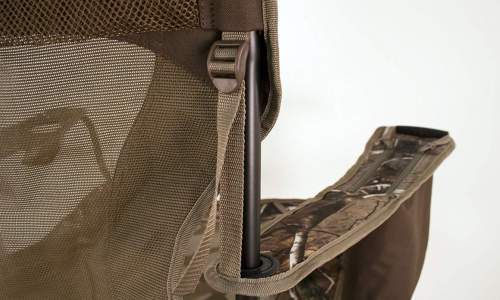 ---
Who is it for
Capacity-wise, you have already seen the number, there is nothing stronger on the market. So this chair can support anybody. I have included it in my list of chairs for heavy people.
Size-wise, the dimensions are great, 38 x 20 x 38 inches (97 x 51 x 97 cm). So the size corresponds to its capacity.  The seat is at 18 inches (46 cm).
Weight-wise, this chair is quite moderate, you would expect more weight in such a strong chair, but it weighs only 13 lb (5.9 kg).
All in all, in view of its weight and packed size, this is a camping chair for places with a car access.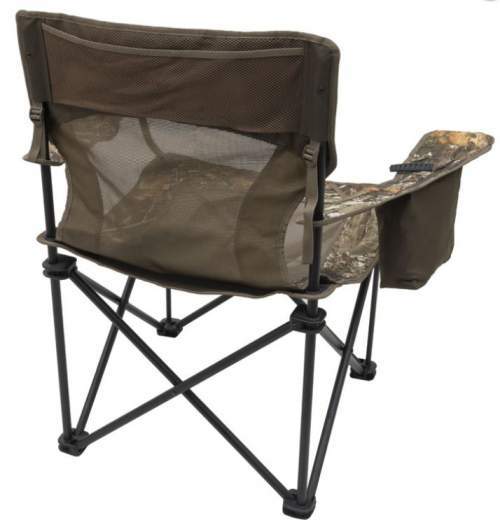 ---
Materials & construction
The frame is a patented powder-coated steel with supporting X-bars on all sides. This is a patented design.
The fabric is  600D Realtree Edge and a reinforced mesh in the central area. There is no sagging, have seen people asking about this. The feet are very wide and this is a floor-friendly design.
Bonuses
The chair has a cooler on the right side integrated into the armrest, and on the left side you have a cup holder. One large mesh pouch is on the back side, see it in the picture: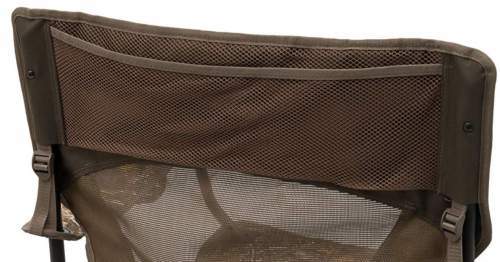 Please see more in this video by a user who is a big person and the chair works for him nicely:
---
Good and less good features
Here is my short summary:

Easy to use.
Great price.
Great patented design.
Carry bag.
Bonuses.

The price & rating
The price on Amazon at the moment of writing this text is around $65, quite fair for what you have here.
There are well over 130 reports by customers on Amazon and the chair has received a very high average rating 4.3/5. Please see how I rate it, I use the same criteria for all chairs here in the site:
My rating breakdown of the Browning Camping Kodiak Chair:
Weight -

5/10

Dimensions -

8.6/10

Packed size -

5.5/10

Capacity -

10/10

Comfort -

9.8/10

Craftsmanship -

9.8/10

Price -

9.5/10
---
Specifications
Weight: 13 lb (5.9 kg).
Capacity: 800 lb (363 kg).
Dimensions (W x L x H): 38 x 20 x 38 in (97 x 51 x 97 cm).
Packed size (L x D): 41 x 7 in (104 x 18 cm).
Seat height: 18 in (46 cm).
---
Browning Camping Kodiak Chair vs Competitors
Here I give this Kodiak chair side by side with two other chairs with huge capacities, all built in a similar style. By numbers, it looks very similar to the King Kong chair but there is a big difference in the fabric. Please follow the links in the table for more details and to check the prices.
Dimensions
(W x D x H), in (cm)

38 x 20 x 38
(96 x 51 x 96)

41 x 7 x 7
(104 x 18 x 18)

37 x 24 x 38
(95 x 61 x 96)

38.2 x 7.9 x 7.1
(97 x 20 x 18)

ALPS Mountaineering King Kong
38 x 20 x 38
(96 x 51 x 96)

41 x 7 x 7
(104 x 18 x 18)

---
Final thoughts
In the summary of this Browning Camping Kodiak Chair review, just to stress that this chair has been on the market for at least 8 years already. So this is an item that has been tried and tested and all is known about it. This is a reliable brand, so you know what you buy and from whom.

If you need more options, please check also my list with camping chairs for heavy people, otherwise search in the category Camping Chairs. If you need something with solid armrests, please check this Zenree Folding Camping Director's Chair. If you need something with a footrest, please check this ALPS Mountaineering Escape Chair.
This is not a sponsored text and I am not paid by the manufacturer or related to them in any way. 
Thank you for reading. Please use the comment box below in the case of questions or comments. Have a nice day.

---