---
The Cabela's Big Outdoorsman Director's Chair with Side Table is an easy to use steel folding chair with a very wide seat and pleasant anatomic armrests.
---
Key features & benefits
Folding chair.
Very easy to use.
Side table.
Solid anatomic armrests.
Wide seat.
Huge capacity.
Fair price.
---
Overview
The Cabela's Big Outdoorsman Director's Chair with Side Table is a folding outdoor chair, and this means there is no assembly. This is all one single piece and you open or close the chair in seconds.
As its name suggests, it comes with a side table shown in the picture below. It closes to the side so you do not have to use it all the time. It has an integrated bottle holster shown in the picture.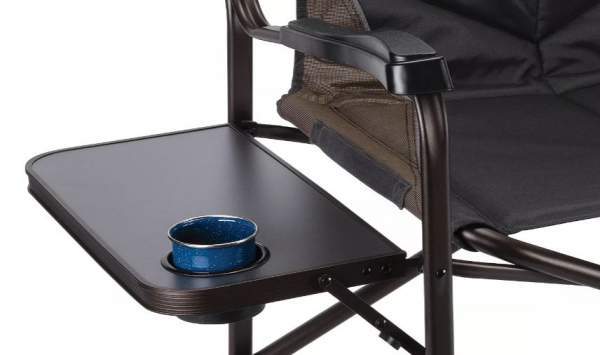 You have pleasant and anatomic solid armrests, one is visible above. The chair is lightly padded as well.
The materials
You have great and durable materials. All metal elements here are a powder-coated steel. Note that the feet are in fact bars, and they have some plastic protection on the places of contact with the ground. So this is a floor friendly design.
On the other hand, with such a design the weight is distributed so the chair will not sink even if you use it on a very soft ground. It can be safely used even in a floored family camping tent.
The fabric is a durable and water-resistant 600D polyester. Note that the solid armrests are with anatomically profiled plastic covers so you do not touch cold metal.
The folding side table is some sort of plastic and an engineered material, easy to clean and to use. It is water resistant but it is not recommended to keep it in the rain.
---
Who is it for
Regarding the capacity, this is an impressive chair, it is officially for users of up to 500 lb (227 kg). I would say this is more than enough for any potential user. Because of this, I have included it in my list of camping chairs for heavy people.
Regarding the dimensions, the chair is large as you would expect in view of its name. You will see the numbers below.
Here to stress that the seat measures (W x D) 28 x 17 inches (71 x 43 cm). The seat is moderately high, you have 20 inches (51 cm) off the ground. It is well-suited for taller users, and also for elderly people because it is easy to get in and out of the chair.
The back rest is 18.5 inches (47 cm) from the seat, so this is not high enough to have a headrest. Because of all these details, I have included it in my list of camping chairs with wide seats.
The side table folds independently as shown in the picture, so you can use the chair that way as a standard camping dining chair at a camping table.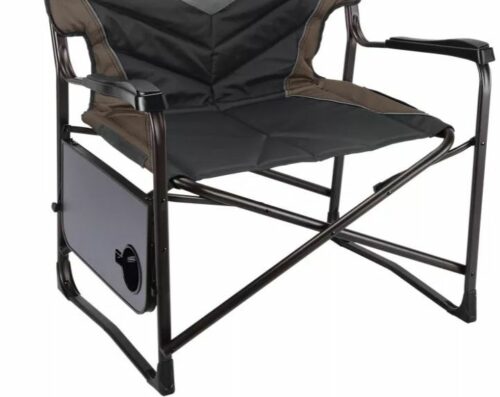 Regarding the weight, the chair is heavy, it weighs 21.2 lb (9.6 kg) so you would not want to carry it long distances.
The packed size is not the best side of this chair because it remains large in two dimensions. This is because of its solid armrests of course. But it becomes thin, the numbers are below, so the chair will fit in narrow spaces.
---
Specifications
Weight: 21.2 lb (9.6 kg).
Capacity: 500 lb (227 kg).
Dimensions (H x W x D): 37.8 x 28 x 17 in (96 x 71 x 43 cm).
Folded dimensions: 37 x 26.9 x 7.1 in (94 x 68 x 18 cm).
Frame: steel.
---
Rating, pros & cons
In the table below you have summarized my rating, and some pros and cons. You can rate the chair from your side as well.
Very large & huge capacity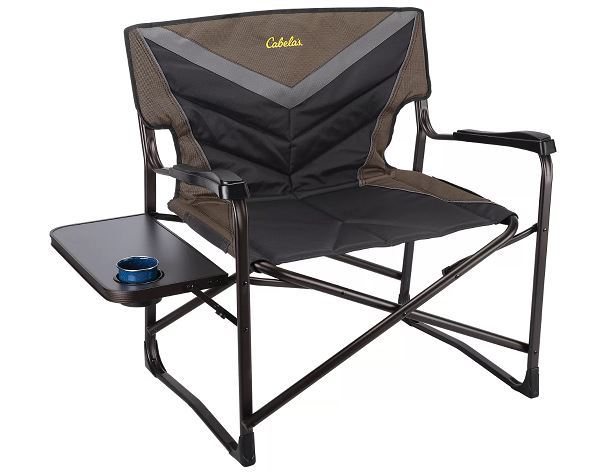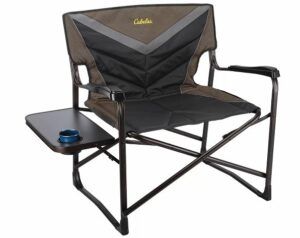 Product Name: Cabela's Big Outdoorsman Director's Chair with Side Table
Product Description: The Cabela's Big Outdoorsman Director's Chair with Side Table Is an Easy to Use Steel Folding Chair with a Very Wide Seat and Pleasant Anatomic Armrests.
Brand: Cabelas
SKU: 100198617
Weight -

2/10

Dimensions -

7.7/10

Packed size -

1/10

Capacity -

9.5/10

Comfort -

9.3/10

Craftsmanship -

9.5/10
Summary
This chair is all in extremes but the overall rating is still good.
Pros
Great capacity.
Wide seat.
Side table.
Fair price.
---
Final thoughts
So this Cabela's Big Outdoorsman Director's Chair with Side Table is truly well-built, with a large seat, functional and pleasant. The weight capacity is simply impressive, but it is also quite heavy and bulky. In any case, fully recommended.
Best places to buy:
For more options, please check under the category Camping Chairs, you will find them many here in the site, and in all sizes and shapes. Note that they also have a cot from this series, the Cabela's Big Outdoorsman Cot with Lever Arm.
Bookmark this site and visit it when you find time, this will keep you informed, you have new texts added here on a regular basis.
Let me know if you have questions, there is a comment box below. Thank you for reading and have a nice day.