---
The Guide Gear Oversized Club Camp Chair and Foot Stool is a great camping set with a generously padded chair and a separate footrest that can double as a side table as well.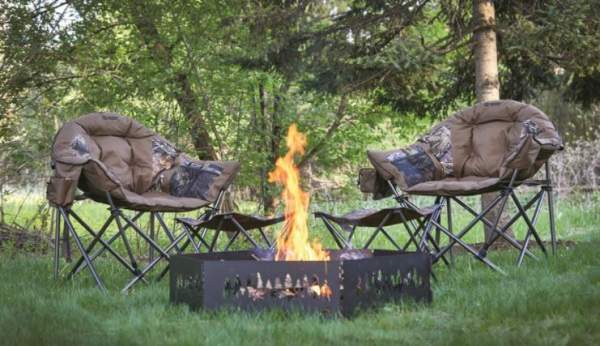 ---
Key features & benefits
2-in-1 Set.
Huge capacity.
Large chair.
Padding.
Multiple storage options.
Easy to use.
---
What this is about
So here you have a set of two items shown in the picture below, a large and nicely padded oversized club camp chair and a separate foot stool. Both are folding, so there is no assembly of any kind. You open and close the chair in seconds.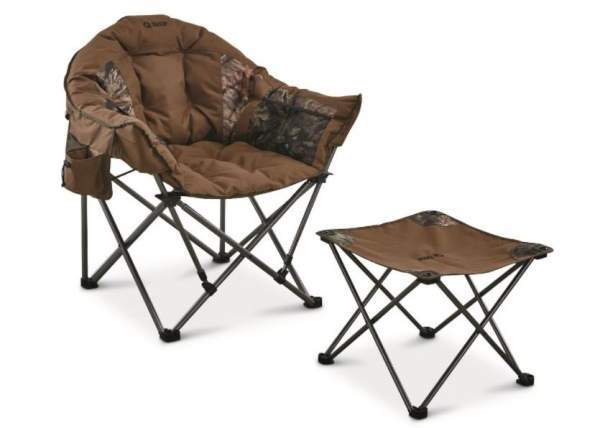 Both elements fit in the nice carry bag shown in the picture.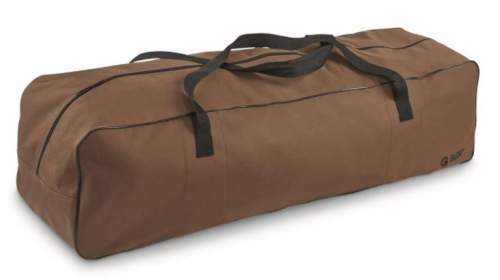 The chair is generously padded and you can realize this from the pictures. You have padding throughout its surface. This is why I have included it in my list of best padded camping chairs.
Multiple storage features
Only when you have such features in your chair and you try them, you realize how useful they are. They help you to stay organized and to keep small items off the ground and close at hand.
Here you have them several, to start with the side mesh pouches integrated in the armrests, one is visible in the picture below. Each of them measures 13 x 6 inches (33 x 15 cm).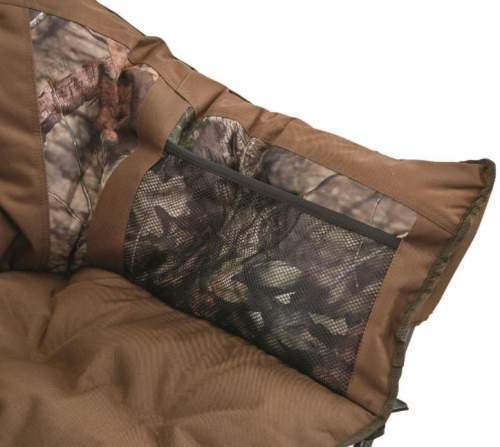 You also have a smaller hanging mesh pouch shown below: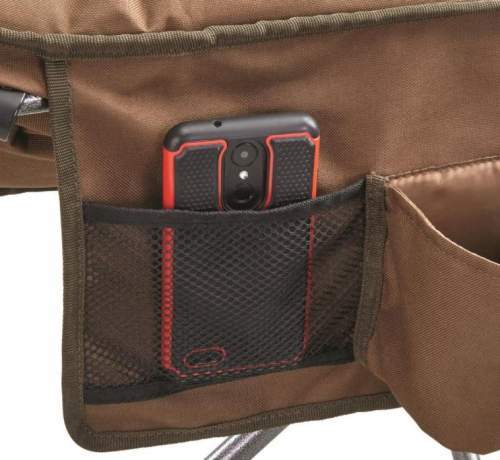 There is also a cup holder with a drawstring so you can put bottles of various sizes: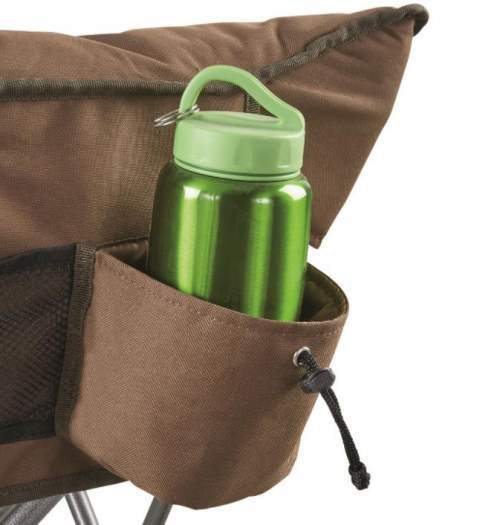 The foot stool
The foot stool is square and its dimensions are 18 x 18 x 15 inches (46 x 46 x 38 cm). It may look like a stool for sitting but note that it is not built for such a use. Its weight capacity is 80 lb (36 kg).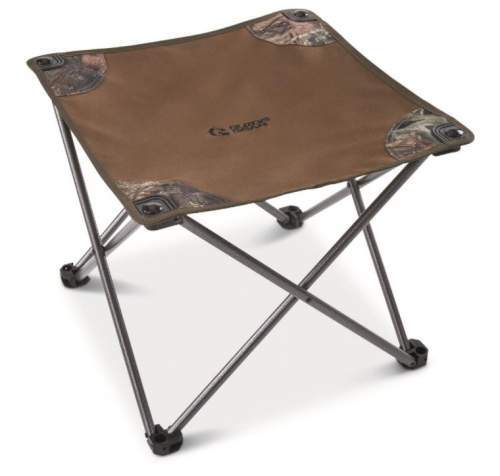 With such a capacity it is good enough as a footrest as the picture shows. You can use it also as a side table to put your phone, a book, newspaper or anything similar.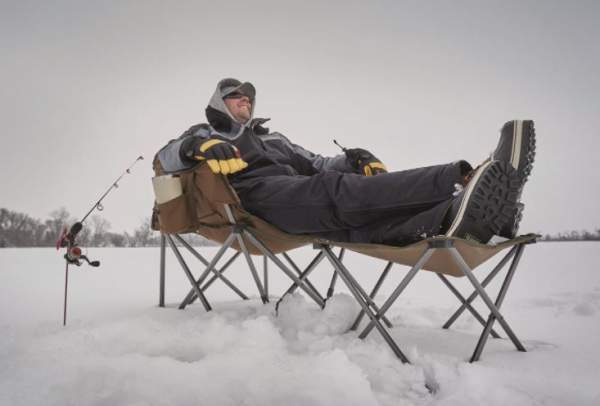 The materials
The Foot Stool includes a 600D polyester with PVC coating for water resistance. There is a bit of padding on its surface. The frame is a powder-coated steel. The same materials are used also in the main chair.
---
Who is this set for
Regarding the capacity, the declared value is 500 lb (227 kg). So this chair is for everybody, and this includes even the heaviest users. I have included it in my list of camping chairs for heavy people.
Regarding the size, the chair is very large, and you will see below how I rate it. The seat alone measures 20 x 20 inches (51 x 51 cm), and it 20 inches (51 cm) high. So the chair is very suitable for tall and big users.
Regarding the weight, the chair is on the heavy side with its 13.12 lb (6 kg), but this is fully justified in view of its size and features.
The packed size is not its best feature. However, you have two separate elements, the chair is very big, and it includes lots of bulky padding. So such a packed size is expected.
---
Specifications
Weight: 13.12 lb (6 kg).
Capacity: 500 lb (227 kg).
Dimensions: 34 x 27 x 36 in (86 x 69 x 91 cm).
Seat dimensions: 20 x 20 in (51 x 51 cm).
Seat height: 20 in (51 cm).
Foot stool weight: 3.84 lb (1.74 kg).
Foot stool capacity: 80 lb (36 kg).
Foot stool dimensions: 18 x 18 x 15 in (46 x 38 cm).
Packed size: 42.25 x 14.5 x 13 in (107 x 37 x 33 cm).
---
Accessory Guide Gear Club Chair Cover
Note that they have a Guide Gear Club Chair Cover, it is inexpensive and useful to protect the chair from dust and from light rain. The cover is equipped with a drawstring on bottom, so you put it on the club chair from above and then just tighten the drawstring to keep it in place.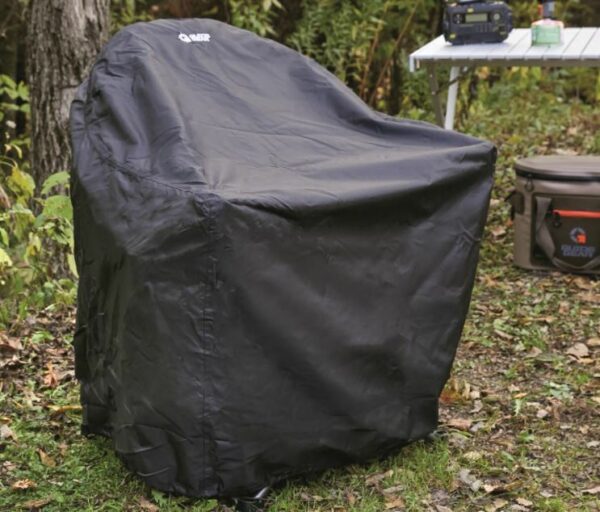 The material of the cover is a water-resistant 410D polyester with taped seams. It has its own storage pouch with drawstring closure.
---
Rating, pros & cons
Below you can see how I rate this chair against my standard set of rating criteria. Some affect the overall rating badly. You can rate it yourself, there is a rating bar below.
Great padding and 2-in-1 elements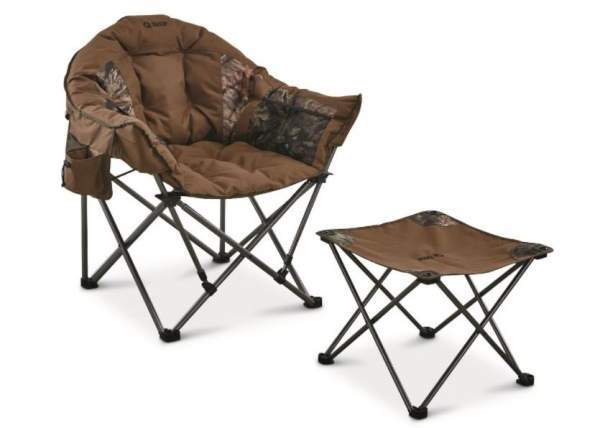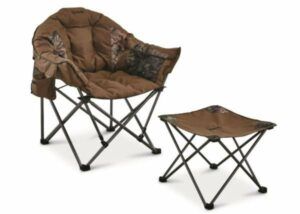 Product Name: Guide Gear Oversized Club Camp Chair and Foot Stool
Product Description: The Guide Gear Oversized Club Camp Chair and Foot Stool is a Great Set with a Generously Padded Chair and a Footrest that Can Double as a Side Table.
Brand: Guide Gear
SKU: B089KF8R2Y
Weight -

5/10

Dimensions -

8.9/10

Packed size -

1.5/10

Capacity -

9.5/10

Comfort -

9.8/10

Craftsmanship -

9.7/10
Summary
The chair is very bulky and this affects the overall rating.
Pros
Incredibly comfortable.
Padding.
High quality.
Great capacity.
---
Final thoughts
In summary, this Guide Gear Oversized Club Camp Chair and Foot Stool is an incredibly well-built and comfortable outdoor set. This is a typical product of this brand, and by this I mean a sturdy and high-quality product built to last for years. Fully recommended. It is included in my list of best club camping chairs.
For more options from this brand, please check my separate list of Guide Gear camping chairs.
There is a comment box below, so let me know if you have questions or comments. Bookmark this site and visit it occasionally, this will keep you informed. Thank you for reading and have a nice day.