---
Guide Gear Oversized Rocking Camp Chair is incredibly strong folding steel construction with a great headrest, armrests, and a bonus cup holder.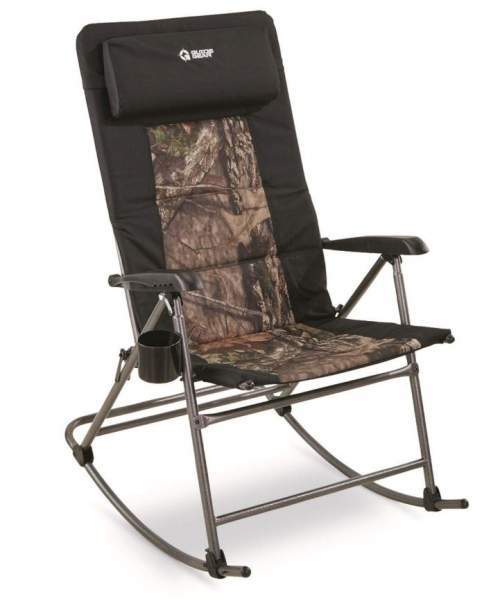 ---
Key features
Rocking design.
Headrest.
Solid armrests.
Folding chair.
Cup holder.
---
What is in the name
As the name tells you, this is a rocking chair and a folding design so you close it like a book when you take it away. So it is easy to set up and to take away, but this also means that it remains quite large in two dimensions when packed, the packed size is 48 x 26 x 7 inches (122 x 66 x 18 cm).
But as you see it becomes thin and you can store it in narrow spaces. And more importantly, there is no assembly here, you just open it in a second.
As for the word 'oversized' in the name, this is indeed a large chair and it is very tall. You have 45 inches (114 cm) from the ground to the top of the chair. So this is a chair that provides a great headrest, and I have added it into my list of chairs with headrest. Observe that it has some extra padding added in the head area apart from its overall padding.
The chair is also with solid armrests, so getting in and out of it is easy, in particular for elderly users.
---
Who is it for
Capacity-wise, this is an impressive chair with the declared capacity of 500 lb (227 kg). Did you know that this is exactly the weight of the heaviest sumo wrestler Ichinojo in the Japanese top division? So the chair is strong enough even if you are a really heavy person. I have included it in the list of chairs for heavy people.
Size-wise, you have already seen the height, but this is a wide chair as well, see in the specifications below. No doubt it is suitable for the majority of potential users. The seat alone is 23 inches (58 cm) wide.
Weight-wise, with its 17.5 lb (7.9 kg) of weight, this is clearly not a lightweight chair. So bear this in mind, you would not want to carry it long distances from the car parking to the tent area.
---
Materials
The frame here is a powder-coated steel and the fabric is a durable 600D polyester. The armrests are covered by some sort of hard plastic.
The rocking construction is such that it needs a hard surface to work. On a soft terrain, it will not rock but the rail will prevent sinking so you can still use it for sitting. But there are some other models that work on a completely different principle and they rock regardless of where you use them, like this GCI Outdoor Firepit Chair or this NEMO Stargaze Recliner Luxury Chair.
---
My rating, pros & cons
The Amazon price for this chair is shown in the link below. So there are more affordable options on the market, but I am convinced this is a fair price for such a chair.
Please see how I rate it for the usual criteria used here in the site, obviously the packed size and the weight affect very badly the overall rating:
My rating breakdown of the Guide Gear Oversized Rocking Camp Chair:
Weight -

3/10

Dimensions -

9.6/10

Packed size -

0.5/10

Capacity -

9.5/10

Comfort -

9.9/10

Craftsmanship -

9.5/10
Summary
My overall rating of this chair is affected by its packed size and weight, but it is still Good:
Pros
Very stable and strong.
Great headrest.
Great back support.
Very easy to deploy.
Cons
Heavy.
Very big packed size.
---
Specifications
Weight: 17.5 lb (7.9 kg).
Weight capacity: 500 lb (227 kg).
Dimensions (W x D x H): 26 x 35 x 45 in (66 x 89 x 114 cm).
Seat width: 23 in (58 cm).
Packed dimensions: 48 x 26 x 7 in (122 x 66 x 18 cm).
Frame: steel.
---
Guide Gear Oversized Rocking Camp Chair vs Competitors
I have decided to show you this Guide Gear chair side by side with two other great examples built in the same style. Obviously, they are not a match to this chair regarding the size and capacity. It is also more affordable than the other two chairs. Please follow the links for more.
Dimensions
(W x D x H), in (cm)

Guide Gear  Rocking Chair
26 x 35 x 45
(66 x 89 x 114)

48 x 26 x 7
(122 x 66 x 18)

ALPS Mount. Rocking Chair
24 x 17.5 x 41
(61 x 44 x 104)

47 x 26 x 6
(119 x 66 x 15)

Timber Ridge Rocking Chair
23.5 x 18 x 40.5
(60 x 46 x 103)

46 x 24 x 5.5
(117 x 61 x 14)

---
Final thoughts
In the summary of this Guide Gear Oversized Rocking Camp Chair review, if you disregard its folded size, it is hard to find true objections to this chair. This is an impressive and durable chair with huge capacity and some really nice feature, great value for the money. I have included this chair it in my list with best padded camping chairs.
You might want also to check my separate list of Guide Gear camping chairs.
Note that this is not a sponsored text and I am not paid by the brand. Please use the comment box below in case of questions or comments. Have a nice day.