---
This Timber Ridge XXL Director's Chair is oversized with its 28 inches (71 cm) wide seat, and it supports up to 600 lb (272 kg) weight.
---
Key features & benefits
Extra-wide seat.
Huge capacity.
Folding chair.
Side table.
Very easy to use.
Phone pocket under the seat.
---
What is in the name
This chair is on the manufacturer's site under the name Birch XXL Director's Chair, just to know if you see it somewhere under this name.
The letters XXL in the name apply only on its width, you have an enormously wide seat where you have 28 inches (71 cm) width between its solid armrests. When you add the side table, you have around 38 inches (97 cm) from one end to another.
So you will not find many chairs of this type which such a size. But the other two dimensions are quite moderate, see the picture with the most important numbers: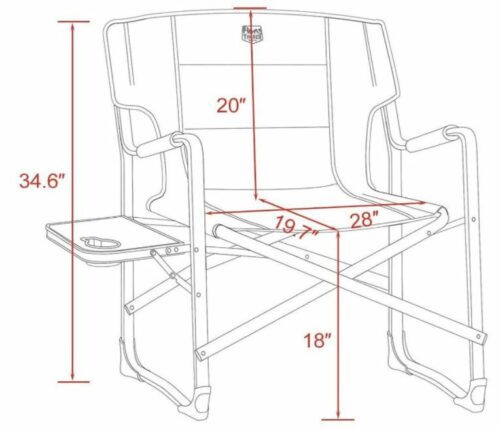 This is a folding design, so there is no assembly. You can have the chair ready in seconds, the pictures below show how you unfold it: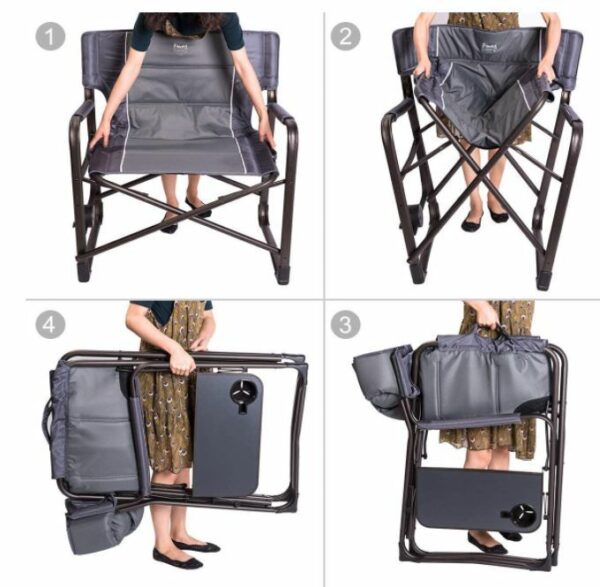 Note that you have a pair of straps to carry the chair, but the folded size is huge.
The side table folds together with the chair, its dimensions are roughly 19 x 8 inches (48 x 20 cm). It is with an integrated cup/bottle holder.
The materials
The frame is a powder-coated steel alloy, they do not provide many details, but the tubing is with a 25 mm diameter. The fabric is a durable 600D polyester. You have padding all over the seat and the backrest.
The feet are bars, and you have plastic caps, so this is a floor-friendly construction and you can use it even in a floored family camping tent.
Note that there is also a net bag underneath the seat for small stuff like a phone or similar items.

---
Who is it for
Regarding the weight, this is a heavy chair, it weighs 20.3 lb (9.2 kg). So this is not something you would want to carry anywhere.
The packed size is also enormous, when folded it measures 35.1 x 27.7 x 5.4 inches (89 x 70 x 13.7 cm). So it is large but it also folds thin and it fits in narrow spaces.
Regarding the dimensions, the width is the most impressive and my overall rating for dimensions is high. Note also that the seat is very deep, so it is best suited for taller people. Because of such a seat, it is included in my list of chairs with extra-wide seats.
The side view below shows its padding and its solid armrests. Note also that the backrest is very steep. I think this is a combination of good features for tall elderly users. It makes it easier to get in and out of the chair when you have such support for your arms and hands, and when the backrest is not angled back too much.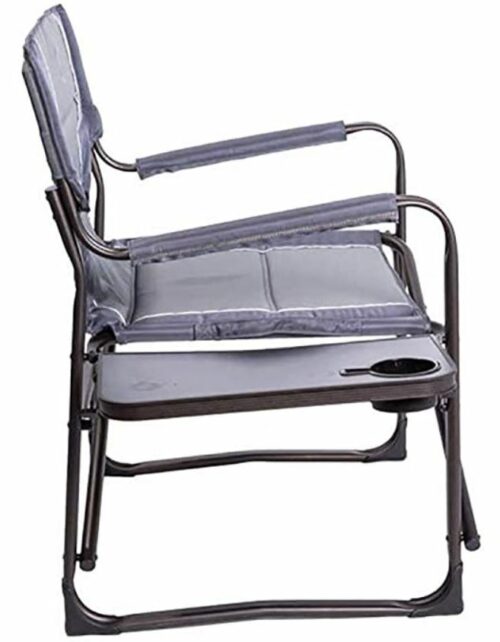 Regarding capacity, this is an impressive chair and its capacity is among the highest on the market. The chair is strong enough to support even the heaviest sumo wrestlers, the official capacity is 600 lb (272 kg). This is why I have included it in my list of camping chairs for heavy people.
---
Specifications
Weight: 20.3 lb (9.2 kg).
Capacity: 600 lb (272 kg).
Dimensions (H x W x D): 34.6 x 38 x 22 in (88 x 97 x 56 cm).
Seat width: 28 in (71 cm).
Seat height: 18 in (46 cm).
Packed size: 35.1 x 27.7 x 5.4 in (89 x 70 x 13.7 cm).
---
Rating, pros & cons
I have several specific criteria and I apply them to all the chairs for easy comparison. Perhaps some of them are unimportant to you, so focus on those that are important.
Extra wide & huge capacity chair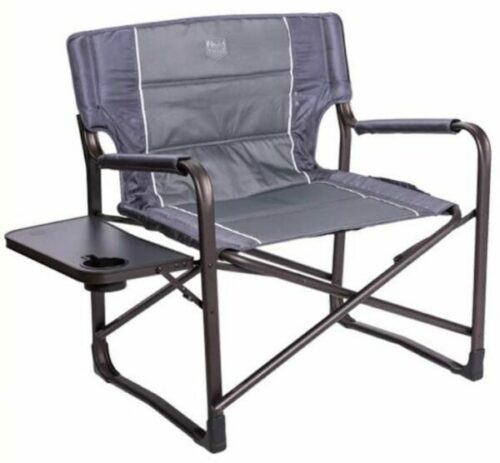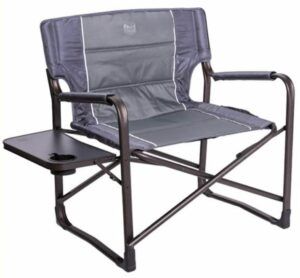 Product Name: Timber Ridge XXL Director's Chair Oversized
Product Description: This Timber Ridge XXL Director's Chair is Oversized with Its 28 Inches (71 cm) Wide Seat, and It Supports up to 600 lb (272 kg). 
Brand: Timber Ridge
SKU: B07Z65JZGW
Weight -

2/10

Dimensions -

8.6/10

Packed size -

2/10

Capacity -

9.8/10

Comfort & features -

9.7/10

Craftsmanship -

9.7/10
Summary
You have extremes in the ratings for specific criteria, but the overall value is still Good.
Pros
Very wide seat.
Huge capacity.
Great comfort.
High-level craftsmanship.
---
Final thoughts
In the summary of this Timber Ridge XXL Director's Chair review, I wish to stress that you will not easily find a chair that can match the seat width that you have here. Its weight capacity is also among the highest on the market. All in all, this is an impressive and reliable chair, fully recommended. I have included it in my list of best outdoor furniture for big people.

More chairs of this brand you have in my list of Timber Ridge Camping Chairs. See also this padded Pacific Pass Camping Chair with its huge capacity.
We add texts here regularly, so bookmark this site and visit it again, this will keep you informed. Thank you for reading and have a nice day.