---
Helinox Playa Lightweight High-Back Collapsible Beach Chair is a top-notch outdoor chair with a great headrest and soft armrests. The structure is with a rather low seat, very stable and supportive.
---
Key features
Collapsible chair.
Headrest.
Great capacity.
Cup holders.
Soft armrests.
---
What type of chair is this
This is a collapsible chair, and this implies that it needs a simple assembly when you use it. This is done easily and without any tool.
The backrest is very high, you have 36.5 inches (93 cm) from the seat to the top, see the picture below. In addition, you have extra padding in the head area. So this is a chair with a headrest and I have included it in my list of chairs with headrest.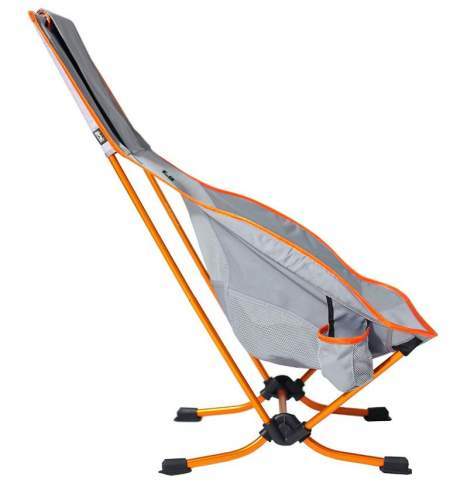 ---
Who is it for
Weight-wise, with its 4 lb 3 oz (1900 g) of weight, this is a lightweight chair, so I have included it in my list of best collapsible chairs that are backpack-portable but, it is not in the group of ultralight chairs.
Its packed size is such that you can indeed attach it to a backpack or transport on a bicycle or a motorbike. This makes it a very versatile chair for outdoor and home use. You can use it on the beach, in a camp, at some open-air music event, etc.
Capacity-wise, this chair is designed to support the weight of up to 320 lb (145 kg). This should be strong enough for the majority of users. But if this is not enough, check my list with chairs for heavy people.
Size-wise, you have already seen above that it is with a very high backrest. But this is a large chair in general with the dimensions (W x D x H) 27.5 x 31 x 38.5 inches (70 x 79 x 98 cm).
But bear in mind its name, as a beach chair the seat is low, only 11 inches (28 cm) above the ground. So this may be an issue for elderly users, there are no solid armrests here, though armrest support is there indeed.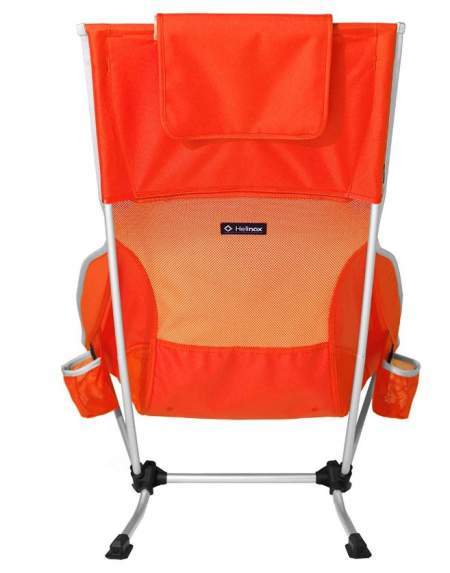 ---
Materials
There are only 2 parts here: the sling and the frame. All the elements in the frame which you see in the picture above are shock-corded so this is essentially one single element. This is an advanced alloy DAC aluminum structure, so you have the best of the best.
The fabric is a 600 weave polyester, weather & UV resistant ventilated and machine-washable material. The feet are some sort of nylon similar to the joints which you see under the seat.
---
My rating, pros & cons
This chair is not the most affordable chair of this type but this is a reliable and top-notch chair.
Note that it comes with a 5-year warranty which I find incredible for such an item that looks so fragile. So the manufacturer has lots of confidence in this product. Please see how I rate it against a set of parameters used for all the chairs in the site:
My rating of Helinox Playa Chair:
Weight -

8.3/10

Dimensions -

9.3/10

Packed size -

7.2/10

Capacity -

8/10

Comfort -

9.6/10

Craftsmanship -

9.7/10
Summary
My overall rating of this chair is Very Good:
Pros
Lightweight.
Easy to use.
Great quality.
Great comfort.
Great warranty.
---
Specifications
Weight: 4 lb 3 oz (1900 g).
Capacity: 320 lb (145 kg).
Dimensions (W x D x H): 27.5 x 31 x 38.5 in (70 x 79 x 98 cm).
Packed size: 21.5 x 6.5 x 6 in (54.5 x 16.5 x 15.5 cm).
Seat height: 11 in (28 cm).
Back height: 36.5 in (93 cm).
Carry bag included.
Stuff sack doubles as a pillow.
Backed by a 5-year warranty.
---
Helinox Playa Beach Chair vs Competitors
I have decided to show you this Playa Chair side by side with two other built in a similar style. All three have a headrest and they are collapsible. As you see it is a bit heavier but it is also bigger and with a better capacity. But this chair is also by far the most expensive here. Please follow the links to read more and to check the updated prices.
Dimensions
(W x D x H), in (cm)

Helinox Playa Beach Chair
27.5 x 31 x 38.5 (70 x 79 x 98)

21.5 x 6.5 x 6
(54 x 16 x 16)

22.8 x 26 x 39.2 (58 x 66 x 100)

17 x 6.6 x 5.5
(43 x 17 x 14)

21 x 27.5 x 39 (53 x 70 x 99)

20 x 6.5 x 4
(51 x 17 x 10)

---
Final thoughts
So this Helinox Playa Beach Chair is a luxurious outdoor chair, suitable for the beach, for camping, and for the backyard. The high backrest and the headrest work great with the soft armrests.
With such a low gravity center, you will feel stable even if you use it on the sand. You have the best quality materials used, and this is reflected in its price. It is included in my list of best lightweight beach chairs.
Their Helinox Beach Chair is built in the same style, just a bit smaller. You might want to check also their Helinox Savanna Chair which is much higher from the ground.
Note that this is not a sponsored text, and I have no relation with the brand. Please use the comment box below in case of questions or comments. Have a nice day.