---
This ALPHA CAMP Oversized Camping Folding Chair is with unique solid and padded armrests that are detachable, with a huge capacity and much more. Keep reading.
---
Key features & benefits
Huge capacity.
Lumbar support.
Solid & padded armrests.
Some unique features.
Padded chair.
Great size.
Storage elements.
Carry bag.
Reasonable price.
---
What this is about
Here you have a really nicely designed folding chair. It has some specific features, like the detachable solid and padded armrests, and this is why it collapses in a thin tube.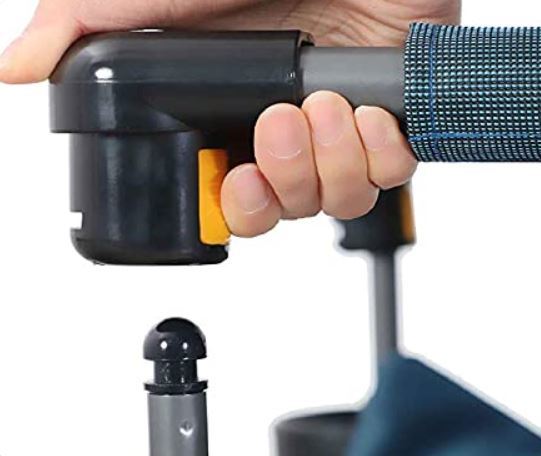 Normally, such chairs with solid armrests remain large in two dimensions, but here you have a clever design that saves you from this. This unique feature is shown in the picture above. The yellow release button is visible in the picture. Below you see its both armrests as they are normally used.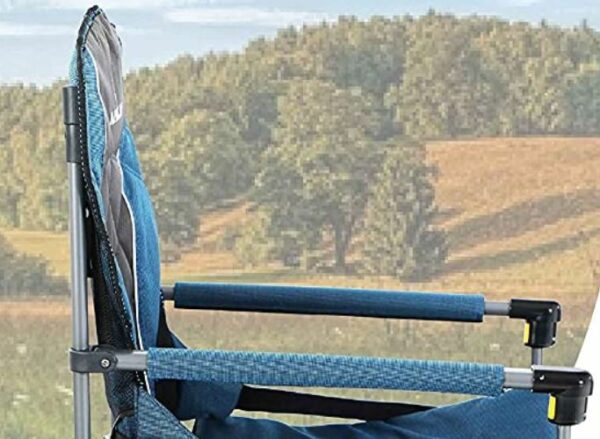 The chair is also padded throughout its surface and the armrests are padded as well. So I have good reasons to add it to my list of best padded camping chairs.
The chair comes with a carry bag equipped with a shoulder strap, its dimensions are shown in the picture: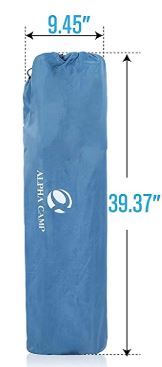 Lumbar support
This is yet another useful feature here. You have an adjustable strap that goes behind the backrest and with this you can regulate the lumbar profile. This is why I have added it to my list of camping chairs with lumbar support.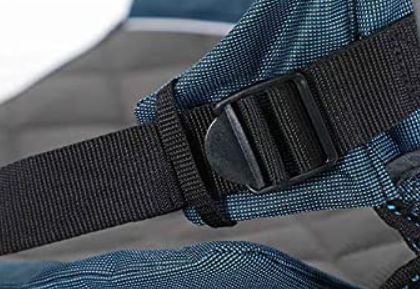 Storage elements
There are several storage elements here. You have a large mesh pocket on the back shown below: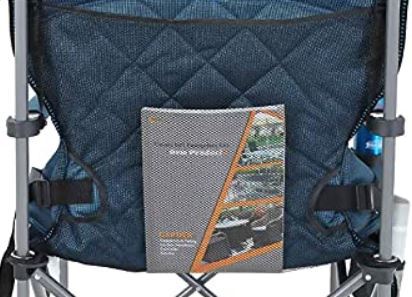 In addition to this, you also have a bottle holder on the side, next to a storage system with separate pockets, see the picture: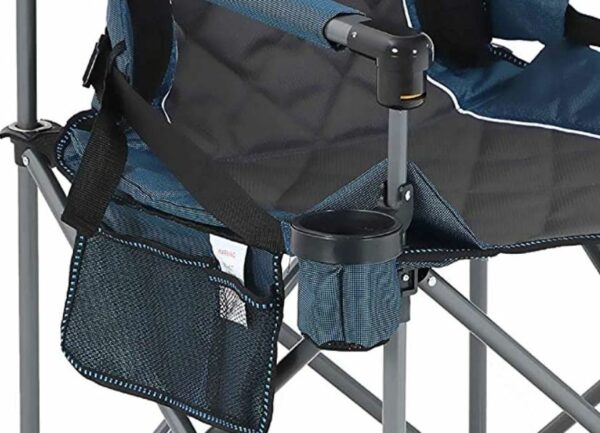 The materials
The frame is a strong steel with multiple support bars on all sides. As for the fabric, this is a durable 600x 300D oxford polyester. I am not sure what they use inside for padding.
Note that the feet are large, and this is a floor-friendly design. You can use the chair even in a larger floored family camping tents.
---
Who is it for
Regarding the weight, in view of its 14.1 lb (6.4 kg) of weight, this is a heavy chair. So this is not something you would want to carry anywhere. The packed size shown previously is such that you need a car for transportation.
Regarding the capacity, this is an impressive chair, they claim it supports the weight of up to 450 lb (204 kg). This is why I have included it in my list of chairs for heavy people.
Regarding the dimensions, they are shown in the picture below, so this is a big chair. But there are some inaccuracies here, the seat is narrower than what they write.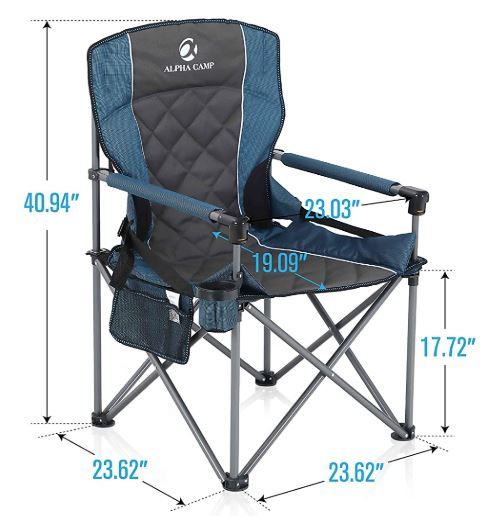 The seat is not particularly high, the numbers are shown above. But with such supportive armrests, I see it well suited for elderly users, getting in and out is easy.
Regarding the price, see the link below, this is updated daily, so the chair is affordable and the price is fair.

---
Specifications
Type: folding chair.
Weight: 14.1 lb (6.4 kg).
Weight capacity: 450 lb (204 kg).
Dimensions (L x W x H): 23.62 x 23.62 x 40.94 in (60 x 60 x 104 cm).
Seat height: 17.72 in (45 cm).
Packed size (L x D): 39.37 x 9.45 in (100 x 24 cm).
Frame: steel.
---
Rating, pros & cons
Here is a summary of my pros and cons, and my rating. The same criteria are used for all the chairs here in the site, so you can easily compare.
Unique detachable solid armrests and a huge capacity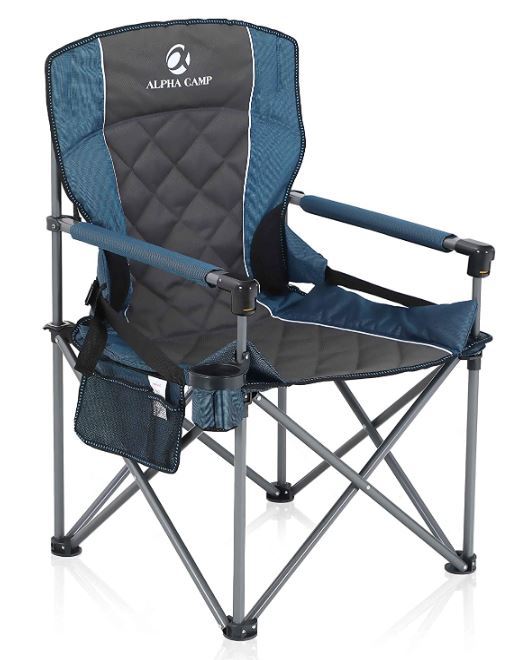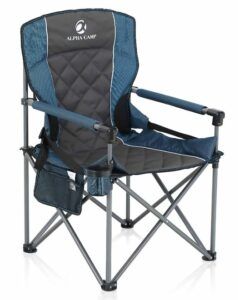 Product Name: ALPHA CAMP Oversized Camping Folding Chair with Solid Armrest
Product Description: This ALPHA CAMP Oversized Camping Folding Chair is with Unique Solid & Padded Detachable Armrests, with a Huge Capacity and Much More.
Brand: ALPHA CAMP
SKU: B0869K1BBF
Weight -

4.5/10

Dimensions -

8.1/10

Packed size -

3.5/10

Capacity -

9.5/10

Comfort -

9.7/10

Craftsmanship -

9.1/10
Summary
The overall rating is negatively affected by the weight and packed size, but it is still at the level of Good.
Pros
Lumbar support.
Huge capacity.
Great size.
Great price.
Unique features.
---
Final thoughts
So this ALPHA CAMP Oversized Camping Folding Chair with Solid Armrest is nicely built with many useful details and some unique features. The price is fair for what you get, fully recommended.

If you need more options, just look under the category Camping Chairs, you will find them in all types and designs. See this Timber Ridge Fraser Deluxe Bungee Chair which is also a padded and foling camping chair.
Bookmark this site and visit again, this will keep you informed, we add texts here regularly. Please use the comment box below in the case of questions or comments. Thank you for reading and have a nice day.