---
Guide Gear Oversized XXL Rocking Camp Chair is very large, padded, and with great capacity. It comes with solid armrests and with headrest.
---
Key features
Great capacity.
Great size.
Rocking chair.
Solid armrests.
Headrest.
Padded chair.
---
Where to buy
This chair is very new on the market and it is available on Amazon, so follow the link and benefit from their global shipping service.
---
What this is about
As the title above suggests, this is an XXL chair so it should not be mixed with yet another chair from this brand with a similar name, the Guide Gear Oversized Rocking Camp Chair.
The chair which you have here is even bigger, hence the letters XXL in the name. So this is again a folding chair which becomes thin when packed, so it fits in narrow spaces when you store it at home. But it remains large in tow dimensions, the packed size is 43 x 33 x 7 inches (109 x 84 x 18 cm). There are two pins that you release when you fold the chair. See how it looks when folded: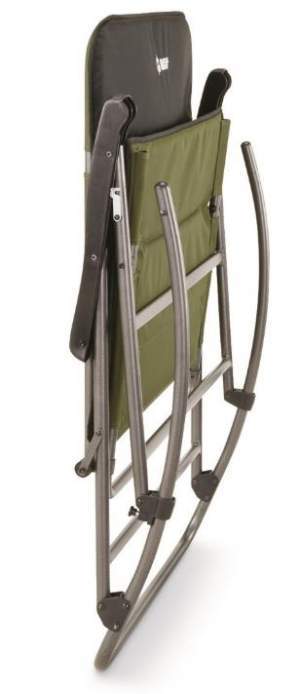 This is also a rocking chair with the usual rocking bar that creates a U-shaped structure. The picture above shows the sliders with pins on the rocking bar, which allow the chair to fold. I have included it in my list of best rocking camping chairs.
You have solid armrests here so getting in and out is easy, they are ergonomic and with a hard molded plastic cover.
Note that the backrest is around 22 inches (66 cm) tall so you have a headrest here as well. This is why I have added it to my list of chairs with head support.
---
Who is it for
Capacity-wise, this is truly an impressive chair. The declared capacity is 600 lb (272 kg). This is strong enough to support even the heaviest sumo wrestlers, if you are not familiar with this sport, currently, the heaviest wrestler in the top division in Japan is "only" 227 kg. Naturally, I have included this chair in my list of best camping chairs for heavy people.
This parallel with sumo came to my mind because I am writing this text on the last day of the spring tournament in Japan where president Trump is present to give a trophy to the current champion Asanoyama. Just to know, this new sumo champion weighs only 177 kg, so this chair would be more than suitable for guys like him.
Size-wise, if you are curious about the meaning of the letters XXL in the name, here is what you have. The dimensions of this chair are 33 x 33 x 44 in (84 x 84 x 112 cm).
Note also that the seat is massive, the size is 25 x 21 inches (64 x 53 cm). Quite a size, isn't it?
Weight-wise, with its 17.5 lb (7.9 kg) of weight, this is not a light chair. But it is not built to be lightweight, it is supposed to be strong and stable. The packed size is everything but impressive and my rating (see below) is very low, but I use the same criteria for all the chairs here.
Besides, this is a camping chair so the weight and packed size is of secondary importance. It is not built to be carried around.
---
Materials & Construction
You have seen already a lot about it above, so here just to stress that this is a durable powder-coated steel frame, and the fabric is a long-lasting 600D polyester.
There is some padding on the seat and the backrest, and a bit more of it you have in the head area.
The seat height is 22 inches (56 cm), and this is very appropriate for tall users. When you want to use the chair, just unfold it, set the pin locks, and enjoy.
---
Good and less good features
Here is my short summary:

Huge capacity.
Very stable and strong.
Great headrest.
Great back support.
Very easy to deploy.

Heavy.
Very big packed size.
The price & rating
This chair is on the market with the price $110 or more, so it is expensive, but if you are a big person and heavy as well, you will be willing to invest in something like this. Please see how I rate it against the usual set of parameters which I use for all the chairs for easy comparison:
My rating of the Guide Gear Oversized XXL Rocking Camp Chair:
Weight -

3/10

Dimensions -

10/10

Packed size -

0.5/10

Capacity -

9.8/10

Comfort -

9.9/10

Craftsmanship -

9.7/10

Price -

8/10
---
Specifications
Weight: 17.5 lb (7.9 kg).
Capacity: 600 lb (272 kg).
Dimensions (W x D x H): 33 x 33 x 44 in (84 x 84 x 112 cm).
Seat size (W x D): 25 x 21 in (64 x 53 cm)
Seat height: 22 in (56 cm).
Packed size: 43 x 33 x 7 in (109 x 84 x 18 cm).
---
Guide Gear Oversized XXL Rocking Camp Chair vs Competitors
In the table below I give this chair side by side with two others built in the same style as rocking chairs with headrest and armrests, the Kamp-Rite Rocker and Alps Mountaineering Rocker. As you realize, its capacity is equal to the combined capacity of the two other chairs. It is also much bigger than the other two. Please follow the links for more.
Dimensions
(W x D x H), in (cm)
33 x 33 x 44
(84 x 84 x 112)
43 x 33 x 7
(109 x 84 x 18)
Alps mount.
rocking chair
24 x 17.5 x 41
(61 x 44 x 104)

47 x 26 x 6
(119 x 66 x 15)

31 x 25 x 39
(79 x 64 x 99)

37 x 28 x 7
(94 x 71 x 18)

---
Final thoughts
So this Guide Gear Oversized XXL Rocking Camp Chair is what its name says, an exceptionally big chair and also with incredible capacity. It is easy to use, all you have to do is to unfold it and set the pin locks. This is a great chair to have in the camp and at home.

Note that this is not a sponsored text and I am not paid by the manufacturer. Do you have any experience with this chair? Please share your thoughts, there is a comment box below.

---