---
This EVER ADVANCED Oversized XXL Folding Camping Cot is what its name says, one of the largest on the market and with incredible weight capacity, suitable for tall and heavy people.
---
Key features & benefits
Huge capacity.
Very large bed.
Military-type cot.
Carry bag included.
---
What this cot is about
This EVER ADVANCED Oversized XXL Folding Camping Cot is a military style outdoor bed, and this implies two things: i) it has a frame, and ii) it needs assembly. So the word 'folding' in the name is slightly misleading.
The frame includes two side bars that are pre-attached to the frame and to the bed, plus two end-bars that must be added separately. So you essentially have only 3 elements shown in the picture 1 below. The mentioned assembly
only implies unfolding the bed (the pictures 2-4) with all its pre-assembled elements, and adding the two ends bars one after another.
Only when you add the second end-bar, you will have to press a but harder to lock it in place. This all is done easily and without any tools. The main steps are shown in the pictures: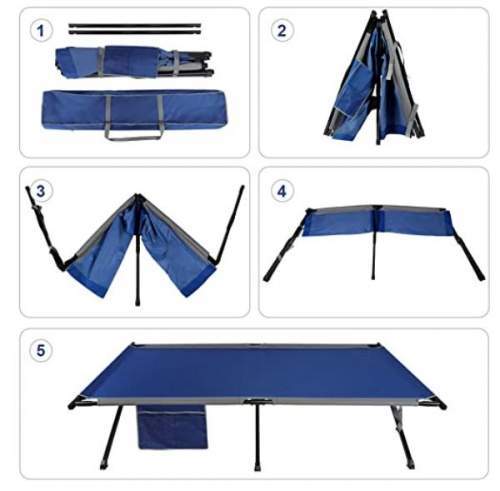 The picture 3 shows how the legs rotate before you put them in the position shown in the picture 4. So make sure you have enough space. You will not be able to do this in a small camping tent.
The mentioned end bars you insert into the sleeves at both ends. The first goes easy. You will see pins at the ends of the end-bar (the picture below) so put them in place on the frame.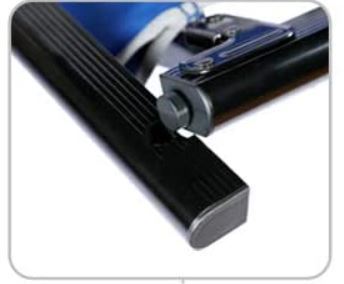 Then put the pin of the second end bar into the frame and make sure that the lock handle is in its open position. After that place the other end of the bar in place. This is where you have to apply a bit of force because of the tension in the fabric. The picture above shows that the end bar has an extra length where you can grab by hand to pull it and put in place.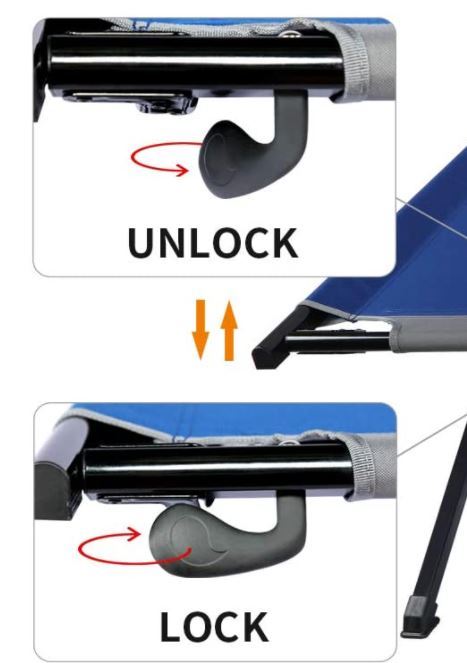 Materials
The cot's frame is steel and you have a triple X-shape legs structure with the full-frame around. When you fold it, you have straps that are preattached so you can compress the bundle and this makes it easier to put it in the carry bag.
The fabric is most likely polyester, it looks very durable as it should be for such an official capacity, but they do not provide details.
Note that there is a storage pouch on the side, a useful bonus to keep your small items off the ground but close at hand.

---
Who is it for
Regarding capacity, this is an impressive cot that supports up to 550 lb (250 kg). So this should be good even for the heaviest users. This is why I have included it in my list of cots for heavy people.
Regarding the bed size, this is again an incredibly impressive bed that measures 84.3 x 41.9 inches (214 x 106 cm). So you realize it is both long and wide. Though the frame takes a few centimeters on the sides, but the bed fabric is still 39.4 inches (100 cm) wide. Therefore, I have included it in my list of extra-long cots and also in the list of extra-wide cots.
You will not find many cots on the market with such dimensions. So if you are a very tall person or simply love to have extra space to sprawl, this is it. This cot is "extra" in many ways.
Regarding the weight, with its 21.6 lb (9.8 kg) this is yet another "extra", but this tie in a negative sense. So you would not want to carry it anywhere.
The packed size is 48.6 x 9.1 x 4.9 inches (123 x 23 x 12.5 cm) so the cot is long when packed and you need a car for transportation.

Using this cot in a tent
As mentioned above, it is best to set it up outside and then bring it into the tent. Note that the cot is very hight, you have 19.7 inches (50 cm) from the floor to the bed deck.
This implies plenty of storage space underneath the cot. You will surely want to use such a space that is normally wasted when you sleep on a pad on the floor. Being so high, the cot is suitable for elderly users because it is easier to get in and out of the cot.
With a cot you need less insulation, and in the case of warm-weather camping, you do not need any pad except for more comfort.
The feet are with wide caps (see the picture) and you have them 6, so the weight is distributed and this is a floor-friendly design.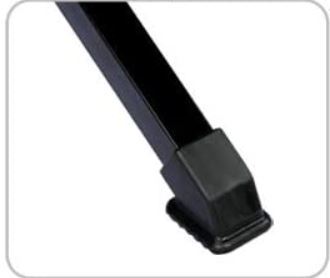 ---
Specifications
Weight: 26.67 lb (12.1 kg).
Capacity: 550 lb (250 kg).
Dimensions (L x W x H): 84.3 x 41.9 x 19.7 in (214 x 106 x 50 cm).
Packed size: 48.6 x 9.1 x 4.9 in (123 x 23 x 12.5 cm).
Frame: steel.
Warranty: All products of this brand came with a 1-year manufacturer's warranty against defects.
---
Rating, pros & cons
Below you can see how I rate this cot, the same criteria are used for all of them here in the site so you can easily compare.
Enormous size & capacity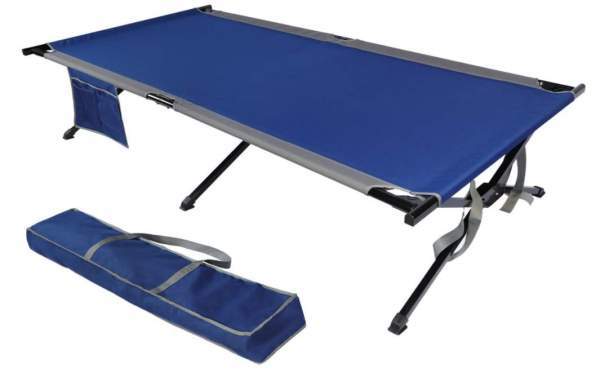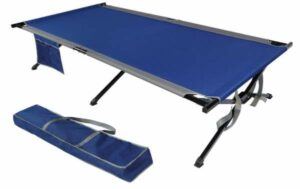 Product Name: EVER ADVANCED Oversized XXL Folding Camping Cot
Product Description: This EVER ADVANCED Oversized XXL Folding Camping Cot is what its name says, one of the largest on the market and with incredible weight capacity, suitable for tall and heavy people.
Brand: EVER ADVANCED
SKU: B087RB166N
Weight -

5.8/10

Size -

10/10

Capacity -

9.8/10

Packed size -

7.6/10

Ease of use & features -

9.2/10
Summary
This cot scores great where it matters most, and the overall rating and very high.
Pros
Incredible dimensions.
Impressive capacity.
Carry bag.
Great price.
Cons
Heavy.
A bit long when packed.
---
Final thoughts
In the summary of this EVER ADVANCED Oversized XXL Folding Camping Cot review, I can only add that here you have an incredible price/value combination. This is one of the largest cots on the market and with a capacity that is hard to match. So if you need an outdoor or emergency bed that will fit anybody, this is the one to have.

If you still need more options, please check under the category Camping Cots, you will find them in various styles and shapes. Compare this cot with yet another long cot built in the same style, the Kelty Discovery Cot.
You might want to bookmark this site if you want to stay informed, we add texts regularly here. Thank you for reading and have a nice day.