---
PORTAL Oversized Quad Folding Camping Rocking Chair comes with a headrest and solid padded armrests, with a unique folding frame, and you have a carry bag included as well.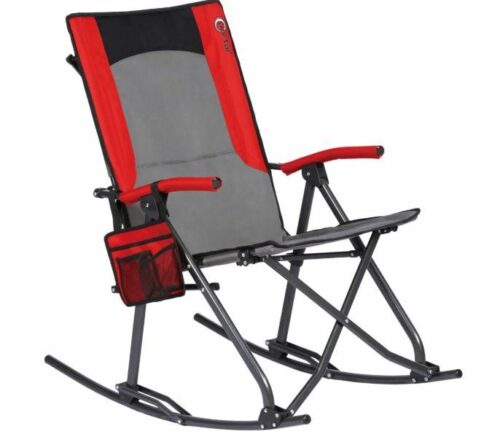 ---
Key features
Padded headrest.
Padded solid armrests.
Rocking design.
Folding and unique frame.
Carry bag included.
Phone pocket underneath the seat.
---
Where to buy
This chair is available on Amazon. They have a global shipping service so check the link and see about shipping conditions from your location.
---
So what type of chair is this
You have seen the key features above, so what you have here is a very tall chair with a high backrest and a padded headrest. The height from the seat to the top is 29 inches (74 cm). I have included it in my list of camping chairs with headrest.
The chair is with solid and padded armrests, so getting in and out is easy. Note also that those armrests bars are ergonomically shaped.
But I guess one of its most important features is its rocking design. The two rails are with a locking mechanism and all you have to do is to unfold and press to the ground. I have included this chair in my list of best rocking camping chairs.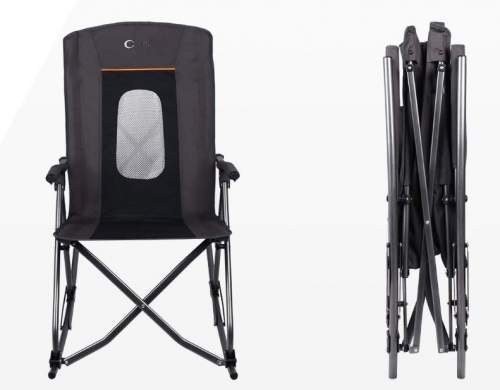 This is a folding design of a particular type, namely the chair folds so that it remains large in one dimension only. This is due to its clever X-shaped frame both on the front and on the back, and due to the specific folding mechanism on the rocking rails.
Such X-shaped support bars you can see also in this Browning Camping Cabin Chair. But the frame in this Portal Chair is very sophisticated and unique, I have not seen anything similar to it yet. There is no assembly here, you open the chair in seconds.
So this is a good design, the chair compresses both from the sides and from the front-back direction, and you have an elongated bundle instead of a large two-dimensional folded structure which you have in many rocking chairs on the market. The process of folding the chair is shown in the picture below.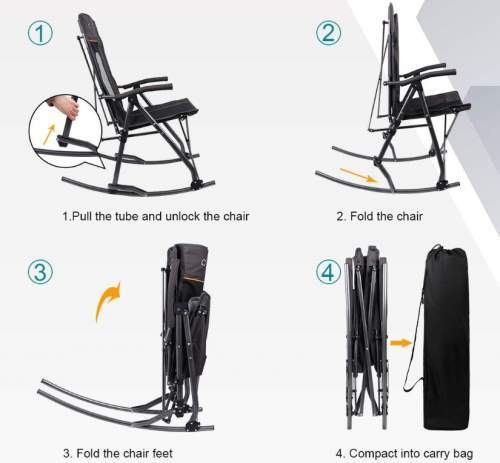 ---
Who is it for
Weight-wise, they describe it as portable, but it weighs 16.53 lb (7.52 kg) so this is not an item to carry long distances. But this is indeed possible, the carry bag is with a convenient shoulder strap. You will see in the comparison table below that such a weight is quite normal for the chairs of this type.
Capacity-wise, the declared capacity is 300 lb (136 kg) and this is quite typical for such a rocking chair. But there are some chairs in my separate list with a bigger capacity.
Size-wise, the dimensions are typical and you will see how this chair compares with some other built in the same style.
Note however that the seat is high, it is 19.5 inches (50 cm) above the ground. This together with its solid armrests makes it suitable for elderly users. But this is also a chair for tall people.
The rocking rails are standard for such a type. But as you can imagine it will not perform great on a soft ground. You might want to know that there are some rocking chairs that work on a completely different principle so they are rocking regardless of where you use them. See for example this GCI Outdoor RoadTrip Rocker Chair.
---
My rating, pros & cons
This is a highly rated chair. It has a number of customers' reports on Amazon and as of the moment of writing this text, it has received a perfect score of 5.0/5, unbelievable.
I have my own set of criteria which I apply consistently to all the chairs here in the site, so see how I rate it:
My rating breakdown of the PORTAL Folding Rocking Chair: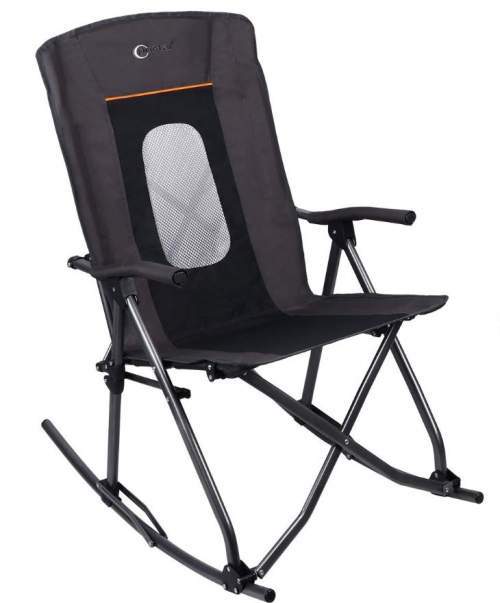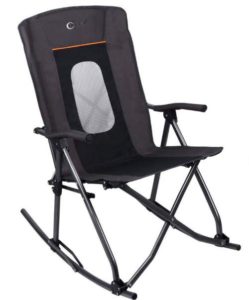 Product Name: PORTAL Folding Rocking Chair
Product Description: PORTAL Folding Rocking Chair comes with a headrest and solid padded armrests, with a unique folding frame, and you have a carry bag included as well.
Brand: PORTAL
Weight -

3/10

Dimensions -

7.6/10

Packed size -

5.5/10

Capacity -

7.5/10

Comfort -

9.7/10

Craftsmanship -

9.5/10
Summary
My overall rating is – Good:
Pros
Great support.
Very easy to use.
Carry bag included.
Great size.
Quality workmanship.
Cons
Long when packed.
Expensive.
---
Specifications
Weight: 16.53 lb (7.52 kg).
Capacity: 300 lb (136 kg).
Dimensions (W x D x H): 22.5 x 18 x 42 in (56.5 x 46 x 106 cm).
Seat height: 19.5 in (50 cm).
Backrest length from the seat: 29 in (74 cm).
Packed size: 40 x 7 x 7 in (102 x 18 x 18 cm).
---
PORTAL Folding Rocking Chair vs Competitors
I have decided to show you this Portal chair side by side with two other chairs built in the same style. So the Alps Mountaineering and Guide Gear chairs are both with high back and headrest, and they also have solid armrests.
But the big difference here is the packed size; the other two remain large in two dimensions, this is because of their different folding design. Observe also that the Guide Gear Chair is with a much better capacity.
Dimensions
(W x D x H), in (cm)

22.5 x 18 x 42
(56.5 x 46 x 106)

40 x 7 x 7
(102 x 18 x 18)

ALPS Mount. Rocking Chair
24 x 17.5 x 41
(61 x 44 x 104)

47 x 26 x 6
(119 x 66 x 15)

26 x 35 x 45
(66 x 89 x 114)

48 x 26 x 7
(122 x 66 x 18)

---
Final thoughts
So this PORTAL Folding Rocking Chair is well-built and it comes with some really great features. The packed size and the frame set it apart from its competitors because it collapses from four sides and remains long in one dimension only. This makes it suitable for transport and for storage at home. It is expensive but it is worth the investment, it has received excellent reviews from Amazon customers.

There is yet another chair from this brand here in the site with lumbar support, you might want to have a look. You might want also to compare it with this Best Choice Products Foldable Zero Gravity Rocking Patio Recliner Chair built in a similar style.
Note that this is not a sponsored text and I am not paid by the brand. It is always great to hear from you so please use the comment box below in the case of questions or comments.