---
The GCI Outdoor Pod Rocker Camping Chair comes with a patented rocking design, a wide and pleasant seat, and a great price tag.
Key features & benefits
Folding chair.
Patented Spring Action Rocking Technology.
Very easy to use.
Side pocket & bottle holder.
---
What this GCI Outdoor Pod Rocker Chair is about
Here you have a folding chair, so all the pieces are pre-attached to each other and there is no assembly. It is very easy to use, and you open it or close it in seconds.
Note that on Amazon, they have it under the name GCI Outdoor Pod Rocker Collapsible Rocking Chair. Usually, the word 'collapsible' is used for chairs that needs assembly, but this is not so here. So although the name may be a bit misleading, the meaning is that it folds into a relatively small volume.
When folded, it becomes an elongated tube and it fits nicely in its included carry bag. See below the dimensions and how it looks folded.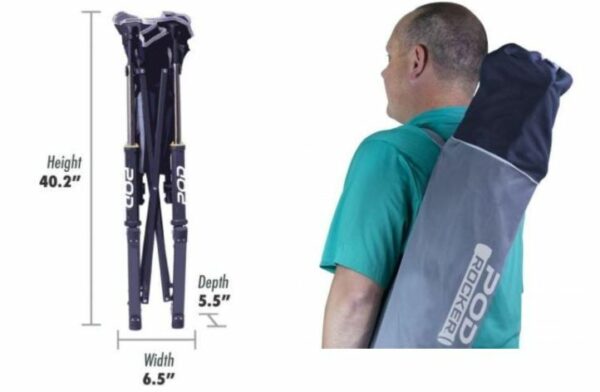 Rocking design
The GCI Outdoor brand is globally known for its Patented Spring Action Rocking Technology which you have integrated here as well. So you have it on the back legs as shown in the picture: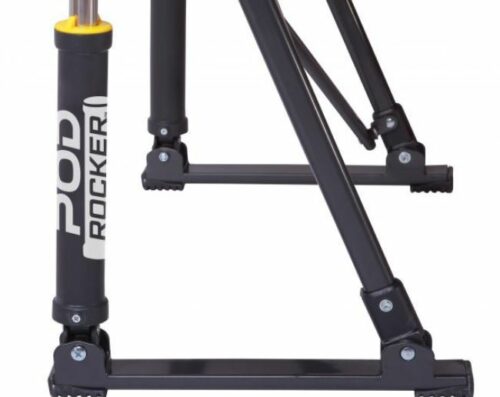 As you realize, it has bars and feet on the ground, so it will perform on any surface. This is not so with classic rocking camping chairs that cannot rock on a soft ground. On the other hand, it has one extra pair of legs on the front, see the picture: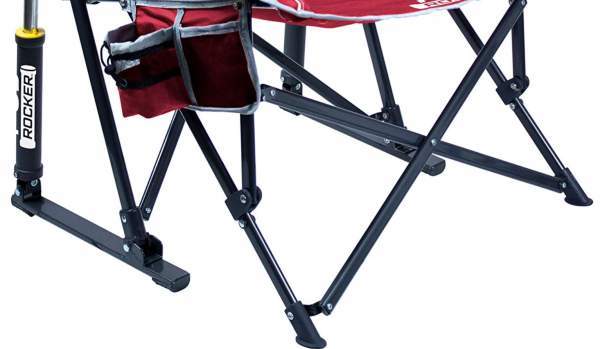 So you can shift your weight on the front and the chair will support you with those front legs. This is suitable when you want to use it as a dining chair. But you can always lean back and enjoy. With such legs you can use this chair anywhere.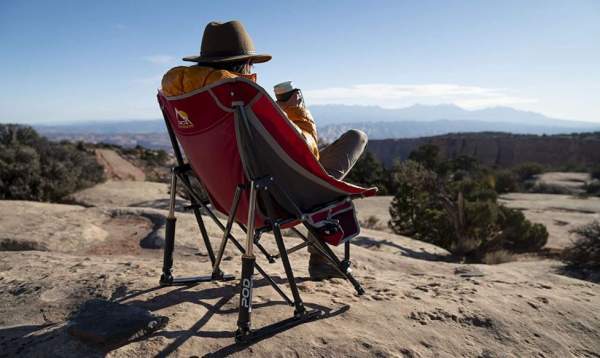 Materials
The frame is a combination of steel and aluminum. The fabric is a PVC-backed polyester ripstop. There are a few mesh sections for ventilation on the back. They offer this chair in three different colors, you can see them in the pictures here.
Note that they have added those wide pieces of the fabric on the sides, so you have soft armrests here: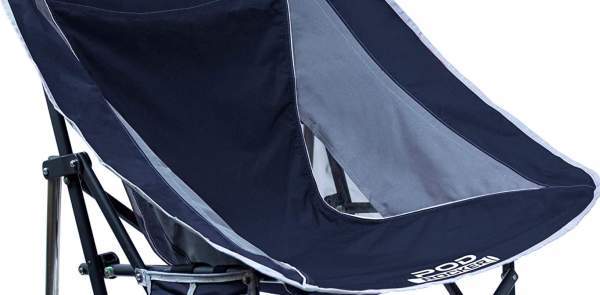 You also have a bottle holder on the side, and a small pouch for your phone or similar items. Please see more in this short video:
---
Who is this
GCI Outdoor Pod Rocker Collapsible Rocking Chair

for

Regarding the capacity, the chair is typical, officially it supports users of up to 250 lb (113 kg). This number is quite standard for this brand.

Regarding the dimensions, you will see the numbers below. The chair is wide and pleasant, and the seat is moderately high, you have 20.1 inches (51 cm) from the ground. Note that there is no a headrest here.

Regarding the weight, the chair is heavy with its 11 lb 11.2 oz (5.3 kg). But there is a lot of material here, you have seen its rocking features. Note that their GCI Outdoor KickBack Rocker Chair with similar features is a bit lighter.

You have already seen its packed size, so it is a bit long but it becomes thin, so it will not take much space in the car trunk.

Regarding the price, I think this is very fair for such a quality chair, and with such patented features.

---
Specifications
Weight: 11 lb 11.2 oz (5.3 kg).
Capacity: 250 lb (113 kg).
Dimensions: 34.7 x 29.9 x 28.2 in (88 x 76 x 72 cm).
Folded dimensions: 40.2 x 6.5 x 5.5 in (102 x 17 x 14 cm).
Seat height: 20.1 in (51 cm).
Frame: steel and aluminum.
---
Rating, pros & cons
Below you can see how this chair stands against my standard rating criteria, so you can compare with some other chairs of this type. There is a rating bar below so you can rate it yourself.
Patented rocking design & great price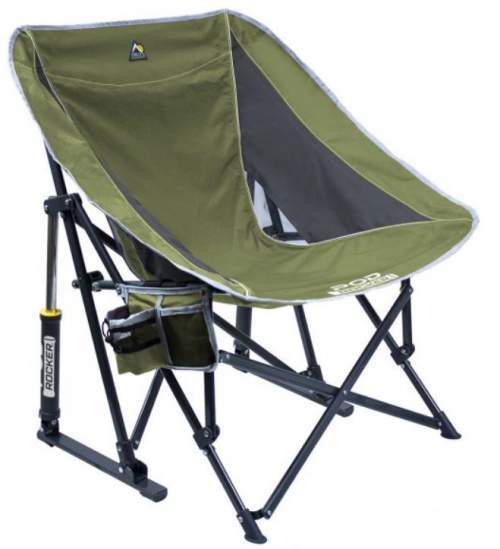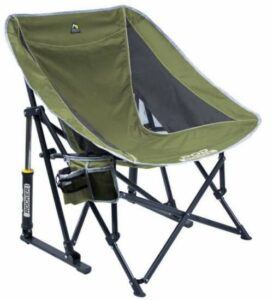 Product Name: GCI Outdoor Pod Rocker Camping Chair
Product Description: The GCI Outdoor Pod Rocker Camping Chair Comes with a Patented Rocking Design that Works Anywhere, a Wide and Pleasant Seat & a Great Price Tag.
Brand: GCI Outdoor
SKU: B07N724SJH
MPN: 37418
Weight -

5.5/10

Dimensions -

8.7/10

Packed size -

6.5/10

Capacity -

7/10

Comfort -

9.5/10

Craftsmanship -

9.8/10
---
Final thoughts
So this GCI Outdoor Pod Rocker Camping Chair comes equipped with the patented rocking design which is such that the chair will rock on any surface. It is reliable and it comes with a great price tag.
It has been on the market for a number of years, tried and tested by many, and it is incredibly highly rated by users. Fully recommended. I have included it in my list of best rocking camping chairs.
Best places to buy:
For more options, please check under the category Camping Chairs. You will find them many here in the site, and in all sizes and shapes.
Bookmark this site and visit it when you find time, this will keep you informed, you have new texts added here on a regular basis. Let me know if you have questions, there is a comment box below. Thank you for reading and have a nice day.