---
The GCI Outdoor Freestyle Rocker Chair with Side Table is a folding and easy to use chair with solid padded armrests and a reasonable price tag.
---
Key features & benefits
Folding chair.
Rocking feature.
Side table.
Padded solid armrests.
---
What this is about
Here you have an upgrade of their famous GCI Outdoor Freestyle Rocker Chair, so they have added a side table as you realize from the official name of the chair.
This is again a folding and easy to use outdoor chair, one of those that close like a book and become thin yet large in two dimensions. So it comes ready to use and there is no assembly.
Its folded size is 34.8 x 25 x 4.9 inches (88 x 64 x 12 cm), and you can see how it looks when folded: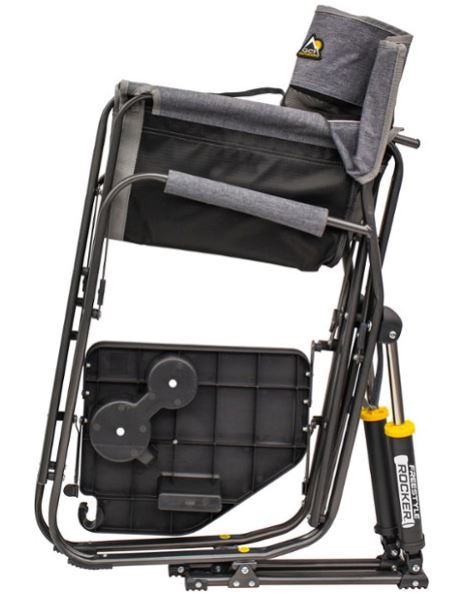 The side table
The mentioned side table is an extra element and it folds together with the chair as you have seen in the picture above. It is large, see below how it looks, there are several separate holders for your items. So the table adds to comfort and functionality.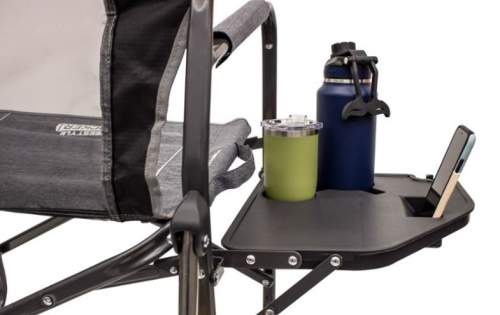 You do not have to use it all the time, it can be folded as shown below so you can use the chair without it.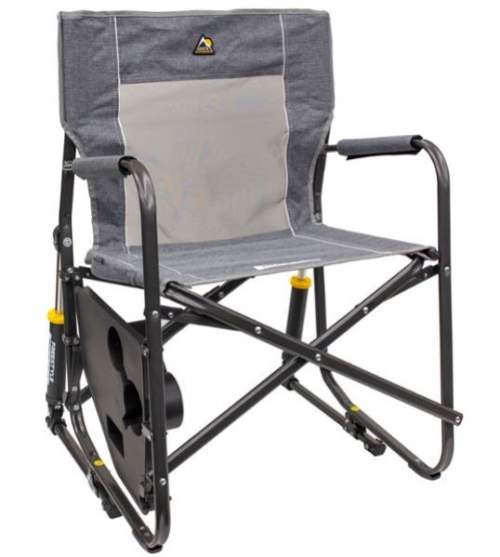 Rocking feature
This is their unique and patented design with two pistons on the back. The chair itself sits on bars that are on the ground. This means it will not sink easily if used on a soft terrain, and it will work regardless of the ground on which it is placed. This is not so with classic rockers that cannot rock on a sand or on a soft ground.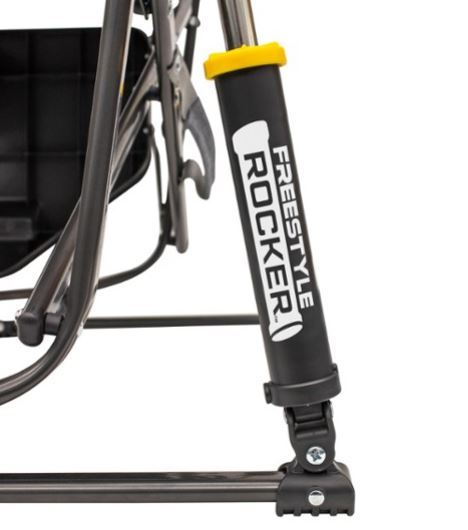 Materials and other details
They use the same materials in all chairs, so the frame is steel and the fabric is a ripstop polyester.
You can use it as a dining chair with some practice, just shift the weight of the body forward and do not lean on the backrest. Their rockers have no locking mechanism, pity.
---
Who is it for
Regarding the capacity, officially it is for users of up to 250 lb (113 kg). This is moderate, and if you need more please check in my list of rocking camping chairs where it is included.
Regarding the dimensions, the chair is large and comfortable, but its folded size is not its best feature. It need some space in the car, but it is thin to fit into narrow spaces.
Note that the seat is moderate, you have 19 inches (48 cm) from the ground. Solid armrests make it easier to get in and out of the chair.
Regarding the weight, it is on the heavy side, there are several elements here that add weight, like those back pistons, rails on the ground, and the side table. Therefore the weight is justified. But this is a car camping chair and not something to carry long distances.
---
Specifications
Weight: 13 lb 9.6 oz (6.17 kg).
Capacity: 250 lb (113 kg).
Dimensions (L x W x H): 24 x 25 x 34.8 in (61 x 64 x 88 cm).
Folded dimensions: 34.8 x 25 x 4.9 in (88 x 64 x 12 cm).
Seat height: 19 in (48 cm).
Frame: steel.
---
Rating, pros & cons
Here is the summary of my pros and cons, and my rating. You can rate the chair from your side, there is a rating bar for this.
Rocking folding outdoor chair with a useful side table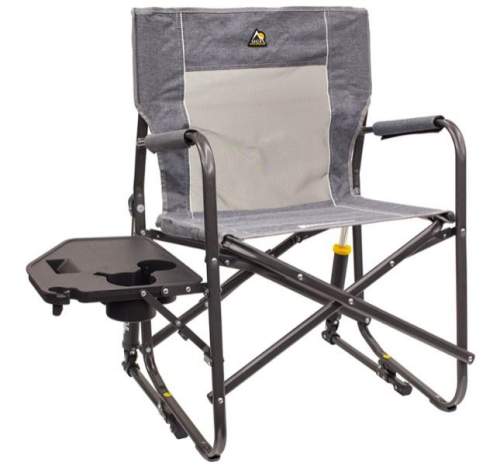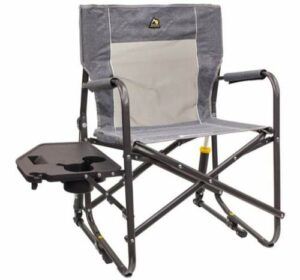 Product Name: GCI Outdoor Freestyle Rocker Chair with Side Table
Product Description: The GCI Outdoor Freestyle Rocker Chair with Side Table Is a Folding and Easy to Use Chair with Solid Padded Armrests and a Reasonable Price Tag.
Brand: GCI
SKU: 205044
Weight -

4.5/10

Dimensions -

8/10

Packed size -

3/10

Capacity -

7/10

Comfort -

9.7/10

Craftsmanship -

9.8/10
Summary
Weight and packed size are not the best side of this chair, but the overall rating is still Good.
Pros
Rocking chair.
Side table.
High level craftsmanship.
Solid armrests.
---
Final thoughts
The GCI is a stand-out brand when this is about outdoor chairs, and this GCI Outdoor Freestyle Rocker Chair with Side Table is their typical and this means high-quality product.
Its rocking feature is unique to this brand and they have it built into many of their chairs, this design has been tried and tested by many users in the past. Fully recommended.
Best places to buy:
For more options, please check under the category Camping Chairs. Check in particular products of the GCI brand, there are many of them here in the site.
Bookmark this site and visit it when you find time, this will keep you informed, you have new texts added here on a regular basis. Let me know if you have questions, there is a comment box below. Thank you for reading and have a nice day.