---
The Mac Sports RF904DR-100 Diamond Rocker Chair is a folding chair, easy to use, generously padded, and with a fair price tag.
---
Key features & benefits
Rocking design.
Generous padding.
Very easy to use.
Patented technology.
Reasonable price.
---
What this is about
This Mac Sports Diamond Rocker Chair looks like a club chair, but it folds differently from most of its competitors. The picture below shows what you get when it is folded. So it remains large in two dimensions, but it is thin.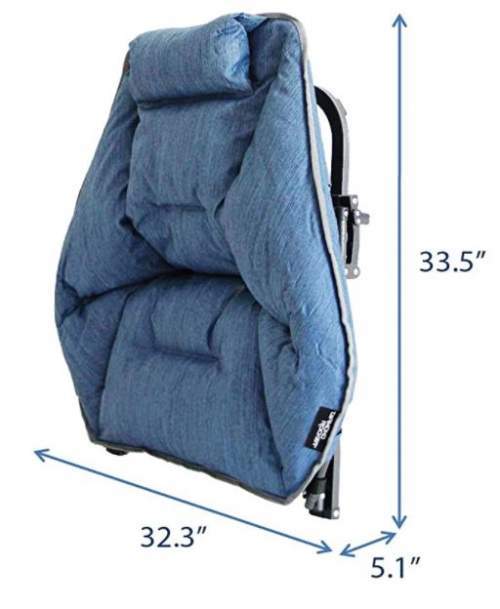 The chair is generously padded and this is typical for club camping chairs. There is even a headrest pillow on the top as well as you realize from the picture below. But note that will headrest will serve the purpose only for relatively short users.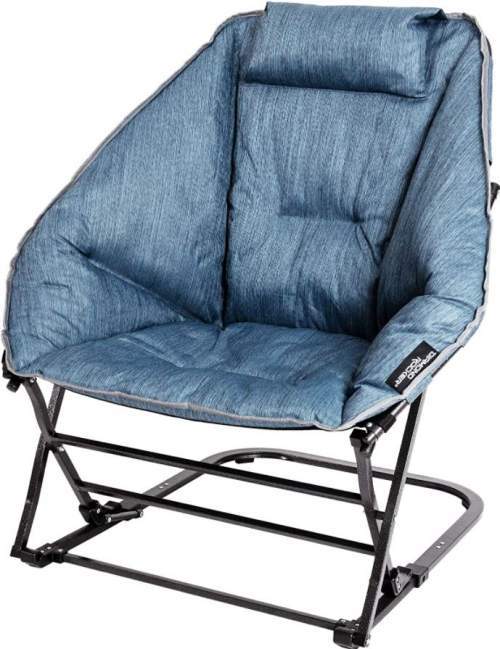 Rocking design
The Mac Sports brand has been developing several different types of rocking designs, you can see one completely different in their MacSports MacRocker Outdoor Foldable Rocking Chair.
But here you have something different, and as of the moment of writing this text, this is the only club-type chair known to me that is also a rocking chair.
There is a long U-shaped bar on the ground and the rocking is due to flexibility on the front part. The backrest swings backward and forward but the base does not move and it remains in place.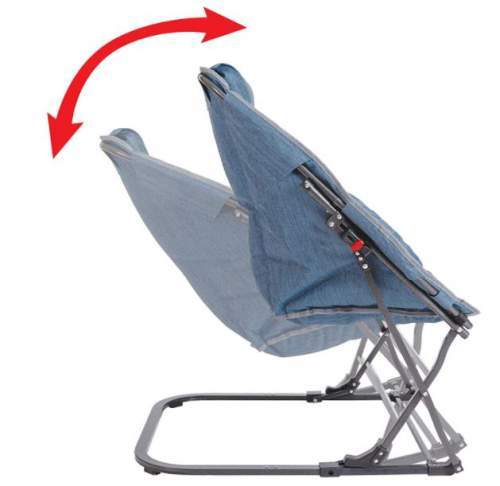 This is a patented springs-less technology that provides a smooth and effortless rocking motion.
In the picture above you can see a red locking button on the side, this you use when it is time to fold the chair.
I would say that the most important detail here is that rocking works on any surface. This is not so with classic rocking chairs that need a solid ground or floor.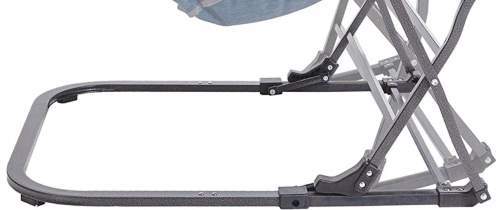 This chair can be used even on sand as in the picture below, and its rocking will work.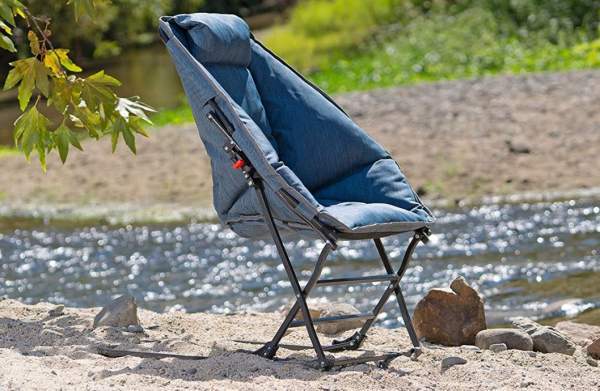 Materials
The frame is a powder-coated heavy duty steel frame. The mentioned ground bar is such that this is a floor-friendly design and you can use it safely even in a floored family camping tent.
The fabric is a polyester, and inside there is some padding but there is no information about it.
---
Who is it for
Regarding the capacity, the chair supports the weight of up to 225 lb (102 kg). This is quite modest so check in my list of best rocking camping chairs if you need more for a heavy user.
Regarding the dimensions, they are really good and the seat is wide, see the numbers in the picture below. Note that the seat is a bit low, you have 15 inches (38 cm) from the ground.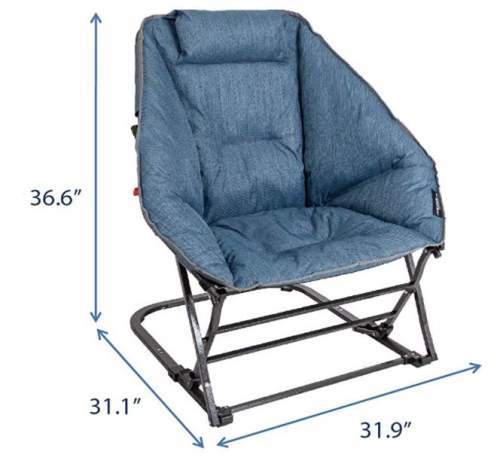 Regarding the weight, the chair is on the heavy side. You have already seen its packed size and you realize it is quite bulky. All in all, this is a chair for places with a car access, not something to carry long distances.
Regarding the price, in my view it is fair for what you have here.
---
Specifications
Weight: 14.5 lb (6.6 kg).
Capacity: 225 lb (102 kg).
Dimensions (L x W x H): 31.1 x 31.9 x 36.3 in (79 x 81 x 92 cm).
Folded dimensions: 33.5 x 32.3 x 5.1 in (85 x 82 x 13 cm).
Seat height: 15 in (38 cm).
Frame: steel.
---
Rating, pros & cons
The table below summarizes my rating and some pros and cons. As you see it is all in extremes with the numbers, so focus on the feature that matters to you.
Generously padded folding rocking chair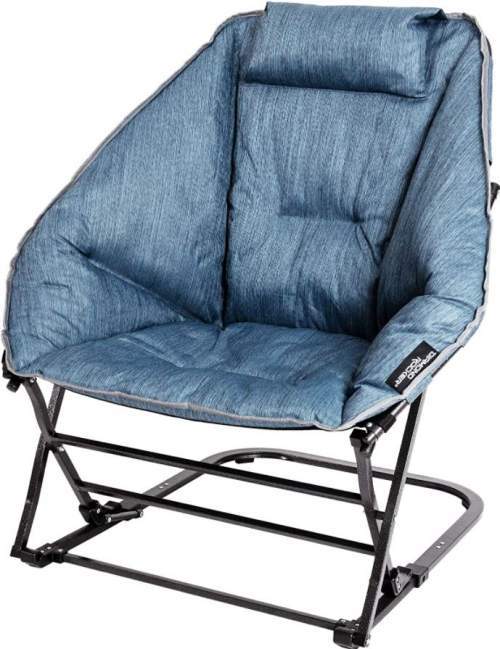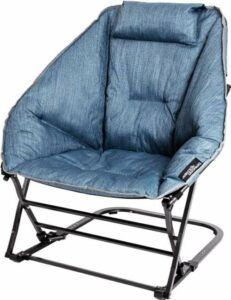 Product Name: Mac Sports RF904DR-100 Diamond Rocker Chair
Product Description: The Mac Sports RF904DR-100 Diamond Rocker Chair Is a Folding Chair that Rocks on Any Surface, Easy to Use, Generously Padded & with a Fair Price.
Brand: Mac Sports
SKU: B08VDJ7C7F
MPN: RF904DR-100
Weight -

4/10

Dimensions -

9.2/10

Packed size -

1.5/10

Capacity -

7/10

Comfort -

9.7/10

Craftsmanship -

9/10
Summary
The numbers are extreme here but the overall rating is not so bad.
Pros
Great size.
Nice padding.
Rocking feature.
Patented unique design.
Cons
Modest capacity.
Bulky.
Heavy.
---
Final thoughts
So this Mac Sports RF904DR-100 Diamond Rocker Chair is unique on the market with its patented rocking design. It is easy to fold and unfold, there is no assembly of any kind. You can use it anywhere and this should be understood literally. But it is indeed bulky when packed and a bit heavy.
Best places to buy:
For more options, please check under the category Camping Chairs, you will find them many here in the site, and in all sizes and shapes.
Bookmark this site and visit it when you find time, this will keep you informed, you have new texts added here on a regular basis. Let me know if you have questions, there is a comment box below. Thank you for reading and have a nice day.