---
The GCI Outdoor Comfort Pro Rocker Chair is an easy-to-use and affordable folding chair with a unique rocking design that works on every surface.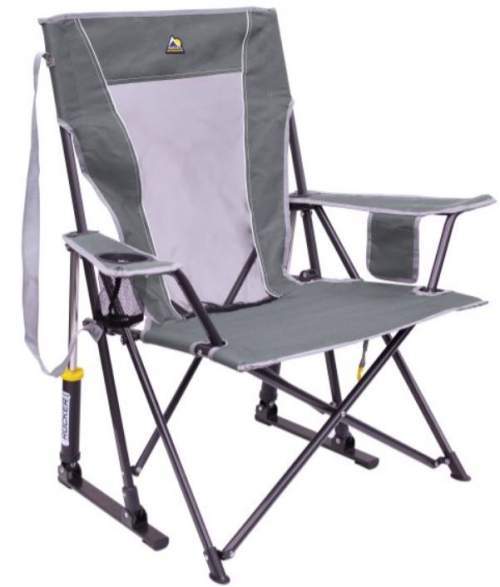 ---
Key features & benefits
Rocking design that works everywhere.
Easy to use.
Very affordable.
---
What this is about
This GCI Outdoor Comfort Pro Rocker Chair should not be mixed with their GCI Outdoor Comfort Pro chair with a similar name.  So just to know, they have added a rocking mechanism here so this is a completely different story.
They use their patented Spring Action Rocking Technology that delivers smooth rocking on just about any surface. This is because the chair sits on the bars that are on the ground and these bars do not move. It is the back legs of the chair that extend and contract due to the mechanism in the pistons. The weight is distributed so it will never sink in the ground.
The picture below shows some details of the rocking mechanism on the back legs. So it will work as a rocker everywhere, but I must say it is a pity they did not make it with a locking mechanism.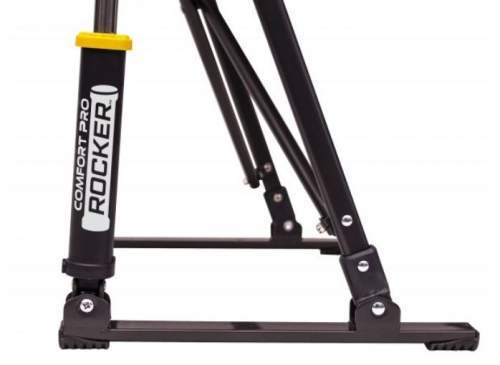 They use this system in many of their celebrated chairs. You can see it also in this GCI Outdoor Freestyle Rocker Portable Folding Rocking Chair and also in GCI Outdoor FirePit Rocker Chair.
The chair is a folding type and this means there is no assembly of any type, it opens and closes in a couple of seconds. Below you can see how it looks when folded. As you see, there is a strap to carry it attached to the shoulder, and there is no carry bag here.
Materials & construction
The frame is typical for what they use in such chairs, so this is powder-coated steel. There are feet on the mentioned bars and on the front legs.
The fabric is a combination of durable nylon and mesh used for the backrest for continual airflow. 
There is an accessory pocket for a cellphone, and a cup holder integrated into one of its soft armrests.
This is a very specific rocking mechanism and if you have any issue with the pistons on the back, like squeaking, please see this guide as it will surely help. It applies to all the chairs of this brand that are with this design. 
---
Who is it for
Regarding the capacity, the chair officially supports up to 250 lb (113 kg). This is a bit modest value but it should be good enough for most of the users.
Regarding the dimensions, the most important numbers are shown below. Observe that the seat is quite high and the chair can be described as large.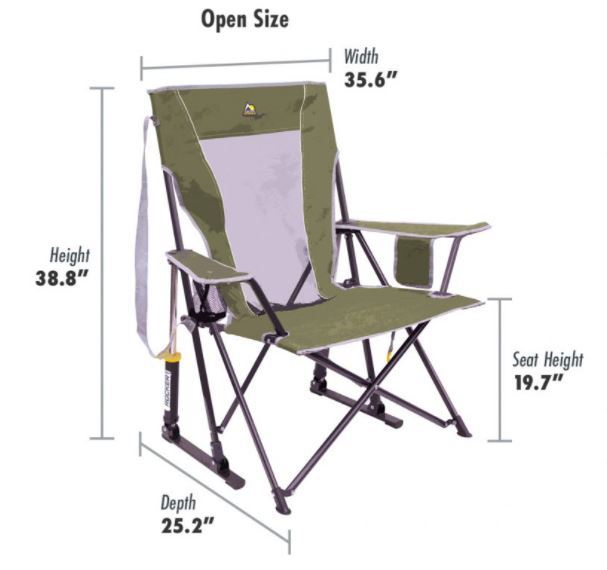 Regarding the weight, you have a chair that weighs 11 lb (5 kg), and its packed size is 44.1 x 7.3 x 6.3 inches (112 x 19 x 16 cm). So you have already seen how you can carry it, but this is only for short distances. This is a chair for places with a car access, and note that it is quite long when folded.
Please see a bit more in this short video:
---
Specifications
Weight: 11 lb (5 kg).
Capacity: 250 lb (113 kg).
Dimensions (H x W x D): 38.8 x 35.6 x 25.2 in (99 x 90 x 64 cm).
Seat height: 19.7 in (50 cm).
Packed size: 44.1 x 7.3 x 6.3 in (112 x 19 x 16 cm).
Frame: steel.
---
My rating, pros & cons
I use the same rating criteria for all the chairs and apply them consistently, so see how this GCI Comfort Pro Rocker Chair stands. Note that you can rate the chair yourself, so you are welcome to do this.
Unique & affordable rocker chair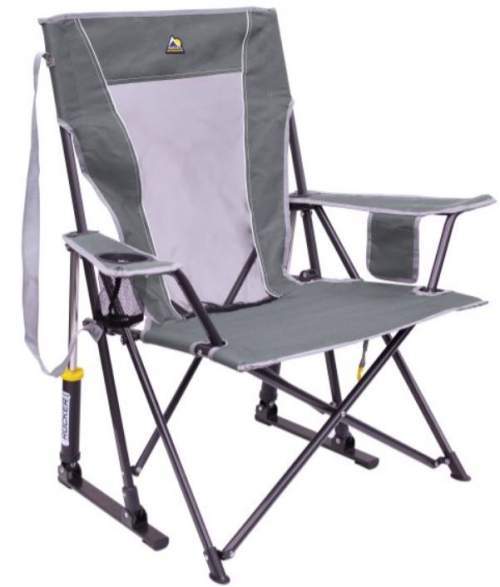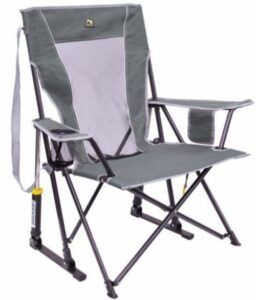 Product Name: GCI Outdoor Comfort Pro Rocker Chair
Product Description: The GCI Outdoor Comfort Pro Rocker Chair Is an Easy-to-Use and Affordable Folding Chair with a Unique Rocking Design That Works on Every Surface.
Brand: GCI Outdoor
SKU: 188270
Weight -

6/10

Dimensions -

9.1/10

Packed size -

5.5/10

Capacity -

7/10

Comfort -

9.7/10

Craftsmanship -

9.8/10
Summary
The folded size and weight affect the overall rating negatively, but it is still Very Good.
Pros
Quality chair.
Unique rocking design.
Easy to use.
Great price.
---
Final thoughts
So the patented rocking design that you have in this GCI Outdoor Comfort Pro Rocker Chair is unique to this brand, but indeed it is used in many of its chairs. The GCI is one of the best-known brands building outdoor chairs, so this is a quality product and you know what you are buying. I have included it in my list of best rocking camping chairs.
For more options please check under the category Camping Chairs, you will find them in hundreds in all shapes and styles. See this Guide Gear Oversized Bounce Director's Camp Chair that has a bit similar rocking design.
Let me know if you have a question or comment, there is a comment box below. Thank you for reading and have a nice day.