---
The Giantex Camping Rocking Chair is foldable oversized and padded, with solid armrests, headrest, and a very wide and tall seat.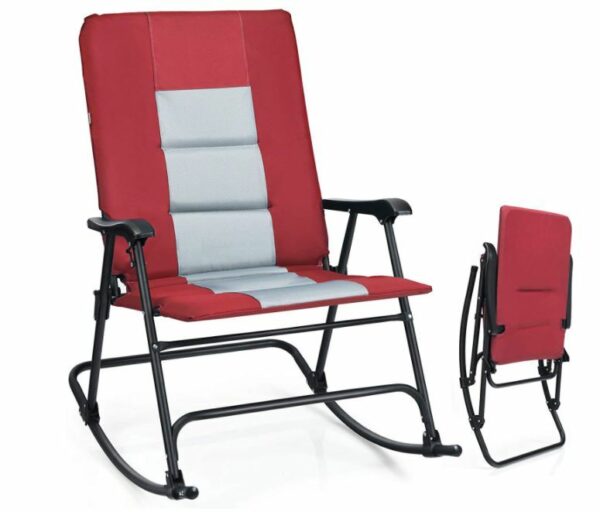 ---
Key features & benefits
Very wide seat.
Headrest.
Padded chair.
Rocking design.
Folding & easy to use.
Steel frame.
---
Overview
This Giantex Camping Rocking Chair is a folding construction, so there is no assembly of any kind. All you have to do when you want to fold it and put away is to pull up and unlock the knob shown in the picture: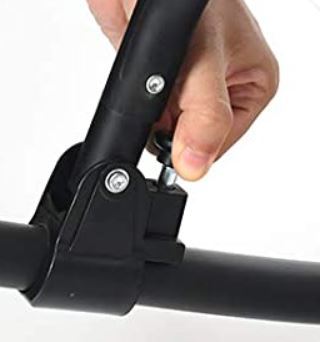 After that you simply fold it as shown in the pictures below: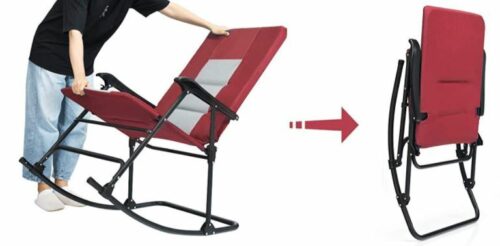 As you realize, this is one of those chairs that remain relatively large in two dimensions when you fold it. But the good thing is that it becomes thin so it fits easily in narrow spaces. See the dimensions when folded: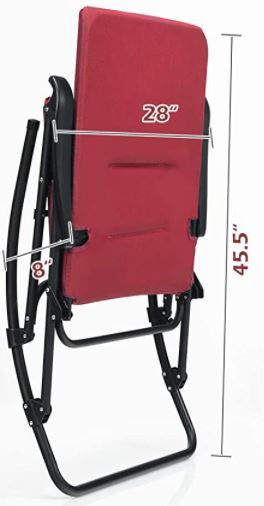 Rocking design: This is a great feature here, the mentioned lock knob fixes the chair to its rocking rail. The base dimensions of its U-shaped rocking base are 38.5 x 25.5 inches (98 x 65 cm). The side view below shows how it works. I have included it in my list of best rocking camping chairs.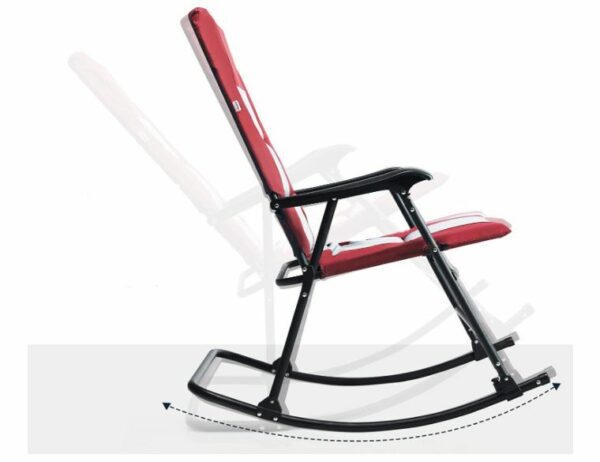 Headrest & solid armrests: The chair is very tall in general and the top is 45 inches (103 cm) high. Note that you have 27.5 inches (70 cm) from the seat to the top, see the picture below, so the backrest is high and you have a proper headrest. I have included it in my list of camping chairs with a headrest.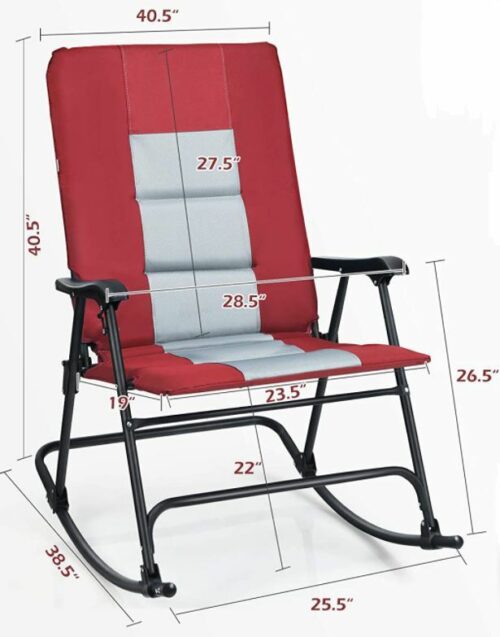 The picture above shows its most important dimensions as provided by the manufacturer, but the top width is obviously wrong. It is the same as the seat width. Note that you have solid armrests with some plastic cover.
Materials & construction
You have already seen some details regarding the materials. Here to add that the frame is powder-coated steel and the tubes are quite thick.
The fabric is Oxford polyester available in two nice colors, and the chair is padded all over the seat and the backrest. They write this is cotton inside. So it is not a good idea to let it stay in the rain. I have added it to my list of best padded camping chairs.
---
Who is this Giantex Camping Rocking Chair for
Regarding the dimensions, this is an impressive chair in every sense. You have seen the picture above with its most important dimensions.
Note that the seat alone measures (W x L) 23.5 x 19 inches (60 x 48 cm) but the chair with its solid armrests is much wider. So it is huge and it is also high, the seat is at 22 inches (56 cm) above the ground on the front. I have included it in my list of chairs with very wide seats.
So if you are a short person, perhaps this chair is not the best option for you. This is for tall and big users.
Regarding the capacity, officially the chair is for users up to 350 lb (159 kg). This should be good enough for most potential users. In fact, the chair looks strong enough to support even more.
Regarding the weight, the chair is a bit heavy with its 14 lb (6.35 kg). But this should be expected from a rocking chair with that long U-shaped rocking rail and with such impressive dimensions. Note that it is still lighter than the TIMBER RIDGE High Back Folding Camping Rocking Chair with Hard Armrest that is built in the same style.
You have already seen its shape and size when folded. So it is bulky though it is thin when folded. Note that there are different rocking designs on the market, see this Coastrail Outdoor Folding Rocking Chair with Detachable Rockers as one example.
Regarding the price, it is a bit steep, but this is a great chair and it is worth the money.
---
Specifications
Weight: 14 lb (6.35 kg).
Capacity: 350 lb (159 kg).
Dimensions (H x W x D): 40.5 x 28.5 x 38.5 in (103 x 72 x 98 cm).
Folded size: 45.5 x 28 x 8 in (116 x 71 x 20 cm).
Seat height: 22 in (56 cm).
Seat size (W x L): 23.5 x 19 in (60 x 48 cm).
Frame: steel.
Padding: cotton.
---
My rating, pros & cons
Below is the summary of my rating and some pros and cons. The chair's scores are all extremes, but I use the same criteria for all the chairs here in the site, and you can focus on those that are important to you.
Impressive large rocking tall and padded chair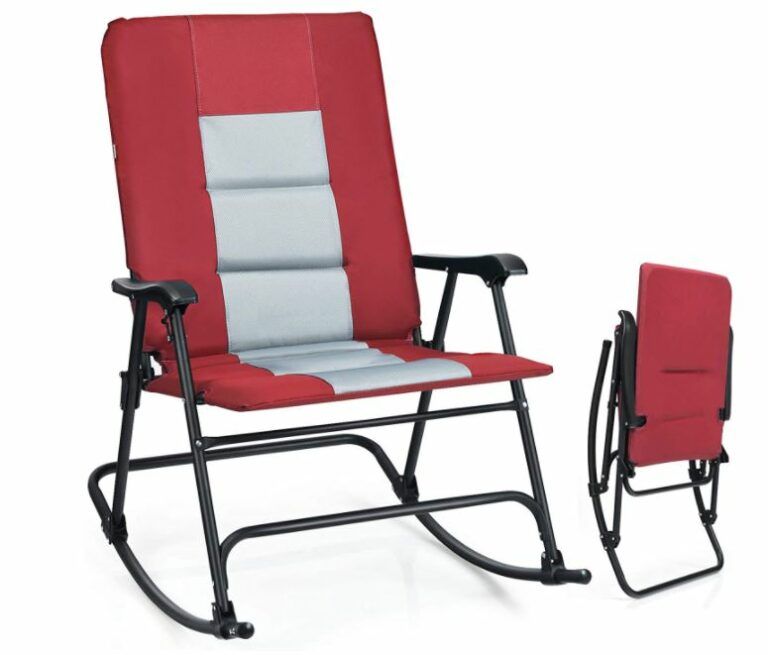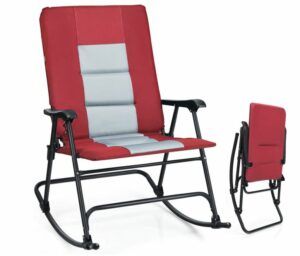 Product Name: Giantex Camping Rocking Chair
Product Description: The Giantex Camping Rocking Chair Is Foldable Oversized and Padded, with Solid Armrests, a Headrest, and a Very Wide and High Seat Suitable for Large Users.
Brand: Giantex
SKU: B08MWKSHC4
MPN: GT70500-OPRE
Weight -

4.5/10

Dimensions -

9.8/10

Packed size -

0.5/10

Capacity -

8/10

Comfort -

9.7/10

Craftsmanship -

9.6/10
Summary
The packed size affects the overall rating negatively, but see the other criteria.
Pros
Very stable and sturdy.
Padding.
Headrest.
Solid armrests.
Rocking design.
Cons
Steep price.
Bulky.
A bit heavy.
---
Final thoughts & what I think about this Giantex Camping Rocking Chair
They describe the chair as suitable for both indoor and outdoor use, and they are right. You can use it in the garden or on your balcony, but you can also fold it and take it with you to your camping place. It will work as a rocker wherever the ground is not soft. I can fully recommend it.

Please check under the category Camping Chairs if you need more options, they are available in hundreds here in the site. See in particular this Guide Gear Oversized Bounce Director's Camp Chair with a different rocking mechanism.
Let me know if you have questions or comments, there is a comment box below. Thank you for reading and have a nice day.