---
Browning Camping Cabin Chair is a low rocking and fully folding and collapsible chair which packs nicely for an easy transportation.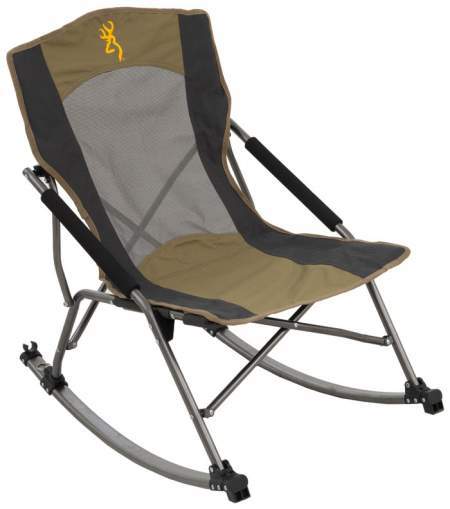 ---
Key features & benefits
Hybrid folding & collapsible type.
Rocking chair.
Solid armrests.
Easy setup.
Steel frame.
Very reasonable price.

---
What type of chair is this
♦ This is an interesting design and it is not so easy to categorize it in any typical group. On one side, the chair looks like a fully folding type in the sense that it folds from all four sides towards the center, so the packed size is (L x D) 34 x 10 inches (86 x 25 cm). As you see, it remains large in one dimension so my rating for the packed size (see below) is relatively low, but I use the same criterion and formula for all chairs.
On the other side, this chair needs a simple assembly, and in this sense, it looks like a collapsible chair. Namely, there are two pins (see the picture) that lock the rear legs to the rocking rails – the front pair of legs is permanently attached to the rocking bars.
So you pull the pin to release the chair leg and this is how you compress (fold) it in two directions, from the front to the back and vice versa. There are cross-bars for support and they also pivot so the chair folds in the remaining two directions as well, from both sides to the center.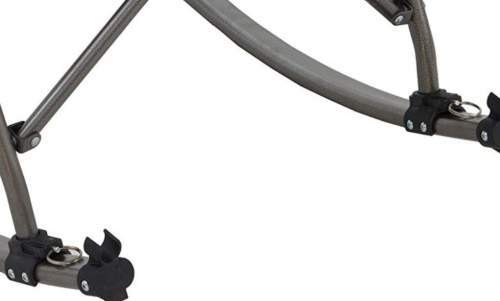 The sling needs to be attached to the two poles ends on the top, so this is the only remaining thing to do when you set the chair up. All is done in just 10 – 15 seconds. Not much of an assembly really.
♦ This is also a rocking chair as you realize from the description above. The two rails are such that it rocks nicely on a hard surface. If used on a soft surface, it will not rock but these rails will prevent sinking, so it is versatile and you can use it anywhere.
♦ The chair is also in the group of those that have solid armrests. There is a padding here, some type of foam. Since the chair is very low, having such armrests is really useful to get in and out of the chair.
Note that the armrests are very angled forwards, and this is done on purpose, to keep the packed size small. This is why its width of the carry bag is only 10 inches (25 cm). To realize what difference this makes, you can compare it with the Kamp-Rite Director's Chair or the GCI Outdoor Freestyle Rocker Chair; both of these chairs remain large in two dimensions when packed, and this is mainly due to the solid armrests that are horizontal.
So the armrests which you have here are similar to the design of the KingCamp Low Sling Beach Camping Folding Chair, but this chair is not a rocker of course.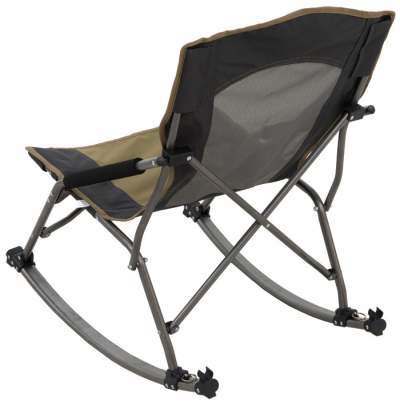 ---
Who is it for
Capacity-wise, this chair support the weight of up to 300 lb (136 kg). So this is quite typical and good enough for most of the users.
Weight-wise, with a weight of 11 lb (5 kg), this is a reasonably lightweight chair for such a type. You realize that the massive rockers bars add lots of weight. But this is not a backpack-portable type; if you need something of that kind, better check this Helinox Chair Two Rocker.
Size-wise, the dimensions of this chair are not spectacular, they are just typical. Its back is 31 inches (79 cm) so you do not have a headrest here, but the seat is large enough for most users.
But the mentioned packed size is good for a chair of this type. So this is a versatile item and you can use it on any terrain and for a variety of activities. Though you need a car for transportation.
---
Materials & construction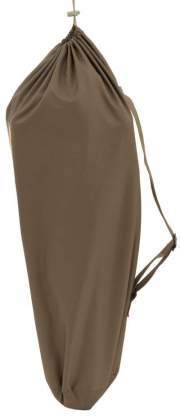 The frame looks really strong and this is powder-coated steel. The rocking rails are oval in profile and not circular, so the contact with the ground is increased. The diagonal support bars are pivoting and this is why the chair folds so nicely.
Note that you have plastic elements that keep the chair tubes locked in place when you pack it. You can see them behind the locking pins in the pictures above. So the chair will not open when you collapse it.
The fabric is thin and combined with mesh, so you have no padding. But it is pleasant and comfortable. The carry bag is included, see the picture, and you have a strap to carry it attached to your shoulder.
---
My rating, pros & cons
The daily updated Amazon price is shown in the link, so you realize this is an affordable item and the price is appropriate for the chair from such a renown brand.
The price is very reasonable when you compare with its competitors, you will see more in the comparison table below. See how I rate it for several parameters:
My rating breakdown of the Browning Camping Cabin Chair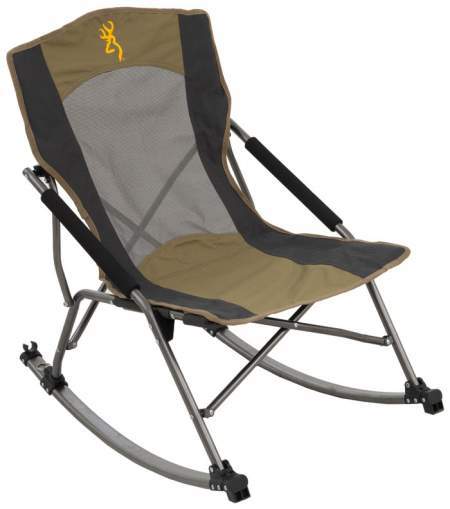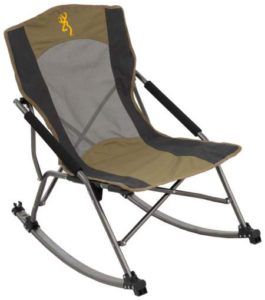 Product Name: Browning Camping Cabin Chair
Product Description: Browning Camping Cabin Chair is a low rocking and fully folding and collapsible chair which packs nicely for an easy transportation.
Brand: Browning Camping
Weight -

5.5/10

Dimensions -

7.2/10

Packed size -

3.5/10

Capacity -

7.5/10

Comfort -

9.2/10

Craftsmanship -

9.4/10
Summary
My overall rating of this camping chair is affected by its packed size and weight, but it is still Good:
Pros
Very nice design.
Very stable.
Low gravity center.
Great quality.
Armrests.
Very easy to use.
Affordable.
---
Specifications
Type: folding rocking camping chair.
Weight: 11 lb (5 kg).
Capacity: 300 lb (136 kg).
Dimensions (W x D x H): 22 x 17 x 31 in (56 x 43 x 79 cm).
Packed size (L x D): 34 x 10 in (86 x 25 cm).
Carry bag included.
---
Browning Camping Cabin Chair vs Competitors
Here I give this Cabin Chair side by side with two others built in a similar style but they fold differently. So you can get some idea about the difference in weight and packed size due to the differences in the design. You realize that the Cabin Chair is lighter and its packed size is far better although it is still long when packed. Please follow the links for more:
Dimensions
(W x D x H), in (cm)

Browning Camping Cabin Chair
22 x 17 x 31
(56 x 43 x 79)

34 x 10 x 10
(86 x 25 x 25)

Timber Ridge Rocking Chair
23.5 x 18 x 40.5
(60 x 46 x 103)

46 x 24 x 5.5
(117 x 61 x 14)

Kamp-Rite Folding Rocking Chair
31 x 25 x 39
(79 x 64 x 99)

37 x 28 x 7
(94 x 71 x 18)

---
Final thoughts
So in the summary of this Browning Camping Cabin Chair review, I would say that I really like the design of the chair. The pins on the legs require a simple procedure to make it ready, but this in combination with so angled armrests make the chair nicely packable in two dimensions; the diameter of the carry bag is only 10 inches (25 cm).
You realize how good this is when you compare it with some other models which do not have such details; two of them are shown in the table above. I find the price very reasonable.

If you need some more options, check in the category Camping Chairs, you have them in all shapes and sizes. Check also my list with rocking chairs if you are focused on this particular type. This GCI Outdoor FirePit Rocker Chair works on a completely different principle, have a look. Need something with soft armrests? Then check this Ozark Trail Rocking Chair. If you need a chair for very heavy people, check this Browning Camping Kodiak Chair.
Thank you for reading. Let us know if you have any experience with this chair, or if you have any questions and comments. There is a comment box below. Have a nice day.

---