---
Here you have the list with best rated folding camping tables, affordable and easy to use, and suitable for outdoor and home use.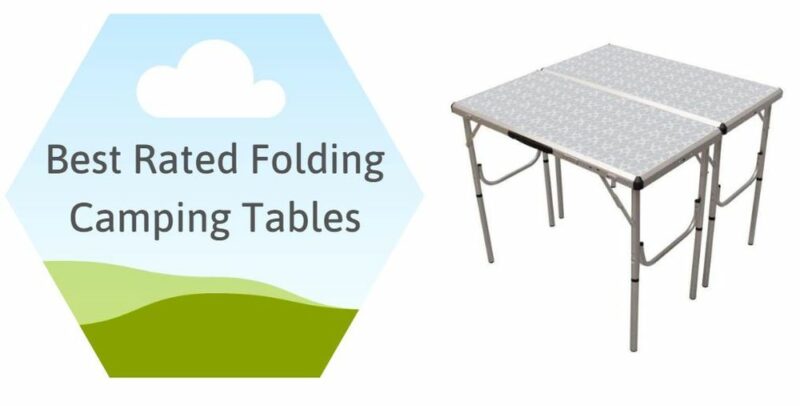 ---
About terminology
The term folding tables used here denotes camping and picnic tables that fold when packed and remain as a single piece all the time. This implies that there is no particular assembly here. You just unfold the tabletop and expand/unfold the legs.
Their construction is such that legs fold from two sides into the tabletop, and then the tabletop itself folds in half. The resulting packed table looks like a very thin box, and you normally have a handle to carry it that way.
---
My list of lightweight folding camping tables
So here is the list with all folding tables ordered by weight from lighter to heavier:
Note that most of the tables here are described in detail in my separate texts so please follow the links for more details and for updated prices.
---
1. REDCAMP Aluminum Folding Table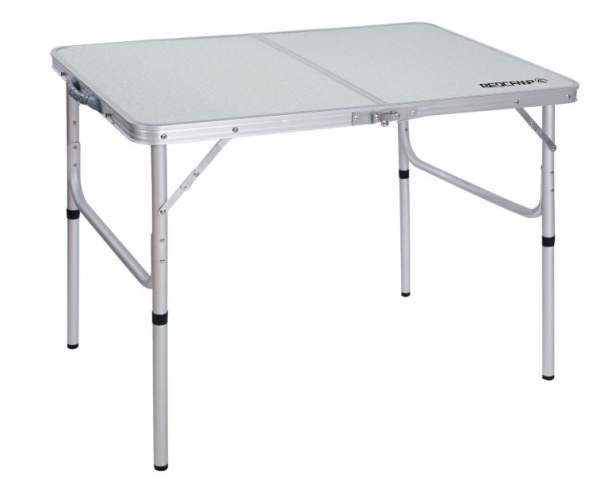 This REDCAMP Aluminum Folding Table is with the tabletop size is 35.4 x 23.6 inches (90 x 60 cm), and it folds in the middle as you can conclude from the picture above. It becomes thin when packed, only 2.7 inches (7 cm).
It is in this position in the list here because of its incredible weight which is only 4.5 lb (2.1 kg). So for such a type, this is an ultralight camping table.
Note also that it has adjustable legs, more precisely you have 2 lengths and this gives the height of 15 and 27.6 inches (39 and 70 cm). I have included it in my list of tables with adjustable legs.
The frame is aluminum and the tabletop is a medium-density fiberboard.  You will want to know that it comes at an incredibly good price.

---
2. Timber Ridge Adjustable Height Camping Table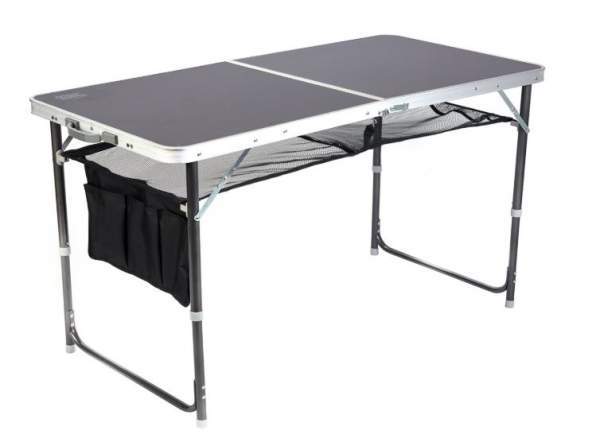 This Timber Ridge table folds in the middle and you can carry it as a thin box, there is a handle on the side visible in the picture above. But it comes with a carry bag included so you can carry it that way as well.
It weighs 11.88 lb (5.39 kg) and its dimensions when packed are 26 x 25.5 x 3.5 inches (66 x 65 x 9 cm). So you realize it is a bit large yet it is thin. But see its tabletop size which is 47 x 23.5 inches (119 x 60 cm).
It comes with several storage elements shown in the picture, and this sets it apart from its competitors.
The legs are adjustable and you have 2 heights here, 21 and 28 inches (53 and 71 cm). All in all, this is a real dining table but you can also use it as a side table when needed.

---
3. VINGLI 4 Foot Folding Table with Adjustable Height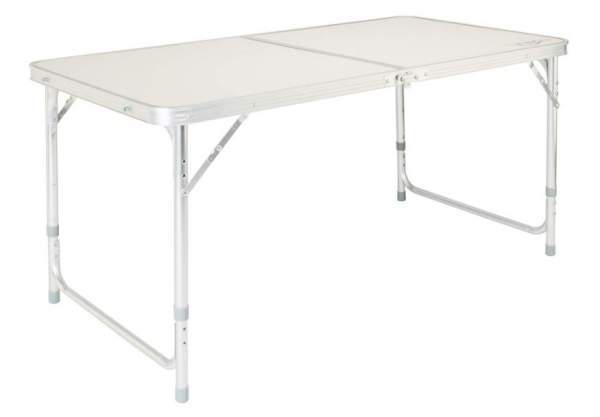 This Vingli table folds in half and its packed size is relatively large 23.6 x 23.6 x 2.7 inches (60 x 60 x 6.9 cm). But this is nothing unusual for the tables of this type.
Its tabletop size is impressive, it measures 47.2 x 23.6 inches (120 x 60 cm). Yet another great feature here is that it has 3 different heights, 21.6, 23.6, and 27.6 inches (55/60/70 cm). So clearly you can use it as a dining camping table or as a side table.
The weight is 12.2 lb (5.53 kg), the frame is aluminum, and the top is an MDF material. You might want to know that it is incredibly affordable.

---
4. Coleman Pack-Away 4-in-1 Adjustable Height Folding Camping Table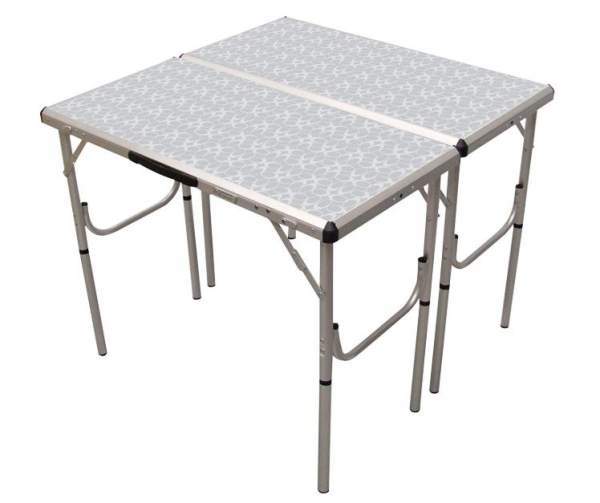 This Coleman table is unique here and also on the market in general. As the name suggests, this is a 4-in-1 camping table and a modular design. So you have two tables that can be combined in several ways.
Both tables are folding and they fold in a single box-like. In addition, the legs are adjustable and you have 4 different heights.
The frame is aluminum and the tabletop is an MDF laminate. The weight is 12.3 lb (5.6 kg) and each tabletop dimensions are 31.5 x 15.5 inches (80 x 40 cm). You might want to know that this is an Amazon Choice product, and it is very affordable.

---
5. REDCAMP Outdoor Picnic Table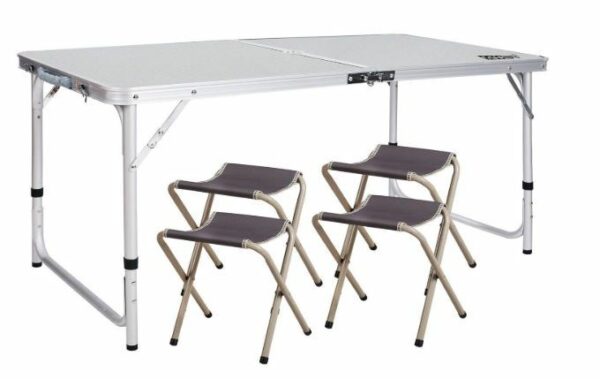 Here you have a very large table with several bonuses. As you realize it comes with 4 chairs, and its legs are also adjustable. The tabletop is 47.2 x 23.6 inches (120 x 60 cm), and the maximum height is 27 inches (69 cm).
The frame is aluminum and the tabletop is an MDF material. The legs are thick with 25 mm diameter and the tabletop is 2.8 cm thick. So the weight capacity is great.
Te packed size is 24 x 18 x 3 inches (61 x 46 x 8 cm) and you have a handle to carry it short distances. Note that it is designed with a parasol hole in the middle.

Please see how you can have it ready:
---
6. CampLand Outdoor Folding Table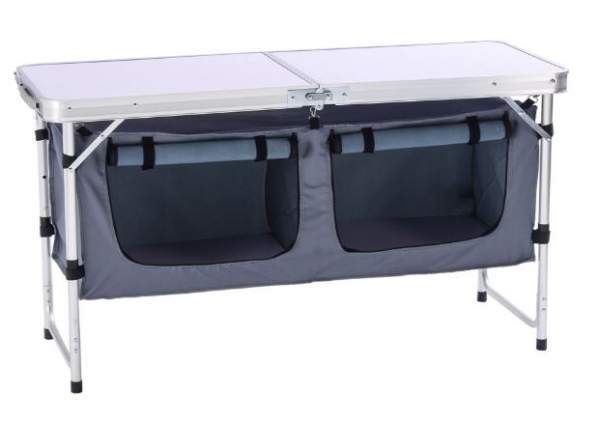 This CampLand Outdoor Folding Table is a very functional height-adjustable table with the legs that can be adjusted in the length range 24.02 – 27.36 inches (61 – 70 cm).
As you realize from the picture above, it comes with a very useful storage system underneath the tabletop with two separate storage compartments. When you fold the table, these storage elements remain inside ready to be used when you open the table next time.
You can remove the storage system if you wish, there are 8 Velcro tabs (two on each of the legs) and 4 hooks and loops in the corners.
The weight is 16 lb (7.3 kg) and the tabletop dimensions are 47.24 x 18.5 inches (120 x 47 cm). The folded size is 23.62 x 18.5 x 3.96 inches (60 x 47 x 10 cm).

---
How to choose a folding camping table
So you have seen all the tables, and if you are undecided on how to choose here are a few tips.
Legs adjustability: This is important because of several reasons. This adds to the versatility of the table in the sense that you can use it as a dining and cooking table, or as a side table.
But this is also great in the camp where the ground is rarely flat. So you can change the height and make the tabletop horizontal. This is particularly so with tables that offer any height within the given range.
Note also that most of them offer adjustability in pairs, for two legs adjustable together. But there are examples where you can adjust each of the legs independently.
Storage elements: Several tables in the list have storage elements. This is useful to keep stuff off the ground, they are removable so you can use them when you want. All in all, having such an addition adds value and functionality.
Packed size: There is not much you can do about this, all the tables in the list are designed to be thin when packed but also large in two dimensions.
Weight: There are big differences in the weight, by a factor three or so. But in general, these portable outdoor folding tables are not designed to be carried long distances, so I do not think that weight is so crucial. You can check our separate list with best backpacking tables if the weight and packed size are essential.
Ease of use: All the tables here are really easy to use, so there is not much to think about this issue. You simply unfold the tabletop and then unfold the legs.
Durability: You will notice that typically the tabletop is an MDF laminate. Such materials are water-resistant but I would not expose them too long to rain. This is because water can get in if there are tiny cracks or holes in the covering layer, or it can get in from the sides where you normally have some aluminum frame with screws.
Height: You will notice that most of them are not particularly high even in the highest position. Typically the maximum height is around 70 cm and this is not so impressive. So choose camping chairs to fit, you have them many here in the site.
Price: All these tables are here because of several reasons and one of them is their affordability. But there are differences of course, so check always and bear in mind what the table offers.
---
Final thoughts
So this was my list with best rated folding camping tables, it will be updated whenever I find a table that fits the group. This is why you might want to bookmark this text and check occasionally.
These are outdoor tables for camping and picnics, but you can use them also in the garden for family events and barbeques.
Thank you for reading. Please use the comment box below in the case of questions or comments. Have a nice day.
---