---
Timber Ridge Foldable Table is feature-rich, with adjustable legs height, storage elements, a carry bag included, and a great price tag.
---
Key features & benefits
Two possible heights.
Folding design.
Storage elements.
Carry bag included.
Great price.
---
Where to buy
This camping table is available on Amazon. They operate globally so please follow the link and check shipping conditions for your location.
Note that they have two tables at the same place, the dimensions are the same for both.
---
What type of camping table is this
This Timber Ridge Folding Table is what its name tells you, a folding table that packs into something that looks like a box of the size 26 x 25.5 x 3.5 inches (66 x 65 x 9 cm). So first the legs fold inside as you see from the picture below, and then you fold its hardtop in half.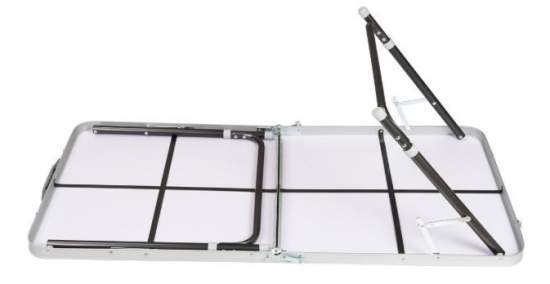 Carry bag
When the table is folded as in the picture below, you can store in its carry bag which is included as a bonus, see it below. This allows you to carry it short distances and also to keep it clean from dust when stored at home.
Adjustable legs
Yet another bonus with this table is its adjustable. So you have two different lengths for its legs. This gives the two heights 21/27.2 inches (53/69 cm).
As you realize, you can use it as a side table and also as a dining or cooking camping table.
Storage elements
So indeed, this list with bonuses continues, you have several storage elements here. These include:
A storage pouch on the side with separate pockets, for bottles and other stuff.
A huge storage mesh-shelf underneath the tabletop. It is of the size of the tabletop, so you have around 0.7 m² to store the stuff.
These elements are removable and you do not have to use them and to carry all the time. The pictures below show some of its details. Because of all these features, I have added it to my list of best tables with storage elements.

Other features
The tabletop is a hardtop and this is an MDF material. You have a nice logo of the brand as the picture below shows. This is an easy to clean material and reasonably waterproof.
But it is best not to keep it exposed to water for a long time. It might enter from the sides where you have the aluminum edge frame.
The size of the tabletop is impressive 47.2 x 23.6 inches (120 x 60 cm). It has latches on the sides which keep the two halves locked, see the picture below.
The frame and the legs are built from a solid powder-coated aluminum, and you have locking/supporting bars in the corners, see the picture above. The legs are with non-skid rubber feet.
Note that they give 1-year manufacturer's warranty for this table.
---
Who is it for
Regarding the tabletop dimensions, this table offers enough space for 4 users. It is not particularly high just to know, and this holds even for its higher setup.
The packed size is such that you need a car for transportation. It is thin so it will fit into narrow spaces.
Regarding the weight, it is on the heavy side with its 11.2 lb (5.08 kg). There are lighter options, and you will see one in the comparison table below. But you are not supposed to carry it long distances in any case, so the weight is quite immaterial here.
---
The price & rating
This is a very affordable table and the daily updated price given in the link below shows this.
This table has received many reports by Amazon customers and the average rating is very respectable 4.2/5.
I have my own set of criteria which I use for all the tables here in the site. With this you can easily compare various tables. So, see how I rate it:
My rating of the Timber Ridge Foldable Table:
Weight -

6.5/10

Dimensions -

9.2/10

Packed size -

6/10

Craftsmanship & features -

8.8/10

Price -

9.5/10
Summary
My total average rating is:
Pros
Functional design.
Easy to use.
Portable.
Two heights.
Storage system.
Affordable.
Cons
Not fully water-resistant tabletop.
Large when packed.
---
Specifications
Weight: 11.2 lb (5.08 kg).
Dimensions (L x W x H): 47.2 x 23.6 x 21/27.2 in (120 x 60 x 53/69 cm).
Packed size: 26 x 25.5 x 3.5 in (66 x 65 x 9 cm).
Frame: aluminum.
---
Timber Ridge Foldable Table vs Competitors
When you see such a table side by side with some of its competitors built in the same style, you can better understand its features and make an informed choice.
So here it is together with Redcamp Table and Vingli Table, both are folding and with the same material used for the tabletop. There are differences in the weight, size, and packed size.
The Timber Ridge Table comes with bonuses which you do not have with the other two tables. It is best that you follow the links to read more and to compare.
Dimensions
(L x W x H), in (cm)

Timber Ridge
Folding Table
47.2 x 23.6 x 27.2
(120 x 60 x 69)

26 x 25.5 x 3.5
(66 x 65 x 9)

Redcamp Aluminum Folding Table
35.4 x 23.6 x 27.6
(90 x 60 x 70)

23.6 x 17.8 x 2.7
(60 x 45 x 7)

Vingli 4 Foot
Folding Table
47.2 x 23.6 x 27.6
(120 x 60 x 70)

23.6 x 23.6 x 2.7
(60 x 60 x 7)

---
Final thoughts
So this Timber Ridge Foldable Table is a versatile item because of its two heights and its impressive size. You can use it for camping and also for your backyard barbecue.
It is easy to fold and also to make ready. The storage elements are impressive, and the price is more than appropriate. I have added it to my list of best rated folding camping tables.

Please check under the category Camping Tables here in the site if you want to see more options.
Note that this is not a sponsored text, and I am not paid by the brand. I wish you a nice day.

---